Five Math Strategies for Struggling Students
Because I was never a struggling learner in math, at first it was hard for me to understand why students struggled so much. In my journey as a math tutor, a math instructor from fifth grade through college, and a math specialist focused on the middle school grades, I have had to learn to connect with my struggling students. It is when that connection is made that they open up to me and are able to accept help using the research-based strategies that I know work.

Recently I really got to know one of my struggling students. I'll call him Joey, though that is not his real name.
Joey switched schools midway through seventh grade. He first appeared non-compliant and withdrawn from class participation. Our assessment of his math skills indicated he was performing at a third-grade math level. Joey clearly struggled with calculational skills and basic facts.
While I want to emphasize the math strategies for struggling students presented below (and in the download) as having been effective in addressing this student's math struggles, it was my getting to know him and his story that opened him up to taking risks in the classroom.
Students who move in the middle of the year often have trouble adjusting, and certainly Joey did. But the deeper story with him is why he had moved. He had been bullied in his previous schools for a number of years and hadn't engaged academically. Hearing his story softened my heart about his situation.
As a team of teachers, we were able to give Joey a consistent message that this was a safe school, and he didn't need to keep his defensive walls up. I believe that it was this message that opened him up to us, so that we could use the strategies below to build his conceptual understanding, math skills, and problem-solving abilities.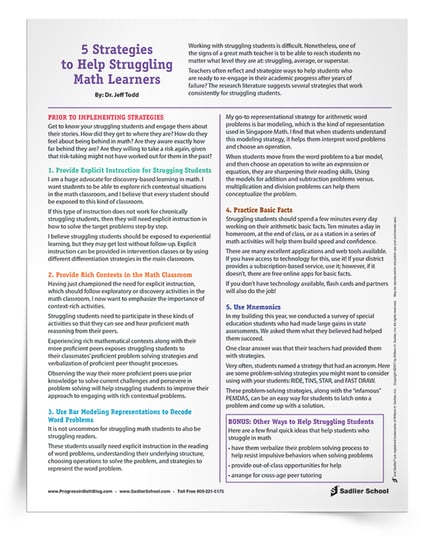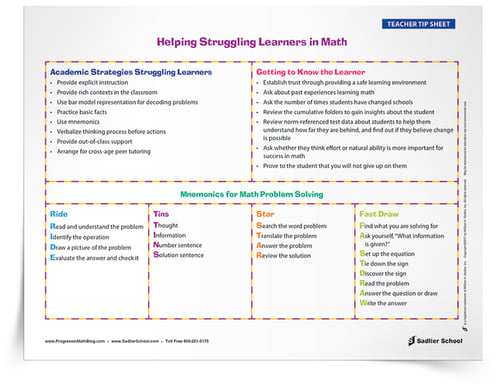 Before Implementing Math Strategies for Struggling Students



Get to know your struggling students and engage them about their stories. How did they get to where they are? How do they feel about being behind in math? Are they aware exactly how far behind they are? Are they willing to take a risk again, given that risk-taking might not have worked out for them in the past? In Joey's case, getting to the underlying issues certainly helped him to take those risks.
So, what can we actually do to help students like Joey who are ready to re-engage in their academic progress after years of failure? The research literature suggests several math strategies for struggling students that are consistent with my experience of what works consistently for my struggling learners.


5 Strategies to Help Your Struggling Math Learners



STRATEGY 1: PROVIDE EXPLICIT INSTRUCTION FOR STRUGGLING STUDENTS
I am a huge advocate for discovery-based learning in math. I want students to be able to explore rich contextual situations in the math classroom, and I believe that every student should be exposed to this kind of classroom. If this type of instruction does not work for chronically struggling students, then they will need explicit instruction in how to solve the target problems step by step. I believe struggling students should be exposed to experiential learning, but they may get lost without follow-up.
Explicit instruction can be provided in intervention classes or by using different differentiation strategies in the main classroom. (An upcoming post will address this, so stay tuned!)
STRATEGY 2: PROVIDE RICH CONTEXTS IN THE MATH CLASSROOM
Having just championed the need for explicit instruction, which should follow exploratory or discovery activities in the math classroom, I now want to emphasize the importance of context-rich activities.
Struggling students need to participate in these kinds of activities so that they can see and hear proficient math reasoning from their peers. Experiencing rich mathematical contexts along with their more proficient peers exposes struggling students to their classmates' proficient problem solving strategies and verbalization of proficient peer thought processes.
Observing the way their more proficient peers use prior knowledge to solve current challenges and persevere in problem solving will help struggling students to improve their approach to engaging with rich contextual problems.
STRATEGY 3: USE BAR MODELING REPRESENTATIONS TO DECODE WORD PROBLEMS
It is not uncommon for struggling math students to also be struggling readers. These students usually need explicit instruction in the reading of word problems, understanding their underlying structure, choosing operations to solve the problem, and strategies to represent the word problem.
My go-to representational strategy for arithmetic word problems is bar modeling, which is the kind of representation used in Singapore Math. I find that when students understand this modeling strategy, it helps them interpret word problems and choose an operation. When students move from the word problem to a bar model, and then choose an operation to write an expression or equation, they are sharpening their reading skills. Using the models for addition and subtraction problems versus. multiplication and division problems can help them conceptualize the problem.
STRATEGY 4: PRACTICE BASIC FACTS
Struggling students should spend a few minutes every day working on their arithmetic basic facts. Ten minutes a day in homeroom, at the end of class, or as a station in a series of math activities will help them build speed and confidence. There are many excellent applications and web tools available. If you have access to technology for this, use it!
If your district provides a subscription-based service, use it; however, if it doesn't, there are free online apps for basic facts. If you don't have technology available, flash cards and partners will also do the job!
STRATEGY 5: USE MNEMONICS
In my building this year, we conducted a survey of special education students who had made large gains in state assessments. We asked them what they believed had helped them succeed. One clear answer was that their teachers had provided them with strategies. Very often, students named a strategy that had an acronym.
Here are some problem-solving strategies you might want to consider using with your students: RIDE, TINS, STAR, and FAST DRAW. These problem-solving strategies, along with the "infamous" PEMDAS, can be an easy way for students to latch onto a problem and come up with a solution.
The download for this post is a teacher tip sheet that includes these problem solving mnemonics and explains what their acronyms spell out.
BONUS: OTHER WAYS TO HELP STRUGGLING STUDENTS
Here are a few final quick ideas that help students who struggle in math
have them verbalize their problem solving process to help resist impulsive behaviors when solving problems

provide out-of-class opportunities for help

arrange for cross-age peer tutoring
Working with struggling students is difficult. Nonetheless, one of the signs of a great math teacher is to be able to reach students no matter what level they are at: struggling, average, or superstar. All of the above strategies are helpful when addressing the needs of struggling math learners.
Download these math strategies for struggling students as a helpful tip sheet and share it with the teachers at your school! You may also find the resources below to be beneficial in helping struggling math learners. Grab them now.
| | | |
| --- | --- | --- |
| 5 Ways to Enhance Math Instruction | Using Appropriate Tools by Grade Level | Math Test-Taking Strategies Kit |
In Summary



To close, I want to bring us back to Joey's story from the beginning of this post. Joey was struggling in math, working three or four years behind his peers. He felt terrible about it, and at the root, of his problem was the fact that he had shut down his willingness to take risks because he had been bullied at a previous school. Once these emotional/situational needs were addressed, Joey was able to take risks again—opening the door to using these strategies. He should finish the school year at grade level.
The downloadable tip sheets for this post covers three areas in which you can work to help struggling students. Putting copies in your plan book, or posting it near your desk or in your workspace will give you useful options when you are thinking about how to help the "Joeys" in your classroom.
Getting to know and connecting with your students, using researched-based strategies, and remembering a handful of mnemonics will go a long way in helping your struggling learners.