8 Math Strategies for Struggling Students
Any student can become an expert mathematician through hard work and continuous practice. One of the challenging parts of being an educator is teaching to the wide range of abilities in the classroom. In this article, we'll explore eight strategies that will help struggling math students. Plus, download free resources to assist you in supporting all math learners!


As you walk down the hallway of an elementary or middle school, it is not uncommon to overhear students' say: "I can't do math," "I will never have to use this," or "math is too hard." While the underlying causes for these phrases are diverse and might include past adverse experiences in math class or the messaging they hear from adults in their life, they are clear indicators that the students who are struggling are most in need of our help and encouragement in the math classroom.
Luckily, there are lots of strategies that math teachers can use to support struggling students.
A common misconception is that math is black and white; you either can do it or you can't. In reality, math offers plenty of room for students to explore, experiment, and unveil the patterns from which operations, rules, and mathematical phenomena are derived.
Download the 5 Strategies to Help Struggling Math Learners Tip Sheet now.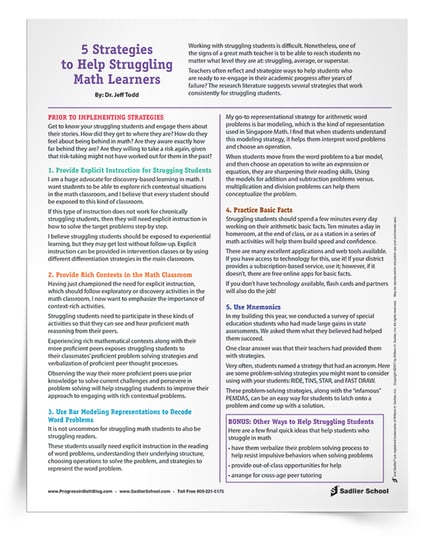 Download the Helping Struggling Learners in Math Tip Sheet now.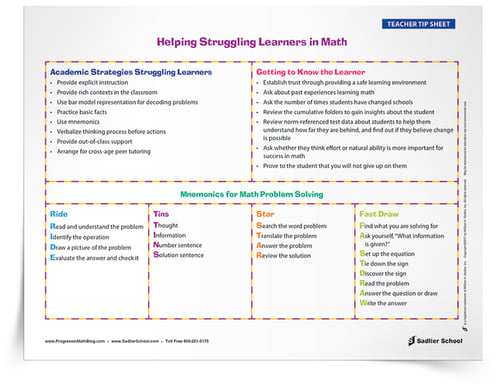 Before Implementing Math Strategies for Struggling Students



Getting to know each student on an individual level is a fruitful first step in opening up students in order for them to be more receptive to the research-based strategies that work. Students who feel heard and understood are more willing to take risks in the classroom.
Engage with your students about their stories. How did they get to where they are? How do they feel about being behind in math? Are they aware exactly how far behind they are? Are they willing to take a risk again, given that risk-taking might not have worked out for them in the past?
As a team of teachers, it is essential to provide consistent messages indicating that school is a safe space school where students do not need to keep their defensive walls up. In my experiences, it has been this messaging that has opened students up, so that we could use the strategies below to build conceptual understanding, math skills, and problem-solving abilities.


8 Strategies to Help Your Struggling Math Learners



Strategy 1: Provide Rich Problem Contexts
I am a huge advocate and believer in every student being exposed to discovery-based learning in math. Rich contextual situations enable students to make connections between the classroom and the world around them by bringing real world scenarios into the classroom. At the same time, students are able to develop skills for decontextualization and recontextualization in order to make sense of the numbers they are working with.
Struggling students need to participate in these kinds of activities so that they can see and hear proficient math reasoning from their peers. Experiencing rich mathematical contexts along with their more proficient peers exposes struggling students to their classmates' proficient problem solving strategies and verbalization of proficient peer thought processes. Observing the way their more proficient peers use prior knowledge to solve current challenges and persevere in problem solving will help struggling students to improve their approach to engaging with rich contextual problems.
Strategy 2: Provide Explicit Instruction
Having just championed the need for rich contexts and discovery activities in the math classroom, this type of instruction by itself may not work for chronically struggling students. Explicit instruction can be used to model how to solve target problems step by step. I believe struggling students should be exposed to experiential learning, but they may get lost without follow-up.
Explicit instruction can be provided in full class mini lectures, intervention classes, or by using differentiation strategies in the main classroom. (An upcoming post will address this, so stay tuned!) Moments of explicit instruction can be supported by providing handouts to students and hanging posters around the classroom which help students remember what was discussed. The combination of explicit instruction and visual reminders minimizes the cognitive demand for struggling students allowing them to engage more meaningfully in discussions and activities throughout class.
Strategy 3: Decode Word Problems
It is not uncommon for struggling math students to also be struggling readers. These students usually need explicit instruction in the reading of word problems involving strategies such as reading aloud, rereading, and highlighting important words. Explicit instruction for the reading of problems enables students to understand their underlying structure, choose appropriate operations and models to solve the problem, and develop strategies to represent their solution.
I find that when students understand a modeling strategy, they are more able to interpret word problems and choose an operation to solve. After students decontextualize the problem by representing it with a bar model, they are able to choose an operation to write an expression or equation all while also sharpening their reading skills. Using the models for addition and subtraction problems versus multiplication and division problems can help them conceptualize the problem.
Strategy 4: Practice Basic Facts
Struggling students should spend a few minutes every day working on their arithmetic basic facts. Ten minutes a day in homeroom, at the end of math class, or as a station in a series of math activities will help them build speed and confidence. There are many excellent applications and web tools available. If you have access to technology for this, use it!
If your district provides a subscription-based service, use it; however, if it doesn't, there are free online apps for basic facts. If you don't have technology available, flash cards (homemade or store bought) and partners will also do the job!
Strategy 5: Use Mnemonics
My staff and I conducted a survey asking special education students what they believed helped them improve by large margins on state assessments. One common theme amongst students' responses was that their teachers had provided them with strategies that were memorable because they were outlined by an acronym.
Here are some problem-solving strategies you might want to consider using with your students: RIDE, TINS, STAR, and FAST DRAW. These problem-solving strategies, along with the "infamous" PEMDAS, can be an easy way for students to latch onto a problem and come up with a solution.
The download for this post is a teacher tip sheet that includes these problem solving mnemonics and explains what their acronyms spell out.
Strategy 6: Make Math
Did you know that students' brains developmentally are not prepared to begin abstract thinking until they are 14-15 years old? Without the use of pictures or manipulatives math becomes a collection of memorizing magical tricks. Especially for struggling students, it is imperative to make thinking, patterns, and principles visible.
Get creative with the things you have around the classroom in order to begin each problem with a hands-on exploration. Concrete tools like pattern blocks, snap cubes, centimeter cubes, or household items allow students to move things around, easily explore, and make note of patterns. Next, begin introducing pictorial representations of these three-dimensional objects. Drawing pictures enables students to transfer their hands-on strategies onto paper which they can draw anywhere, including on high stakes tests!
Finally after practicing with drawing and labeling their pictures, guide students to generalize and abstract their thinking. Is there a pattern that is used every time? Challenge students to express their actions with operations, numbers, and variables. Each student will move through these stages, concrete, iconic, abstract, at their own pace allowing for natural differentiation and continuous progression towards abstract thinking.
Strategy 7: Multiple Strategies
It is quite possible that the standard method that you as a teacher are most familiar with will sound like a foreign language to some students. When students are able to contribute their own ideas and solution strategies, diverse and creative ways of problem solving are revealed. When considering something like division, some students may have the "lightbulb go off" when they think about repeated subtraction, others may think about taking one away each time by separating objects into groups, while others may easily make sense of long division.
It is in the best interest of every student to incorporate and explain multiple strategies for arriving at solutions. If a student shares a method that veers from the way you may have expected students to solve, respond with curiosity and allow the student to explain. The greatest moments of pure joy in a classroom are when students make sense out of a topic while listening to a peer's explanation.
Strategy 8: Carefully Sequence Diverse Examples
Hand in hand with strategy seven, is the sharing of these various strategies in a carefully sequenced order. Students move through their personal math journey, advancing from hands-on manipulatives to two-dimensional drawings to abstract written notations, at different speeds. As a result, on a single problem it is quite possible that each phase of understanding will be demonstrated in the students' approaches to solving.
By first sharing the most concrete and easy to follow solution strategy, you are able to ensure that your struggling students can understand a pathway to the solution. By advancing to strategies with increasing complexity, students are able to make connections between a method they are comfortable with and one that is just outside their understanding. Hearing and seeing their peers' solutions aids struggling students in moving through the progression of strategies to promote accuracy and efficiency in problem solving.
In Summary

One of the characteristics of a great math teacher is to be able to reach students where they are no matter what level that may be. All eight of these strategies are helpful when addressing the needs of all math learners and prove to be especially important for our learners who have the most room to grow.
Download these math strategies for struggling students as a helpful tip sheet and share it with the teachers at your school! You may also find the resources below to be beneficial in helping struggling math learners. Grab them now.
BONUS RESOURCES TO HELP STRUGGLING STUDENTS
| | | |
| --- | --- | --- |
| 5 Ways to Enhance Math Instruction | Using Appropriate Tools by Grade Level | Math Test-Taking Strategies Kit |