As I begin this New Year, I like to reflect on all that has happened in the past year and plan amazing goals to achieve in 2012! Researching the math world for this blog has presented many ideas over the past year, but one common theme presented itself on Twitter accounts, Linkedin groups, math blogs and NCTM's website… the Common Core Standards.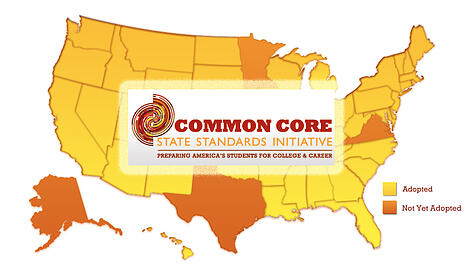 In a press release in June 2010, it stated that, "The National Council of Teachers of Mathematics (NCTM) expressed its support for the goals and intent of the Common Core State Standards. The Common Core State Standards Initiative (CCSSI) is a state-led effort coordinated by the National Governors Association Center for Best Practices (NGA Center) and the Council of Chief State School Officers (CCSSO) to develop a common core of state standards for proficiency in English-language arts and mathematics for K–grade 12."
At this time, 47 states have adopted these standards in Mathematics. Many counties in New Jersey are working diligently to create a county-wide curriculum reflecting the changes brought about by the Common Core. The President of NCTM encourages us as math educators to embrace these changes and "give them a chance". As more information is released, it is clear to me that our ultimate goal is to make critical thinkers and problem solvers out of our math students.
One way that I plan to incorporate these changes this year is to add a critique component to my lessons on a monthly trial. For example, when teaching the idea of similarity between figures, I will present the idea of corresponding angles being congruent and corresponding side lengths being similar. In addition, I will provide a brief mini lesson on ratios of corresponding sides. In the past I would have students work through a guided practice as I conferenced with each group, correcting any misconceptions along the way. Now, I will record the groups as they work and observe the reasoning and dialog between group members. Rather than having me "correct" and critique students' work, I will use the next class period to have students view the videos and critique each other. I plan to provide a rubric to highlight the key concepts I expect the class to master. Students will have the opportunity to view another group's work and "grade" them using the rubric. If time allows, I will also have students critique their own group's work. This idea of self-critique echoes the common core standard in both mathematics and language arts where students will be able to "construct viable arguments and critique the reasoning of others."
This idea is new for me, so keep looking for updates on how my first "test run" turns out!
To follow NCTM President's message in the November 2011 article, I am giving the new Common Core Standards a chance!