Mathematical Practice 3 for Middle School Students: Vocabulary to Construct Viable Arguments and Critique the Reasoning of Others
We are looking at Mathematical Practice 3 today as a part of a series of blog posts on using the Standards for Mathematical Practice at the middle school level. Mathematical Practice 3 asks students to construct viable arguments and critique the reasoning of others. Today's download is a poster for your classroom that lists words you can use to help students construct sentences in order to achieve this math practice.
In my first years as a teacher, asking students to use the word "because" was a big part of my effort to have them construct viable arguments and critique the reasoning of others. Through the years, I have learned the value and importance of teaching students how to use vocabulary beyond "because" as a way of building their skills and ability and becoming proficient in Math Practice 3.
Conjunctive Adverbs
These are the most powerful words I have taught my students, and learning them can be fun. My school's ELA teachers love that I support their work in having students write compound sentences in math class. Writing compound sentences can be made fun by emphasizing the conjunctive adverb to denote its use. (A dramatic pause, then "however" while pointing a finger in the air can become a memorable classroom routine!)
Here is a partial list of conjunctive adverbs that students can use to construct viable arguments and critique the reasoning of others: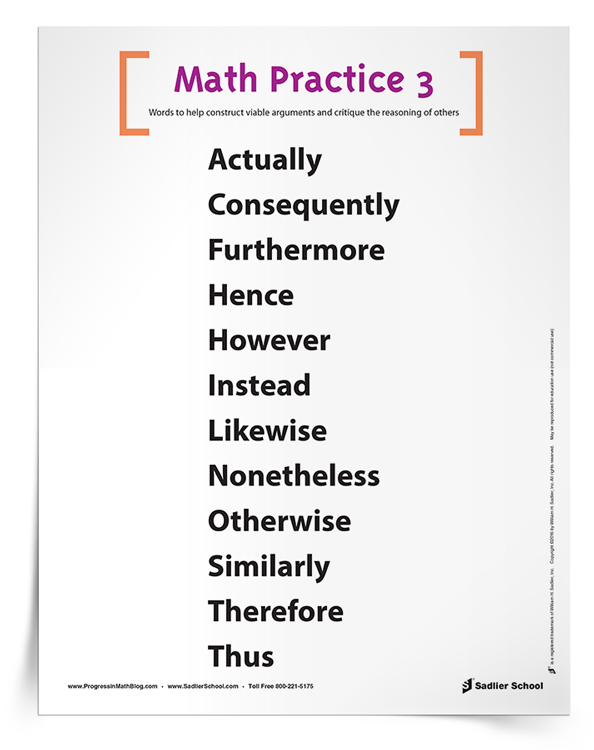 You can download a poster of these words — hang it in your classroom and ask students to rephrase a response by including one of the words. Students love to sound sophisticated as they learn to use new language. One way to encourage students to use this vocabulary is to drop a marble in a jar every time a student uses one of the words (without you urging them to) and provide the class with a reward when the jar is full. Remind students that the standard punctuation for a conjunctive adverb in the middle of a sentence is to use a semicolon before it and a comma after it.
Here are some examples of how you can use these words to help students employ Mathematical Practice 3.
A rectangle must have congruent diagonals; otherwise, it would only be a parallelogram.
The word problem sounds like a missing factor problem; therefore, I can solve it using division.
She said that all square roots are irrational numbers; instead, I think that some square roots are rational, like the square root of four, which is two.
I thought that the two shapes were similar when I first looked at them; nonetheless, they can't be similar because the ratio of their corresponding sides doesn't make a proportion.
Tier 2 Verbs
Tier 2 words are used across disciplines in writing because they are academic vocabulary, but they are not commonly used in oral language. Tier 2 words are crucial for students to be able to employ Mathematical Practice 3. For instance while the word "argue" might be common to students, to "argue" that a figure must be a square probably won't end up with yelling and screaming in the same way as an argument in a television sitcom might. Students need to understand that the academic definition is different from everyday usage.
Students need explicit instruction in the use of academic verbs that will help them construct viable arguments and critique the reasoning of others. I believe that the following verbs, among others, are important for students to learn:
Argue

Assume

Clarify

Conclude

Critique

Defend

Infer

Justify

Predict
Middle school is an important time for students to develop their abstract thinking. At this time, students are starting to craft arguments and reasoning to explain their work. Focusing on vocabulary development will help students to construct viable arguments and critique the reasoning of others. To help you implement this in your classroom, download the poster of the conjunctive adverbs so students can refer to them as they learn to use Mathematical Practice 3.
RELATED RESOURCES: