3 New School Year Activities to Get to Know Your Math Students
As a new school year approaches, I start thinking of ways to get to know my math students. Carefully choosing the right new school year activities sends a clear message to our students: "I am interested in who you are and what you think." This year many of us face the added challenge of having to get to know our new students virtually! In this article, I'm sharing three printable activities that can be used at the start of a new school year in both the face-to-face classroom or the virtual classroom.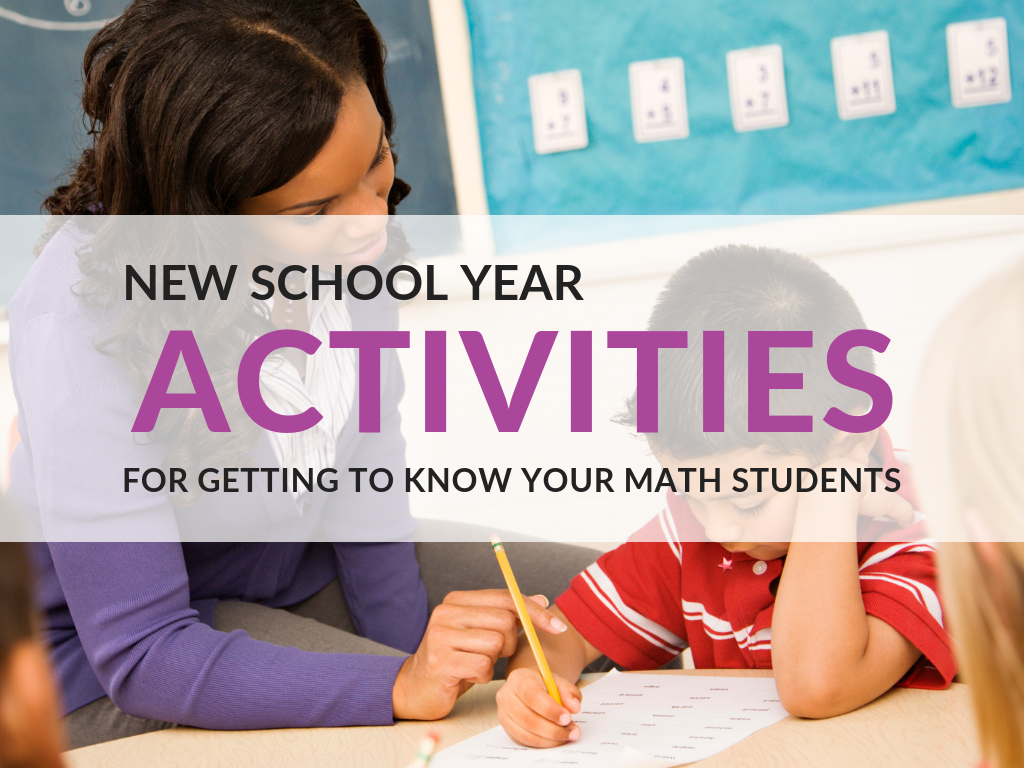 Creating a positive attitude with students is what I strive for, particularly in the first few days of class. You can use any of these new school year activities to set the tone in your classroom, and have a discussion about the thoughts that your students bring to the classroom about math as well as sharing your vision for your classroom.
These three new school year activities are all quite different from each other and are appropriate for different grade levels. You could also use some of them throughout the school year to check in with students on how their thoughts and attitudes about math class are changing! I always collect surveys like these and put them in students' portfolios so we can refer back to them throughout the year.
If you will be teaching remote, these printable PDFs can be converted via Google Drive so students can type directly into the worksheet. Check out Vocab Gal's tutorial for converting PDFs so they can be completed online.
New School Year Activities to Get to Know Your Math Students
I wish you well for the beginning of the school year. Download these three activities and get to know more about your students and their views on math! It's always a great way to start off the year.
#1 Make Math Fun Survey
This is the most "fun" of the new school year activities and would be appropriate for almost any grade level. The graphic organizer has six geometric figures, and each of the figures has a different prompt. Download the Ideas to Make Math Class More Fun Student Survey and have each student write their responses in the different shapes. I usually tell students that it doesn't matter the order in which they fill in the figures, but that they should first respond to the prompts that interest them the most, then move on to the others. I collect and read these graphic organizers so I can better get to know my students and their thoughts about math class.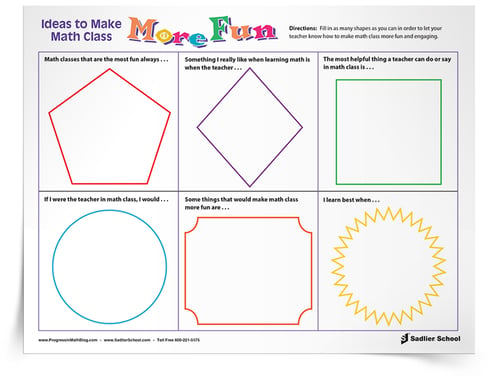 #2 Likert-Style Math Survey
This kind of survey isn't as much "fun" as the first activity, but it does generate meaningful information about your students. In this survey, students mark whether they strongly agree, agree, feel neutral, disagree, or strongly disagree with each statement. You can find out a lot about your students by just flipping through their answers. But, if you are a data person like me, you can also put the results into a spreadsheet to see how your students differ in attitude—and then track how they change over the school year. As many of us need to provide data for our own self-evaluations, this tool could also be useful in that way as well. Download the Tell Me What You Think About Math Classes Survey now.
If you are teaching remote, you can create an online poll with these questions for students to answer!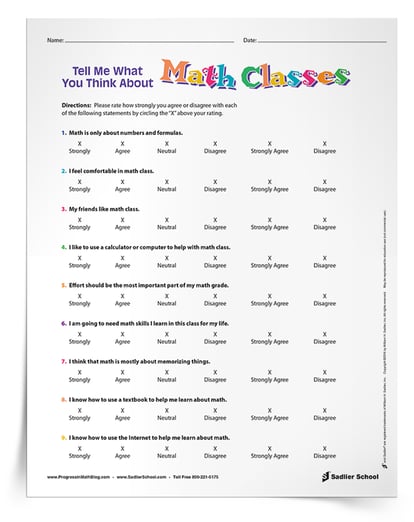 #3 Math Quotes Discussion Starter
The last of the new school year activities for your math class includes a series of eight quotes that you can use as a writing or discussion prompt with your students. These math quotes cover a range of ideas about math from being always-the-same, to being creative. I like opening up the school year this way and finding out what my students really think about math. I want to assess, influence, and even challenge their views of math, helping them to enjoy the subject and to not see it as a required, boring subject. Download the What's Your Perspective on Math? Activity now.
I use these quotes to start an extended think-pair-share. Here is the sequence I usually follow:
Hand out the quotes.

Call on different student volunteers to read the quotes aloud.

Ask students to silently think about the quotes, to choose one that resonates with them, and to write a couple of sentences about what it means to them.

Have student pairs share with each other their quotes and why they chose them.

Open the discussion up to the class for students to share their view of mathematics and math class.

Tally the number of students who chose each quote to summarize the class discussion about the different ways math can be viewed.