3 Little Pigs STEM/STEAM Lesson Plan Template, Grades 5–6
Engaging struggling students is a important and productive undertaking in every classroom. I am excited to share with you today a Science, Technology, Engineering, Arts, and Mathematics (STEAM) lesson that connects to the language arts curriculum. I designed this STEM lesson plan template that students will love, based on "The Three Little Pigs" fairy tale.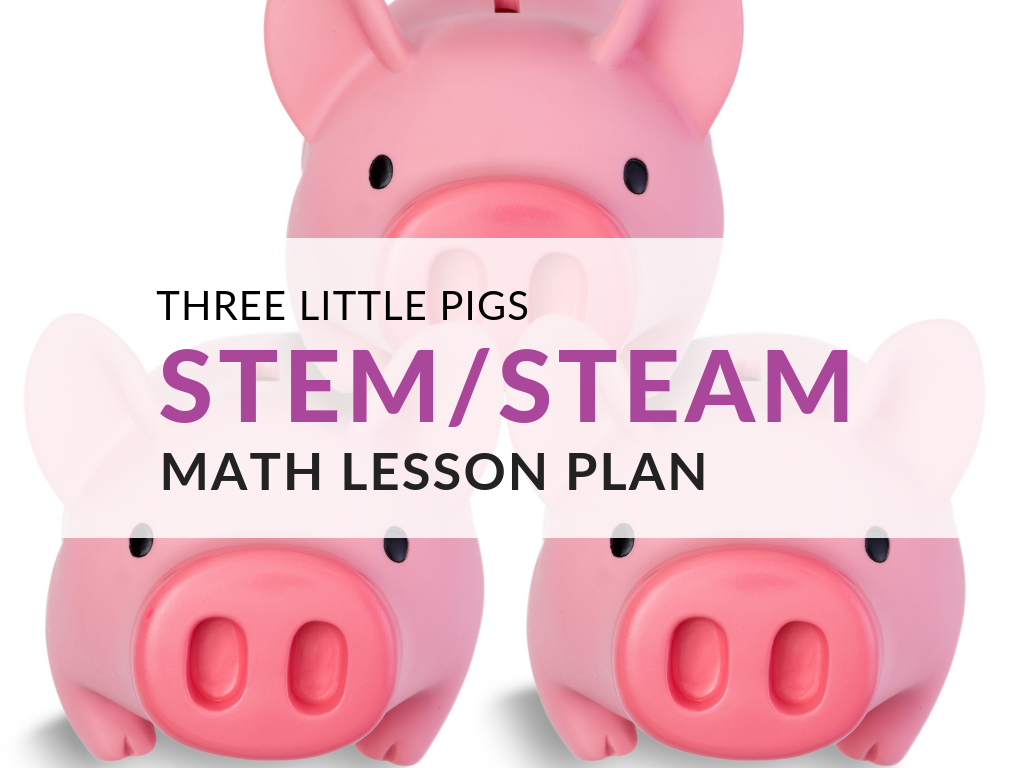 Having recently watched Ellen Edmonds's webinar, Motivating Reluctant Learners Through STEAM Connections, I was persuaded that STEAM activities are particularly useful for motivating students who struggle in math. I must confess that I was thinking of STEAM activities as a way to push forward students with a natural interest in science. I am now thinking of these activities differently—as a way to engage students who are struggling to be at grade level in the various content areas.
I work with a team of math and reading interventionists, special educators, coaches, and instructional specialists who work with programs to help reluctant or struggling learners. We have committed this year to working together to provide students with enriching STEAM activities that also connect to reading. Here's one of our more successful math STEM lesson plans...
Overview of the STEM/STEAM Lesson Plan Template

With the Three Little Pigs STEM/STEAM lesson plan template students will engage in Science, Technology, Engineering, Arts, and Mathematics activities that also connect to reading. Students will team up to build houses for the Three Little Pigs out of index cards and masking tape. After subjecting the constructed houses to a wind test, teams will have the opportunity to reinforce their structures before a second wind test!
If you want to engage students in a STEAM activities, then "The Three Little Pigs" is an excellent base from which to organize a project for your students. It is a familiar story which makes it is easy to connect STEAM topics, as well as to tie it to reading and writing. In addition, at the time we implemented this activity with our group of struggling student, there had been a lot of hurricanes in Houston, Florida, the Caribbean and Central America. Students were able to make the connection between the importance of not having houses blow over and lose their roofs and real-life events.
I created this STEM/STEAM math activity for grades 5–8, but it can be easily adapted for other grades. This project can be completed within a seventy-minute block. Download the STEM/STEAM lesson plan template to get started! It includes:
√ Overview
√ STEAM Connections
√ Materials Sheet
√ Activity Instructions for Teachers
√ Instruction Sheet for Students
√ Student Reflection Sheet
√ Roof Template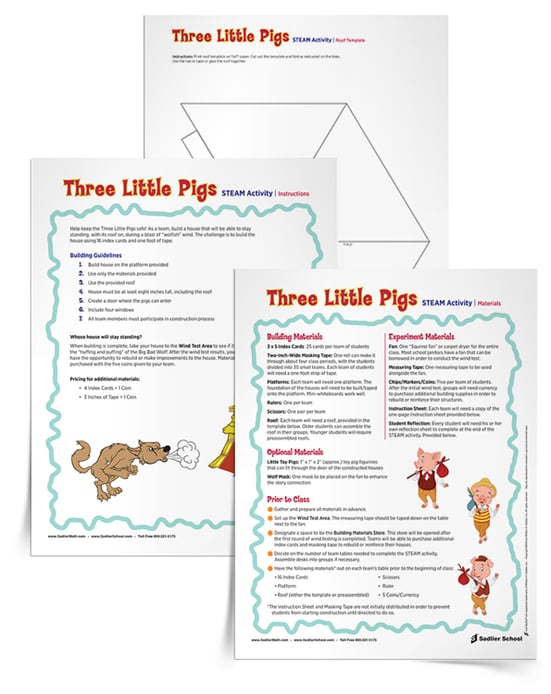 STEM/STEAM Lesson Plan Template Connections

SCIENCE, TECHNOLOGY, ENGINEERING
Consider how the the materials provided create limitations and opportunities for the project
Plan, construct, test, and refine designs to improve performance on wind tests
Consider how forces (wind) act on structures
ART
Use sketches and drawings to show how the parts of the "house" are related to each other
Convey meaning through the use of design sketches
Document changes in designs through drawings
MATH
Name shapes of quadrilaterals, triangles and other polygons in sketches and buildings
Use unit prices to calculate costs when purchasing materials
Analyze givens, constraints, relationships, and goals of the design project
Note: At first, I thought that the math standards addressed would be about geometric shapes, parallel lines and right angles. However, I found that most of the mathematical conversations I had with students were about buying tape and index cards at the store. Students had five "coins" to spend on additional supplies during the second building phase. I was able to assess each student's ability to use the unit rate to find the cost of a certain length of tape or certain number of cards. I was very intentional about not letting them buy their purchases unless they could describe the cost system. This is a perfect standard for middle school students!

READING
Connect literature to real-life situations through the construction of a model
Create alternate endings to the story
Consider a story from the perspective of the wolf
Note: Adding reading to STEAM makes STREAM! We had reading interventionists read "The Three LIttle Pigs" fairy tale prior to doing the activity.
Materials Needed for STEM/STEAM Lesson Plan Template

BUILDING MATERIALS
3 x 5 Index Cards: 25 cards per team of students
Two-Inch-Wide Masking Tape: One roll can make it through about four class periods, with the students divided into 35 small teams. Each team of students will need a one-foot strip of tape.
Platforms: Each team will need one platform. The foundation of the houses will need to be built/taped onto the platform. Mini-whiteboards will work well.
Rulers: One per team
Scissors: One pair per team
Roof: Each team will need a roof, provided in the lesson plan template. Older students can assemble the roof in their groups. Younger students will require preassembled roofs.
EXPERIMENT MATERIALS
Fan: One "Squirrel fan" or carpet dryer for the entire class. Most school janitors have a fan that can be borrowed in order to conduct the wind test.
Measuring Tape: One measuring tape to be used with alongside the fan.
Chips/Markers/Coins: Five per team of students. After the initial wind test, groups will need currency to purchase additional building supplies in order to reinforce their structures.
Instruction Sheet: Each team will need a copy of the one-page instruction sheet. Provided in the lesson plan template download.
Student Reflection Sheet: Every student will need his or her own reflection sheet to complete at the end of the STEAM activity. Provided in the lesson plan template download.
OPTIONAL MATERIALS
Little Toy Pigs: 1" x 1" x 2" toy pig figurines (must be able to fit through the door of the constructed houses).
I didn't want to buy anything, but I couldn't help myself. Bathtub pigs that squeak were a great and not-too-expensive addition to the activity. I ordered them online. You can see the pigs in the photos of the houses students built, below.
Wolf Mask: One mask to be placed on the fan to enhance the story connection.
Yes, I bought something else, but could have created it if I had had time. We wanted to "dress up" the fan as the wolf to enhance the story connection.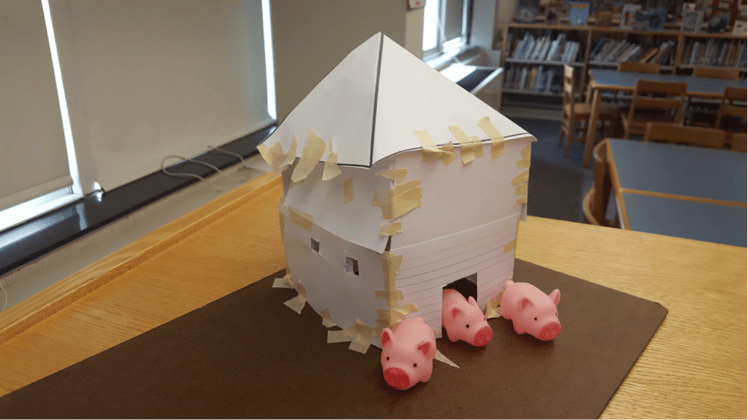 Prior to Class

Gather and prepare all materials in advance.
Set up the Wind Test Area. The measuring tape should be taped down on the table next to the fan.

Designate a space to be the Building Materials Store. This store will be opened after the first round of wind testing is completed. Teams will be able to purchase additional index cards and masking tape to reinforce their houses.
Decide on the number of team tables needed to complete this activity. Assemble desks into groups if necessary.
Have the following materials* out on each team's table prior to the beginning of class:

16 Index Cards
Platform
Roof (either the template or preassembled)
Scissors
Ruler
5 Coins/Currency
*The Instruction Sheet (included in STEM lesson plan template download) and masking tape are not initially distributed in order to prevent students from starting construction until directed to do so.
Instructions for STEM/STEAM Lesson Plan

Count off students into teams of four as they enter the classroom. Direct them to their team table.
Read aloud "The Three Little Pigs" fairy tale. Then introduce and explain the objective of the STEAM activity to students.
Have each group select a team member to be responsible for materials. The selected "Materials Manager" will retrieve the Instruction Sheet and return to their table.
Teams have three minutes to read the Instruction Sheet, review materials, and plan. After the three minutes are up, ask the team "Materials Manager" to retrieve a one-foot strip of tape.
Teams have 15–20 minutes to build their house. Each house must be at least eight inches high, including the roof. Once a team completes their house they can head to the Wind Test Area.
At the testing area, place the house (still attached to its platform) one meter from the fan. Turn the fan on and up to the maximum speed. If the building can endure the maximum fan speed at one meter, move it closer to the fan. Measure how close the house can get to the fan before "blowing down."
After every team has completed the wind test, the Building Materials Store will open. Review the store pricing policies with students.
3 Inches of Masking Tape = 1 Coin
4 Index Cards = 1 Coin
Teams have three minutes to discuss plans to reinforce their structures and decide what materials they want to purchase. The "Materials Manager" will be responsible for purchasing additional materials.
Teams have 7–10 minutes to rebuild or reinforce their houses.
Begin the second round of wind testing. Observe whether structures have improved.
Have each student complete a Student Reflection Sheet about the activity.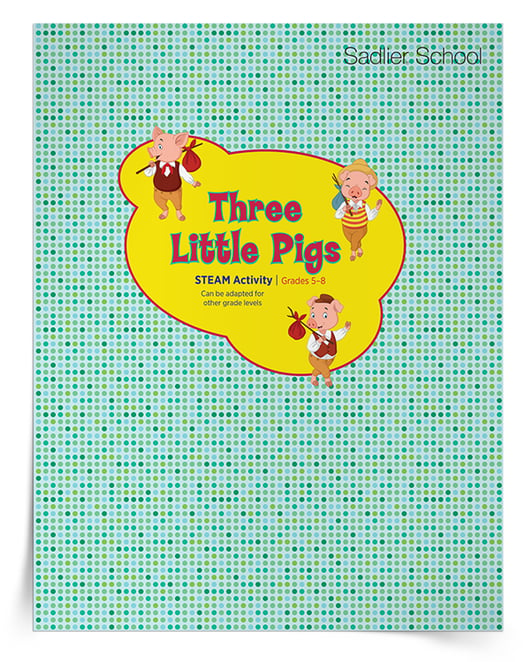 Conclusion
Download the STEM/STEAM lesson plan template so you can implement the Three LIttle Pigs Activity in your classroom. You can use the roof template, instructions, and reflection sheets to get the lesson up and running in your classroom this week.