5 Ways to Update Your Methods and Strategies In Teaching Mathematics
If you are feeling like your methods and strategies in teaching mathematics have gotten a little stale, it is time to breath new life into your teaching! In this article, I explore the dreaded "teaching slump" and how incorporating new strategies into instruction is the quickest way to kick the boredom and negativity.
This article is a companion piece to the webinar, Need Ideas to Update and Enhance Your Math Instruction? available for free on the Sadlier website. I hope you will take time to listen to Ellen Edmonds' webinar, but this post will expand on the presentation and point you to some resources that can help you implement best practices and refresh, or even overhaul, your teaching.

WHEN YOUR METHODS OF TEACHING MATHEMATICS START FEELING STAGNANT
If you have been teaching math for several years, as I have, you probably have seen a slump in your own and others' practice. I survived the first few years of teaching, learning about classroom management and how to process the ever-continuing flow of correcting and administrative duties. Then I began thinking about what it was going to be like to do this for the rest of my life. Don't get me wrong—I love teaching, but the daily grind sometimes ate away at my motivation.
Research suggests that there is such an emphasis on supporting the first few years of a teacher's career that some of us might feel a little left out after we have gotten past that stage. The professional development sessions that focus on new teachers don't quite meet our needs. The formal mentoring that the young teacher receives isn't provided for his more experienced colleagues.
Many in education assume veteran teachers have "made it" and don't need much help anymore. There also seems to be a bit of taboo for veteran teachers to admit or explore the onset of boredom that sometimes pops up after years of teaching the same thing over and over again.
I had my own slump a few years into my teaching profession. One of the schools I worked at was really tough, and I thought I would try a new school. That school was tough, too. I started wondering whether I was really going to be good at this teaching thing. My principal was pretty tough on me. She actually said, "I thought I was going to get more than you brought, given your experience." Fortunately, she also gave me some support and helped me to dig in deeper. I am so glad I made it through that teaching slump. I came out as a stronger person, and a much better teacher.
My experience with the teaching slump taught me that one of the quickest ways to kick the boredom and negativity was to incorporate new strategies into my teaching. So I want to share with you some of the strategies that you can put into place, or that you can help another teacher put into place in order to freshen up his or her teaching.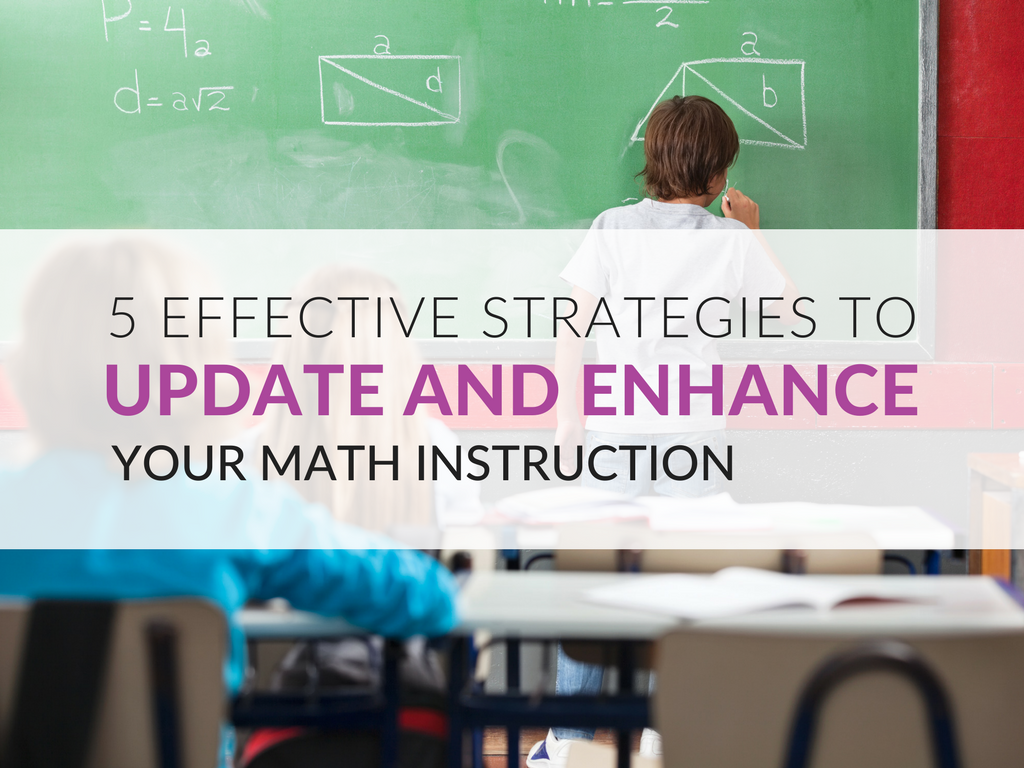 5 WAYS TO UPDATE YOUR METHODS AND STRATEGIES OF TEACHING MATHEMATICS



#1 IMPROVE YOUR USE OF CLASSROOM DISCOURSE
Creating rich classroom discussions is one way you can breathe new life into your classrooms. What does it feel like going from being the "sage on the stage" to being "the guide on the side" in your classroom? As I mature as a teacher, I am thinking more and more about how to have great discussions as class by structuring think-pair-share activities, using accountable talk strategies, and figuring out how to draw out reluctant class participants.
In my initial training as a classroom teacher, the 1991 National Council of Teachers of Mathematics standards were fairly new. As a result, much of the focus of my training and early teaching career focused on implementing these standards, including the process standards. I was always seeking to find ways for students to communicate about math, to represent problems in new ways, to make meaningful connections within and outside mathematics, to solve problems that had a rich context, and to be able to justify their reasoning or proofs of mathematical ideas. These process standards, for me, have been and are still a fundamental part of creating rich classroom discussions.
A second part of my development as a teacher and math coach was learning about accountable talk in my classroom. The brought me a toolbox of techniques and a greater sense of self-awareness about creating rich classroom discussions that involve all students. These discussions should hold them accountable to listen to each other, building their reasoning skills and promoting a deeper knowledge of the mathematics concepts at hand.
If you are unfamiliar with these techniques, I would encourage you to read this post, which includes easy-to-implement strategies for accountable talk.
Of course, there are some simple questions to use with students that you can include in your lesson plans:

#2 PROMOTE STUDENTS' DEVELOPMENT OF PROCEDURAL AND COMPUTATIONAL FLUENCY
With so much focus recently on conceptual understanding, modeling, and problem solving, it can be easy to forget that both procedural and computational fluencies are foundational to students' long-term success in mathematics.
There are many online and commercial products available to help students develop these fluencies, but even if you don't have the technology available, there are still ways to work on them. A couple of my posts provide some of these resources, and I hope that you will take advantage of them:
As you work with students to improve their fluency, remember that the activities you implement should be brief, engaging, and purposeful, and should be distributed throughout the school year. Practicing fluency should not be drudgery for students. It can be made fun! And that kind of fun atmosphere can help liven up your classroom.

#3 USE REAL-WORLD PROBLEMS
Modeling, reasoning, and problem solving are the goals of higher order thinking in the math classroom. Not only are the modern open response questions on high-stakes tests focused on these areas, but they are also one way that students can become engaged in math. Rich contextual problems can help students see why math is important and answer the question: "Why are we learning this?"
I know that many of the "real-world" problems in textbooks I have used are a bit flimsy such as: "Bob sold ½ of a 16 acre plot. He then sold ⅔ of the remaining piece. How much of the 16 acres remain unsold?" While valuable procedurally and for the purposes of reading, this is not the kind of rich context where students get involved with a personal connection to the problem.
One example of what I mean by a real-world problem is the surface area activity I posted a while ago on this blog. This activity poses a problem where students need to grapple with a decision about how to package a product. The tradeoff in designing the packaging is about the environmental waste and the cost of cardboard versus the need to provide a large enough surface to provide space for marketing the product. Not only are students responsible for calculating the surface area of a rectangular prism, but they also have to use that information to support an argument. The end product of this activity is to write a proposal to the president of the company to produce the packaging of the product.
While I might not be able to do a project like this often during the school year, providing such activities can help student see the use of mathematics.

#4 IMPLEMENT BLENDED LEARNING IN YOUR CLASSROOM
With the ever-changing developments in technology, there is a great opportunity to breathe new life into your classroom through the use of computers. But remember, it's not the fact that you are using technology, it's how you incorporate it that makes all the difference.
As an experienced teacher, you can rethink how to incorporate technology strategically and align it to your district grade-level goals for technology use for students. Blended technology does not mean abandoning traditional teaching methods, it means augmenting them with the opportunities provided by the availability of technology in and out of the classroom.
I had a great opportunity to co-teach a class with the computer teacher in my building this year. I learned so much about fun, easy, and yet meaningful ways to incorporate technology into the classroom. It is one of my goals this year to improve my use of blended learning, so keep an eye out for new posts from me on this topic!
I recommend Ellen Edmonds' webinar, Top Ten Blended Learning Best Practices from the Sadlier website if you are looking for some guidance on how to grow in this area.
#5 IMPLEMENT THE STANDARDS FOR MATHEMATICAL PRACTICE
I feel that one of the most valuable resources I have provided through the blog is the number of resources you can use to implement the Standards for Mathematical Practice. I hope you have seen these articles and downloadable resources, but here they are all in one place and organized by standard:

PROBLEM SOLVING

ABSTRACT QUANTITATIVE
REASONING (REPEATED)
MODELING
USING TOOLS
PRECISION
STRUCTURE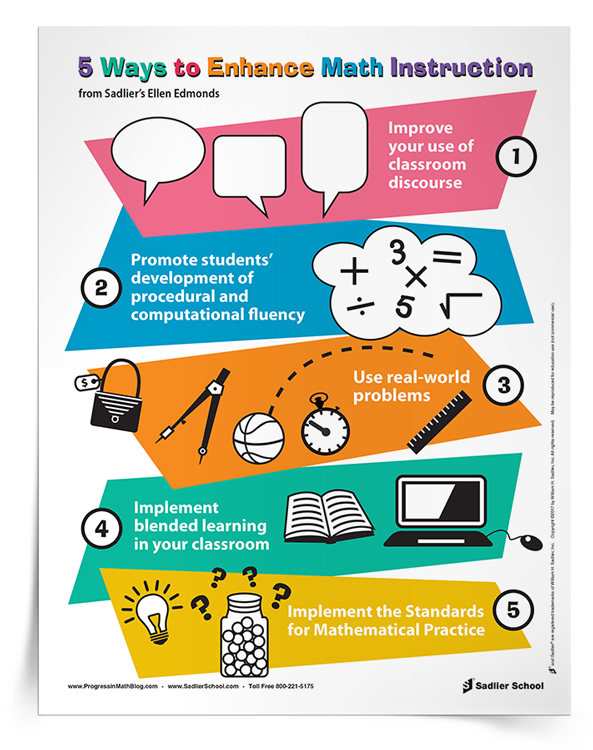 IN SUMMARY
If we can take hold of these elements and put them into practice, or even deepen our use of them if we are already using them, then we will breathe new life into our lessons and build student confidence.
I know that when reflect on my own practice and think about how I can take it deeper to reach more students, I get more excited about my work. By implementing these research-based practices, I will have a profound impact on my students.
Just as our personal relationships do, our career can go through ups and downs. If you find yourself in one of those slumps and are looking for free ways to revitalize your classroom and deepen student comprehension and learning, I hope you can take advantage of the many resources shared in this article.