Math Survey Questions for Teachers – Evaluation Forms for Principals and Coaches
Discover three ways that principals and math coaches can get feedback from mathematics teachers. In this article, we will be looking at math survey questions for teachers, principal evaluation forms for teachers, and conversation prompts. In addition, you will find free printable teacher feedback surveys that can be used to survey teaching departments and curriculum/school evaluation forms that can be used by principals and coaches to survey a variety of educational stakeholders.
Download a Math Teacher Survey for Principals and Coaches now!
Download a 360 Degree Review Survey for Math Coaches now!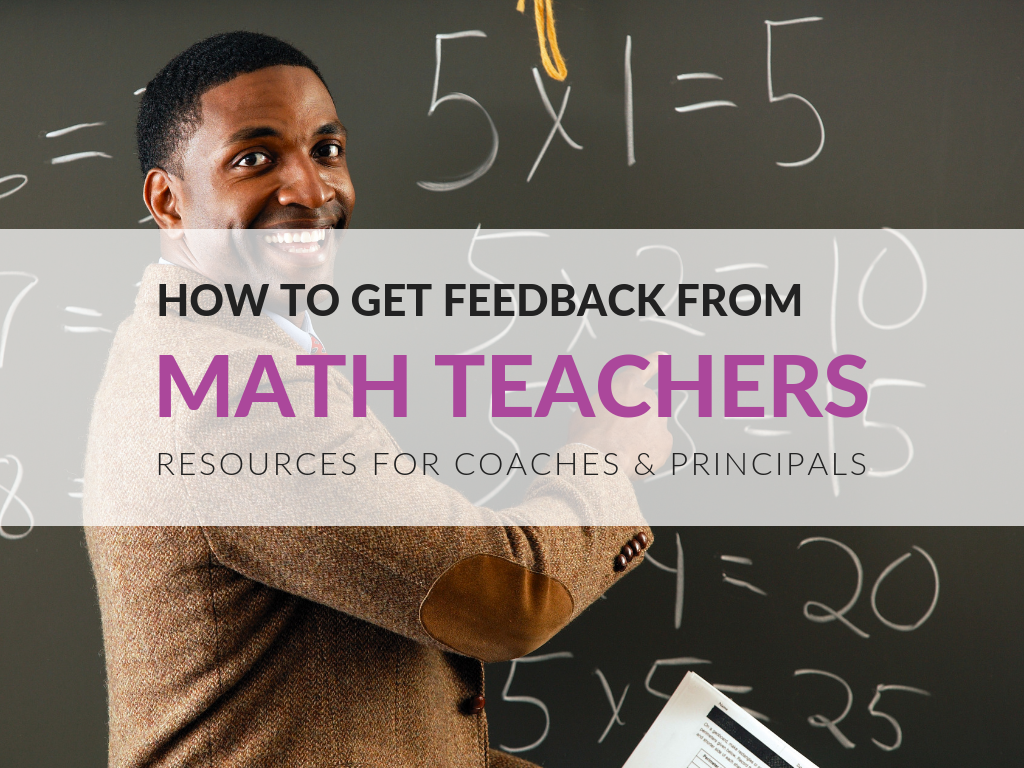 Having been a math coach, math supervisor and teacher, I have been on all sides of giving and getting feedback in the workplace! Feedback is critical for every employee at every level. We all need an honest assessment of our job performance.
Although the topic of this article is ways that principals and coaches can elicit feedback from math teachers, one aspect of this topic is the evaluation of principals and coaches from their teaching team.
Feedback From Math Teachers– Generativity Versus Stagnation
Many states have recently mandated that school leaders gather input on their performance from teachers, students, parents, and other community members.
Using conversation prompts or survey tools principals, math supervisors and coaches can gain feedback for themselves about passing on their wisdom and knowledge of the craft to the next generation. The methods and surveys below can help your learn about your craft, whether you are using them for your own professional growth or as a more formal part of your evaluation.
When I am thinking about professional development, whether for teachers, coaches, or administrators, Erikson's Stages of Development always come to mind.
For principals or coaches, already established in the educational system, their stage of development is Generativity versus Stagnation. The major question of this stage is: "How can I contribute to the world?" Educators moving toward the generative pole of this stage are concerned with passing on their craft to the next generation of teachers and administrators, while those moving toward the stagnation pole of this stage are dissatisfied with their current state of affairs and are making little progress to change it.
Which pole do you want to find yourself at?
Every educator will come to a crossroad in their career where they get to choose whether they'll move towards the generative pole or stagnation pole. Choose to be generative in your thinking. When principals, coaches, and specialists seek the input of those they work most closely with they will gain a greater understanding of their strengths and weaknesses.
Modeling this reflective practice promotes generativity in the workplace. When math teachers see how their input can result in real change, we create a work culture that is positive, productive, and focused on results, something I we hope they will imitate and pass on to future educators.
3 Ways to Get Feedback From Math Teachers
Math Survey Questions for Teachers
Particularly if you are new to your coaching or principal's position, but even if you are trying to avoid stagnation and promote a fresh perspective on your leadership, surveying all of the teachers in the math department is a good way to start. Establishing the idea that you want and appreciate input sets a tone that will promote further openness and feedback.
The math survey questions I have for teachers would ideally be used after several months of working with teachers, as they need to have some knowledge of what it is like to work with you.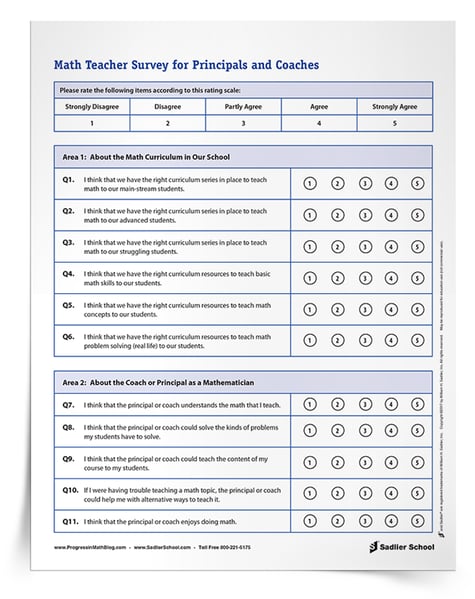 HOW IT WORKS:
The Math Teacher Survey for Principals and Coaches solicits feedback from math teachers in the areas of math curriculum, the principal or coach's mathematical knowledge, the nature of interactions with the principal or coach, and discussions about how to teach math. Opening a dialogue with teachers about these key topics and about your leadership will promote the development of a professional culture among your math team.
Giving this survey online would be efficient, but there's something to be said about a simple paper and pencil exercise as part of a team meeting or a professional development today.
I would think of it like a college end-of-course evaluation, where the professor hands out the survey, gives a class member an envelope, asks them to collect the survey, and then leaves the room while the survey is completed. This survey shouldn't take more than ten minutes to complete.
After you have collected the surveys and analyzed the data, it is critical that you promptly share the results of the survey with the math teachers. Even if the data isn't always flattering, your openness and transparency about their responses will model how you want them to respond to student test results or to surveys that they might give on their own.
Go the next step and model for them how you are crafting a plan to respond to their evaluation of your work. For instance: "I see that from your surveys that you aren't comfortable bringing up difficult topics with me. How can I make you more comfortable about saying what is really on your mind?"
Offer some ideas, take their suggestions, and follow up on a plan. Your leadership in establishing a culture of response to data will model what you expect to see from them.
Conversational Prompts for Generative Feedback From Teachers
Below, you will find a collection of prompts that you can use to gather feedback from teachers when you are meeting with them.
Example of a series of conversational prompts:
Dialouge 1

If you were in my shoes, what would you change tomorrow? Why?

What are you hearing students say about our school?

What do you enjoy the most about your job? The least?

How can I help you be more successful?
Dialouge 2

How is your project (unit plan, professional development component, university course) coming along?

What's going well?

What's stopping you from reaching this goal?

What do you need in order to reach your goal?
Dialouge 3

Think of a time you've been highly productive.

What factors influenced this productivity?

What factors got in the way of it?

What can I do to help you overcome the hurdles you face in your teaching?
Dialouge 4

Think of a recent project or task I worked with you on.

What did I do to help you?

What could I have done better to support you?

How can I best support you on future projects or tasks?

What can I do differently next time that will be more helpful?
Dialouge 5

Think of a recent meeting we had.

Were the goals of the meeting clear?

How did I make others feel in that meeting?

Did I facilitate the conversation productively?

How do you think the other (parents, teachers, students, administrators, community members) perceive me?

Is there something I can do to improve the meetings we have?
HOW IT WORKS:
I think that these conversations are at their best when conducted informally, over lunch or coffee, while doing hallway duty—those minutes-long opportunities to connect with your colleagues. Of course they can also work in more formal settings, like evaluations, but you are not evaluating them, you are receiving feedback for yourself.
When you receive feedback from employees in this way be aware of your reactions. Always say "Thank you," let them know that their feedback is important, and tell them what you will do to respond to it. Don't assume at first that their feedback is 100% honest. You are working to build an open honest relationship. You might think they are totally off-base, but you also have a different perspective.
Ask yourself why teachers might be in such a different place from you on a specific topic. This lets your employee know you're aware of his frustration and provides him with an opportunity to enlighten you.
Whether you believe that your employee's frustrations are warranted or not, it's better to know why discontent is breeding than to dismiss or misunderstand it.
360 Degree Review Survey for Math Coaches
You may not be familiar with the 360 Degree Review process. The 360 Degree Review is a popular tool in the corporate world.
This upwards view of evaluation, in which teachers and other stakeholders in the educational system provide feedback to school leaders, is a human resources tool from the corporate world that was first conceived of in the middle of last century.
It has gained in popularity in the last two decades because of the ease of data collection through online sources.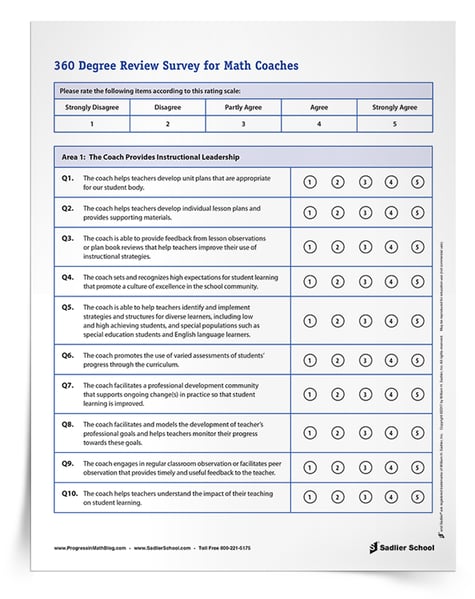 HOW IT WORKS:
Different from the first survey listed above, which would go to a whole department, the 360 Degree Review Survey for Math Coaches seeks wide input from a variety of sources. This survey is based on guidelines from my state department of education for administrators who work with teachers.
The 360 Degree Review Survey for Math Coaches is meant to be used by a math coach, math specialist, or math supervisor.
The coach might choose a few different teachers from different grade levels, paraprofessionals, principals, or vice principals they work with, central office administrators, and even parents or community members who collaborate with the school in some way.
The goal is not to survey too many people. A few key people who work with you often, carefully chosen, will give you a feel for what people think about your work and interactions with them.
The people who complete the 360 Degree Review Survey for Math Coaches are going to want anonymity in order for them to be honest with you. For this reason, it is common for someone besides you to be responsible for collecting the surveys and compiling the results.
For fewer than ten respondents, the results should be totaled and summarized, but if you are working in a large district or at multiple sites and have enough respondents to guarantee anonymity, looking at the results from teachers and administrators would provide useful information for the coach.
The results of a 360 Degree Review Survey for Math Coaches process can be challenging. If you embark on one, be prepared! Our own perceptions of our strengths and weaknesses can be quite different from those of our colleagues. That's why getting their honest opinion is so important.
In Summary
Every educator will come to a crossroad in their career where they get to choose whether they'll move towards the generative pole or stagnation pole. I choose to be generative in my thinking. I seek the input of those work most closely with me to get an honest understanding of my strengths and weaknesses.
Use the dialogues above or download one of the two surveys provided with this post, so that you can get feedback from your colleagues and model the change process that needs to take place in your school.