It's a new school year and I'm already looking for new activities to use with my students, so that we can get to know each other and I can observe a little bit about their math skills. Today, I'm sharing with you a math icebreaker that will get students out of their seats and interacting with each other. Though I use these types of activities throughout the year, I think they are most helpful at the beginning of the school year. They allow me to see students interact with each other and I can see which students are initially shy and which are naturally more gregarious.
A Handshake and a Question Math Icebreaker & Review Activity
I have been using this math icebreaker for most of my teaching career. It offers the opportunity to teach students how to shake hands and introduce themselves, a skill that isn't included in most textbooks. You can use almost any content that can be put on a flash card. The only challenging aspect of the activity is the process—but once you use this as a math icebreaker during at the beginning of the school year, you can continue to use it throughout the year as a way to review and assess students' fact-based knowledge.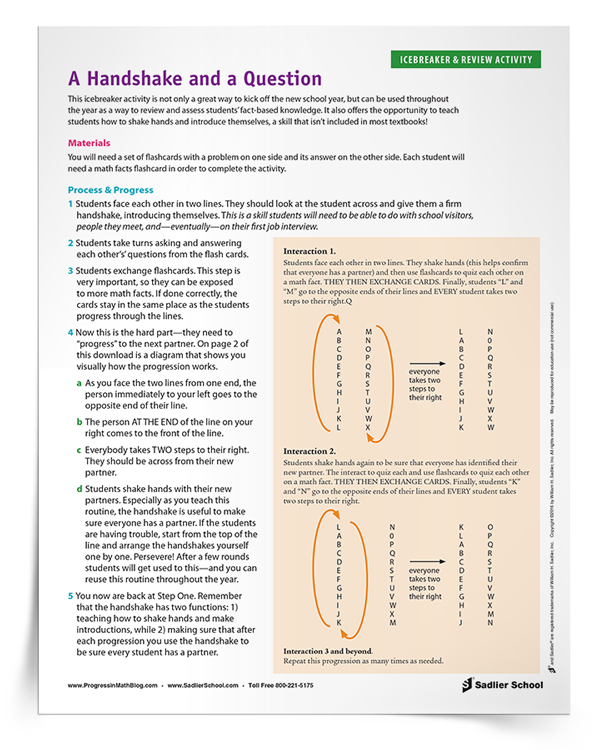 You will need a set of flashcards with the problem on one side and the answer on the other side. For a beginning of the year icebreaker, I often make a custom set of cards, using material students have covered in the previous school year. You will need one flashcard for each student. Pay careful attention to how students progress through the lines while you assess their progress on the math facts from the flashcards.
Students face each other in two lines. They should look at the student across from them and give them a firm handshake, introducing themselves. This is a skill students will need to be able to do with school visitors, people they meet, and—eventually—on their first job interview.

Students take turns asking and answering each others' questions from the flash cards.

Students exchange flashcards. This step is very important, so they can be exposed to more math facts. If done correctly, the cards stay in the same place as the students progress through the lines.

Now this is the hard part—they need to "progress" to the next partner. You can download a diagram that shows you visually how the progression works.

As you face the two lines from one end, the person immediately to your left goes to the opposite end of their line.

The person AT THE END of the line on your right comes to the front of the line.

Everybody takes TWO steps to their right. They should be across from their new partner.

Students shake hands with their new partners. Especially as you teach this routine, the handshake is useful to make sure everyone has a partner. If the students are having trouble, start from the top of the line and arrange the handshakes yourself, one by one. Persevere! After a few rounds students will get used to this—and you can reuse this routine throughout the year.

You now are back at Step One. Remember that the handshake has two functions: 1) teaching how to shake hands and make introductions, while 2) making sure that after each progression you use the handshake to be sure every student has a partner.
To assist you in implementing this icebreaker activity in your classroom, I've created a printable download with instructions and directions to cycle students through a set of interactions! Get it now.