Summer is long, and learners need to practice their vocabulary or they lose much of the knowledge they've gained during the school year. A great way to encourage learners to retain their vocabulary knowledge is through playing games. In this article, you'll discover five printable vocabulary games that will get students using their vocabulary this summer!

Summer Vocabulary Games for Learners and Caregivers
This low stress, boredom-reducing solution makes reviewing vocabulary fun not only for learners, but also for their parents, babysitters, camp counselors, and others who need activities that are both entertaining and educational!
Overall, with these summer vocabulary games, learners can review, caregivers can have fun, and everyone wins!
#1 Oranges to Oranges Vocabulary Game
The first game on this summer list is my all-time favorite, the Oranges to Oranges vocabulary game. Using Apples to Apples red cards, learners create "Oranges" cards with their vocabulary words written on them and so as the game is played, the learners and caregivers are constantly using vocabulary words. I have never played a game of Oranges to Oranges without laughing, and I think that it can be an easy sell for summer learners in your life.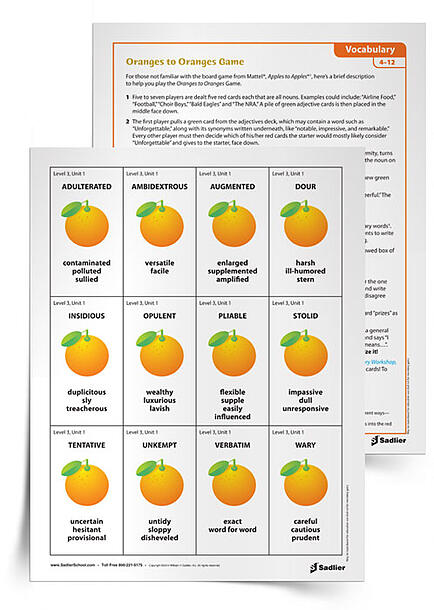 #2 Guess The Words Vocabulary Game
The second vocabulary game can be Banned Words or Guess the Word, and it is similar to Taboo. Learners create their own cards with the vocabulary word at the top, and, underneath, words they cannot say while guessing. Team members have to guess the vocabulary word while one team member tries to describe the word, without using any of the words that are "banned." Again, this is another great way for learners to think about vocabulary words this summer!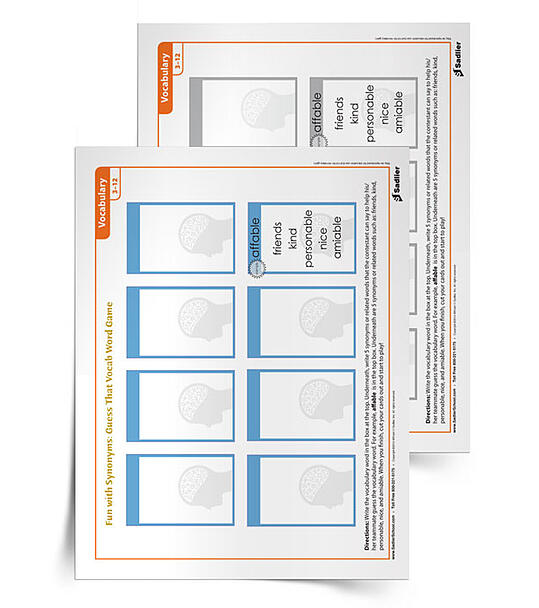 #3 "Go Fish" for Vocabulary Game
The third game on this summer list is Go Fish for Vocabulary. With this printable learners create fish cards with their vocabulary words and then play a game of "Go Fish" by asking if another player has a word with a specific definition. This is the perfect vocabulary game after a long summer swim day!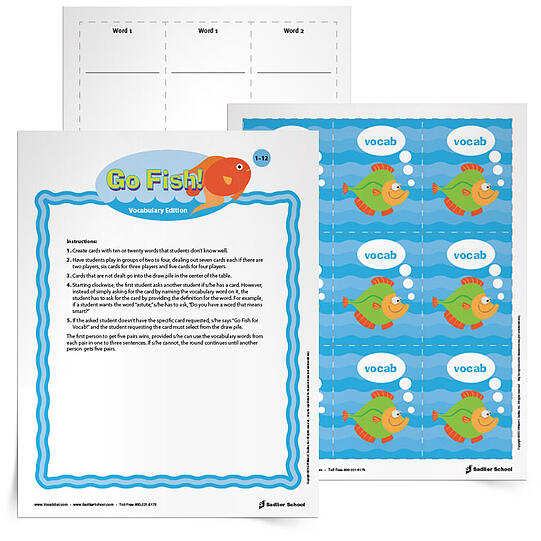 #4 Picabulary Vocabulary Game
Another excellent game to play over the summer is Picabulary, in which learners draw their vocabulary words. This makes for a silly, fun pastime for a rainy day or hot afternoon that does not require any prep work other than writing out the vocabulary words on flashcards.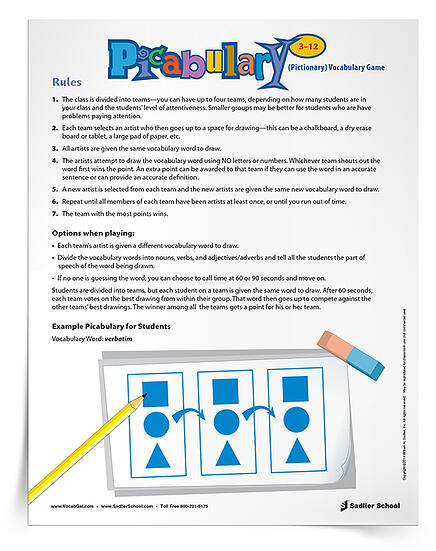 #5 Vocabulary Video Game
Finally, learners can have some videogame fun without the screen time! The Vocabulary Video Game is a 2-D game, but a great deal of fun that mimics classic videogame adventures. In this game, learners get to name their avatars and decide the challenges each player faces along the way, using vocabulary, of course.