April 22 is Earth Day, and this provides teachers with an opportunity to encourage students to get involved in persevering their own communities! With these Earth Day writing activities students will connect writing with environmental concerns.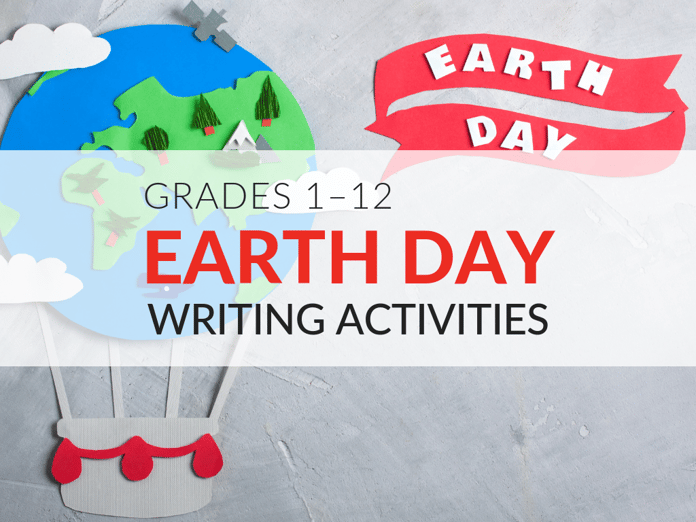 PRINTABLE EARTH DAY WRITING ACTIVITIES



ACTIVITY 1: WHAT'S YOUR PROMISE? EARTH DAY WRITING
The first of the Earth Day writing activities I'm highlighting is for students grades K–6. With this worksheet students will write down a promise they are willing to make on Earth Day to make the planet a better place. Once students have written down their commitments and colored their Earth Day worksheet, hang the finished work on a bulletin board in the classroom or hallway. Download the What's Your Promise? Earth Day Writing Activity now.

ACTIVITY 2: AN EARTH DAY OPINION PIECE
The second Earth Day writing activity I have available for download is for students grades 3–8. I love this exercise because it connects writing, research, classroom collaboration, and environmental concerns!
Using the Opinion Piece Outline Graphic Organizer, teachers will task students with writing an opinion piece on a topic that is of a concern to them or they want to learn about to celebrate Earth Day. The opinion piece topics can either stem from events in their community or issues on a more global scale. Possible topics include:
Recycling

Use of electricity

Litter

Pollution, air and water

Planting trees

Walking or riding a bike (vs. driving)

Turning off the TV

Conserve water

Plastic water bottles
Download the Opinion Piece Outline Graphic Organizer to assist students in their writing.
ACTIVITY 3: EARTH DAY VOCABULARY WORKSHEET
The third of the Earth Day writing activities I'm sharing today was created by the fabulous Vocab Gal! In honor of our planet, have students in grades 1–12 draw their favorite landscape using vocabulary words.
Yep, with this Earth Day writing activity students will actually shape words and letters together to form various elements of their landscape. The fun yet challenging part of this activity is that the words they use to draw each item must have connection with the object. For example, trees are large and solid so they could be created from vocabulary words that have similar meaning.
To reinforce this idea, students will give brief explanations at the bottom of their worksheet for why they chose the words they did for each object. Sometimes this may be obvious, but by having to repeat the vocabulary word again and justify it in an explanation helps reinforce the meaning (and if it's not quite right, they can explain their thinking explicitly, so we don't have to guess).
Finally, there are a number of extension writing ideas you could pair with this activity. Students could write a poem about their landscape using vocabulary words or fill out a What's Your Promise? handout. Download the Earth Day Vocabulary Worksheet now.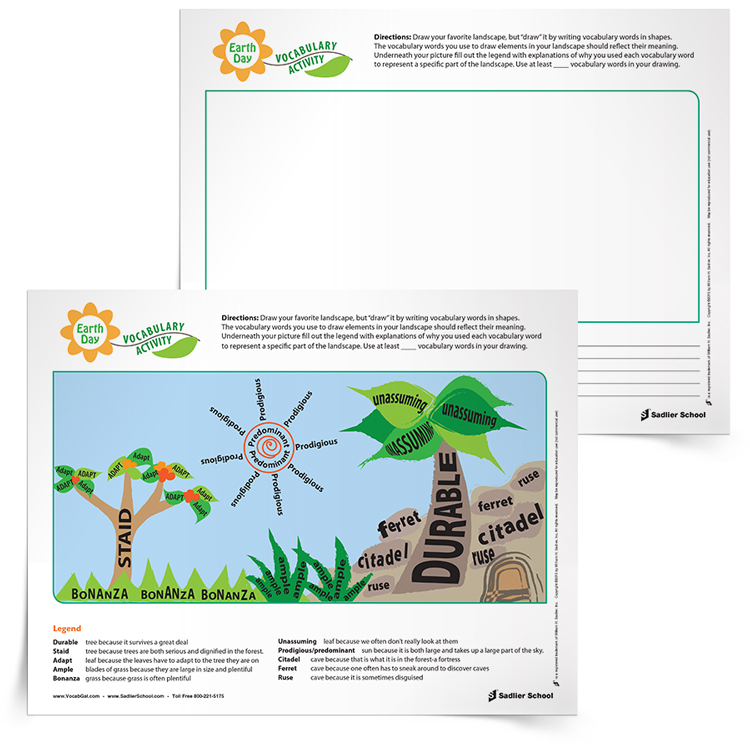 IN SUMMARY
Hopefully the writing resources above will help you celebrate our amazing planet in the classroom on April 22. These Earth Day writing activities may seem silly in comparison to the environmental concerns our planet is facing, but they can have a huge impact on our students.
With these Earth Day writing activities our students will reflect on the importance of taking care of the Earth and will hopefully be inspired to support environmental projects in their own community.