Download eight free Halloween language arts worksheets that will engage students in learning and make your classroom feel truly spooktacular! The Halloween printable activities below include amazing downloads from the Core Literacy Blog and Core Grammar Blog.

NUMBER 1: HALLOWEEN MAD LIBS ACTIVITY
Assess how well your students know personal pronouns, adjectives, verbs, and nouns with a simple Halloween Mad Libsprintable. With this activity students will have fun while practicing different parts of speech.
NUMBER 2: PUMPKIN PATCH VOCABULARY ACTIVITY
Who wouldn't love writing little pumpkin phrases on little paper pumpkins? With the Pumpkin Patch Vocabulary Activity students are encouraged to write pumpkin phrases that are alliterative, or use a pun, or play with similes- any specific literary technique that you want. As always, these descriptions should include as many vocabulary words as possible!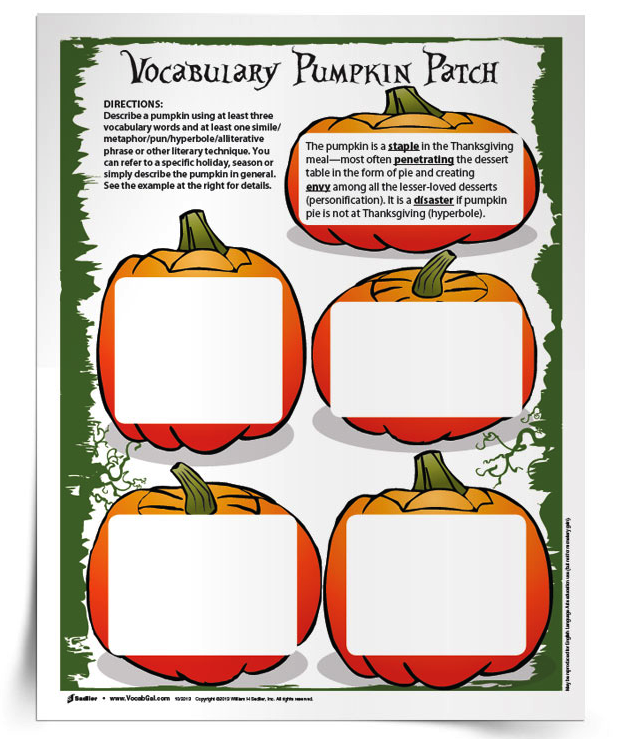 NUMBER 3: HALLOWEEN READING COMPREHENSION WORKSHEETS AND PICTURE BOOKS
Harness the enthusiasm students have for Halloween and get them reading! Download the Halloween Reading Resources and use them with students as you read your favorite spooky stories throughout the month. These Halloween language arts worksheets include a list of Halloween picture book recommendations, a Haunted House Story Map, and a Pumpkin Template for taking notes.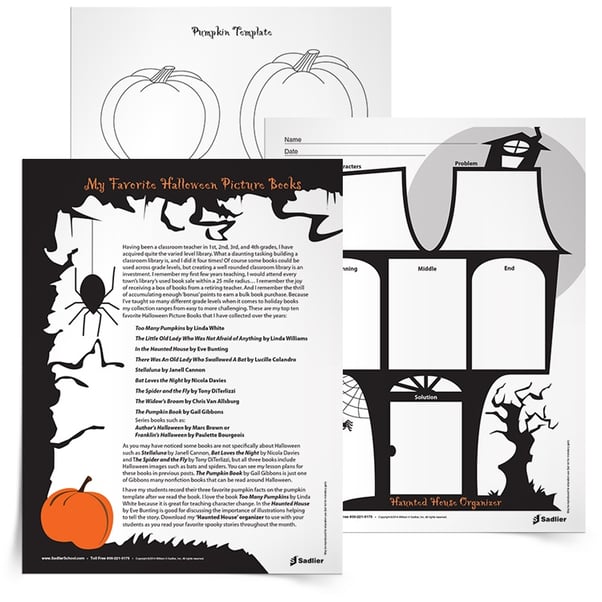 NUMBER 4: HALLOWEEN-THEMED WRITING ACTIVITY
With the Halloween-Themed Writing Activity teachers can bring the Halloween fun into the classroom! Use the printable Halloween language arts worksheets to have students write about their most memorable Halloween costume, party, or tradition. For families that don't acknowledge Halloween, have students write about what fall activities they like most (apple picking, raking leaves, hayrides).
NUMBER 5: HALLOWEEN GRAPHIC ORGANIZERS
Holiday-themed graphic organizers are an easy way to keep things new and interesting. Download three Halloween Graphic Organizers that students can use to improve reading comprehension.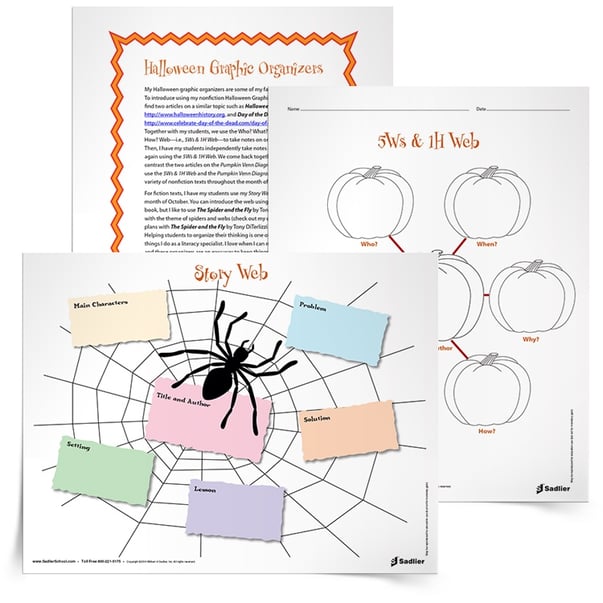 NUMBER 6: HALLOWEEN GRAMMAR VOCABULARY TERMS CROSSWORD PUZZLE
The Halloween Grammar Vocabulary TermsCrossword Puzzle reinforces student's identification of key grammar elements and fosters recognition to aid in learning! With the crossword puzzle students will identify the correct grammar vocabulary term in the clue then find the word in the word bank that fits in the boxes on the crossword puzzle.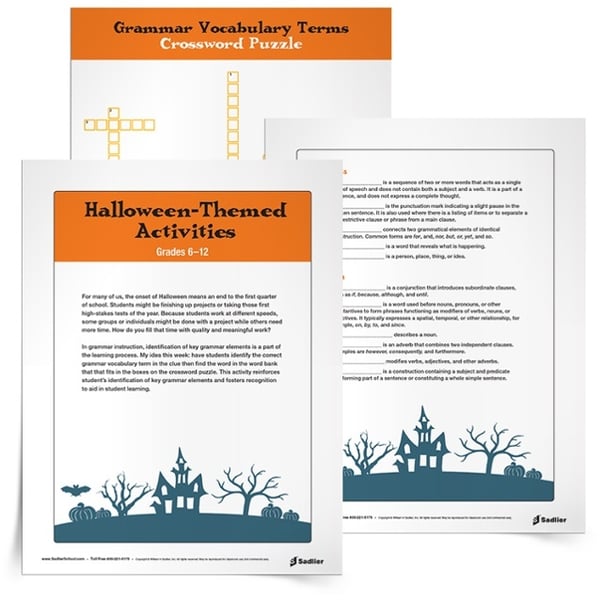 NUMBER 7: HALLOWEEN INTERACTIVE READ ALOUD

Take advantage of the Halloween hysteria to teach students the different characteristics of birds and bats with an Interactive Read Aloud of Stellaluna by Janell Cannon.
This book can be enjoyed in almost any elementary classroom (K-5). Janell Cannon has a wonderful way of teaching kids about animals without them even realizing they are learning.
NUMBER 8: HALLOWEEN PARTS OF SPEECH GAME
Looking for a classroom Halloween game that will be fun AND educational for students? The Pin the Parts of Speech on the Pumpkin game combines learning the parts of speech and a modified version of the game Pin the Tail on the Donkey.