Principals are the pillars of schools. Teachers, students, parents, custodians, paraprofessionals, and the lunch staff turn to principals for guidance and expertise. With principals being pulled so many ways, where should they prioritize their time and attention? How can principals make the biggest impact school-wide? What one focus will ensure success across multiple content areas? The answer is simple...principals need to ensure effective literacy instruction is occurring in EVERY classroom!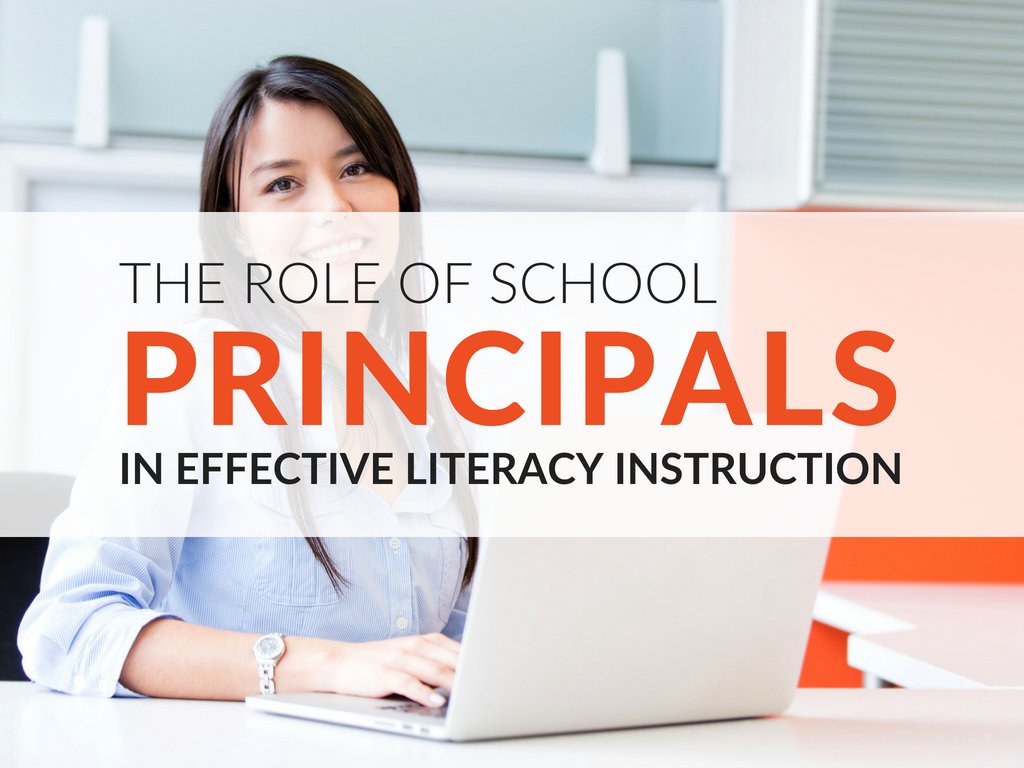 Principals as Literacy Leaders
The role of a principal is critical to implementing effective instruction and boosting literacy success in a school.
"An above average principal can impact student achievement by as much as 20% points." (McRel, 2005).
Research clearly shows the need for principals to step up as literacy leaders. A strong school leader is a motivator and instructional adviser. Being knowledgeable about literacy strategies and current on best practices in literacy instruction will make you an invaluable resource for your staff.
Below are eight ways for principals to become literacy-savvy and oversee effective literacy instruction school wide.
How to Become a Literacy-Savvy Principal and Oversee Effective Literacy Instruction
1. PRESENT THE STAFF WITH A LITERACY VISION
It is essential that principals explain to staff what effective literacy instruction should look like throughout the campus. Teaching and learning expectations must be made clear.
Staff meetings at the beginning of the school year should have a literacy focus for at least a portion of the meeting. Principals can work with the school's literacy specialist on how best to present the staff with their literacy plan.
During this meeting, principals should share a rubric or checklist with teachers so they know what be used during walkthroughs of their classrooms.
2. VISIT CLASSROOMS OFTEN
The frequent presence of a principal or vice principal in classrooms can help improve the level of instruction.
Teachers and students tend to be more motivated and prepared when they know they will be observed. Getting into classrooms on a daily basis can be challenging for many administrators with all the meetings and paperwork their position requires, but it is critical to the success of a school for principals to be aware of what takes place routinely in classrooms.
When visiting classrooms, principals need to be mindful of what they should expect to see.
3. KNOW THE LITERACY SCOPE & SEQUENCES ACROSS GRADE LEVELS
Knowing the curriculum for many grade levels can be overwhelming, but now most districts have concise overviews of literacy units for every grade level.
If a district does not have these unit abstracts readily available, reference the CCSS Key Ideas and Details Reference Guide for Grades K–5. This guide will give principals a general idea of what students should be working on in literacy across the elementary grade levels.
Not only do principals need to be aware of grade level literacy scope and sequences, but they should also be sure that teachers understand the curriculum expectations at their grade level.
Principals might be surprised at how many teachers are still teaching units in a particular way "just because they have taught them for years."
Finally, provide staff with pacing guides to ensure continuity, especially if there are multiple classes at the same grade levels (parents love to compare what is and is not happening in different classrooms across a grade level).
Notice which teachers may need support with the curriculum and/or instructional techniques. Adapt their schedule if possible to bring in specialists or coaches in to model...
4. TAKE PART IN ORGANIZATION OF EFFECTIVE LITERACY INSTRUCTION

Make suggestions about literacy: schedules, possible resources, assessments, data collection and analysis, and instructional strategies.
Have a literacy point person on staff and meet with this person routinely. Sit in on meetings that teachers have with mentors and coaches in order to be aware of what is going well and what areas of literacy instruction may need improvement.
Provide staff with opportunities for instructional growth on an individual basis and as a staff.
5. ATTEND STAFF DEVELOPMENT IN REGARDS TO LITERACY INSTRUCTION WITH YOUR TEACHERS
Learn with your staff about best practices for reading instruction. The more up-to-date you are on current reading instructional strategies, the more literacy-savvy you will be. Education is a field that is constantly growing and changing, so be sure to return to this blog for the latest developments.
School-wide reading data should drive staff development.
6. KNOW YOUR DATA
It is critical that principals are aware of school-wide and class averages on state and district reading tests.
Closely monitor student progress and hold the teachers and students accountable for growth in reading. Both teachers and students should have reading goals they are working towards.
Teachers should have SMART goals based on data; students in the school should have individual reading goals that they are aware of, including actions/steps to achieve their goal.
Students struggling in reading should have interventions in place to help them reach their goals.
7. BE INFORMED ON HOW TO BEST ASSIST YOUR STAFF WITH RESPONSE TO INTERVENTION IMPLEMENTATION (RTI) OR SCIENTIFIC RESEARCH-BASED INTERVENTIONS (SRBI)
Principals should make recommendations for students in Tiers 1, 2 and 3.
They should also know which staff members are responsible for overseeing intervention plans and make sure the school has a Student Assistant Team (SAT) to support staff members with writing and implementing interventions.
For more information about RTI go to: http://www.rti4success.org
8. READ
Enthusiasm for reading is contagious! Principals can share with staff books they are currently reading.
By emphasizing the importance of reading for enjoyment or professional development, teachers and students will be inspired to reach for a good book themselves.
Download my guide that will assist principals in becoming experts on literacy, or at least very savvy about literacy instruction! Reference it often when planning ways in which to support teachers in literacy instruction. It is also a great resource to share with district leaders and assistant principals.
In Conclusion
I have been fortunate enough to work with literacy-savvy principals throughout my career.
Their expertise and guidance has helped me grow tremendously both when I was a classroom teacher and more recently in my role as a literacy specialist. Watching these principals over the years inspired my eight steps for becoming a literacy-savvy principal.
Once again, here are my suggestions, in an easy-to-remember list.
Clearly State The Literacy Vision You Have For Your School
Visit Classrooms Often
Be Familiar With The Literacy Scope And Sequences Across Grade Levels
Take Part In The Overall Organization Of Literacy Instruction At Your School
Attend Staff Development In Regards To Literacy Instruction With Your Teachers
Know Your Data
Be Informed On How To Best Assist Your Staff With Response To Intervention (RTI) Implementation Or Scientific Research-Based Interventions (SRBI)
Read