How to Teach Grammar Effectively in Schools and Across Disciplines [5 Free Printables]
Recently, I had a hallway conversation with colleague who asked me, "Does grammar even matter anymore?" My initial reaction was, "Of course, grammar matters!" But later, this conversation led me to think more purposefully about grammar instruction, and I asked myself, to what extent does grammar instruction matter not only to English Language Arts teachers but also to any high school teacher?
Download 10 Characteristics of Effective Grammar Instruction Tip Sheet now!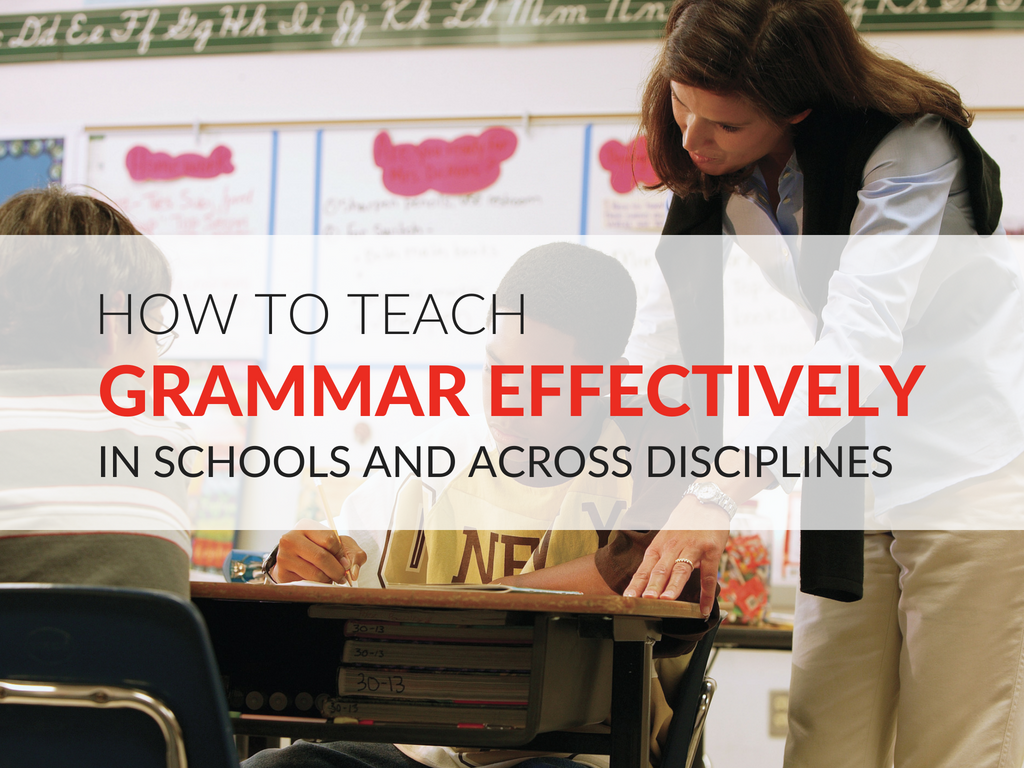 Regardless of the state and federal expectations that are placed on districts, schools, and teachers, students are still expected to write with the correct application of conventions, sentences, and other grammatical skills.
An online search for the research on effective grammar instruction points us in three directions:
1) There is a positive correlation between teaching embedded grammar skills and writing improvement
2) In order to improve student writing, have students write
3) Memorizing rules and skill-and-drill approaches to grammar prove to be ineffective ways to help students understand the English language
While traditionally considered an area for English teachers, grammar instruction is an important content literacy piece for all teachers. The formula is simple: allow students to try, adjust, and try again.
So how can educators teach grammar effectively in schools and across content areas?
How to Teach Grammar Effectively in Schools

#1 Practice Grammar Skills Daily
Successful grammar implementation occurs over time and across varied contexts. Teachers should allow multiple opportunities for students to make mistakes, receive feedback, and improve their skills.
Every day, teachers should plan to include some type of try, adjust, and try again feedback loop. A typical schedule might look like this: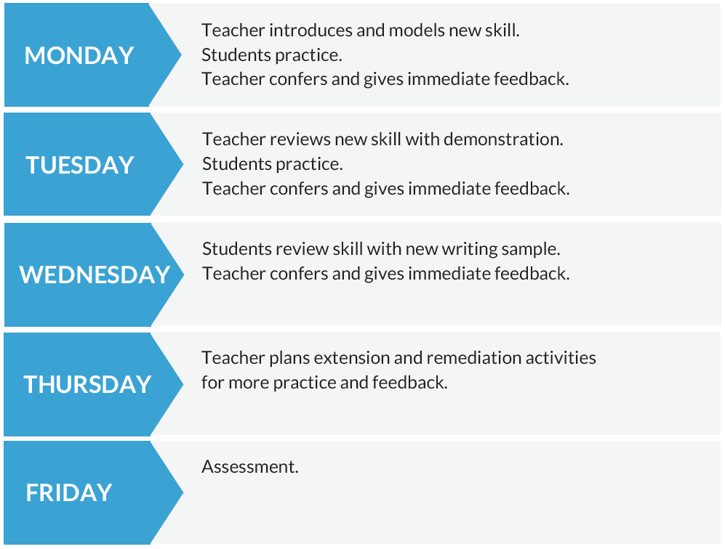 For instance, let's imagine that the desired learning outcome is for students to be able to combine sentences in a variety of ways.
On Monday, the teacher provides a relevant, real-world writing prompt to the students. This low-risk prompt gets students writing. The teacher writes along with the students in order to model the thinking and actions behind approaching a writing prompt. Then, the teacher introduces different ways that the students might combine sentences. Students choose an approach and begin re-writing, applying this sentence combining skill. The teacher walks around the room, confers, and provides immediate feedback to students.
On Tuesday, the teacher provides a second relevant, real-world writing prompt and students apply the sentence combining skill they practiced on Monday. The teacher models this for the students and writes with them. The teacher asks the class to use another sentence combining skill from Monday and students begin re-writing, applying the sentence combining skill. The teacher walks around the room, confers, and provides immediate feedback to the students.
On Wednesday, the teacher provides a third relevant, real-world writing prompt and has students apply the sentence combining skills they practiced on Monday and Tuesday. The teacher walks around the room, confers, and provides immediate feedback to the students.
By Thursday, the teacher will have a solid collection of data from students regarding who does and does not know how to combine sentences. On this day, the teacher can plan extension and remediation activities so that all students are practicing the specific skills with which they need help.
Friday can be used for summative assessment.
This schedule serves only as an example and can be extended or shortened depending on the grammar skills being taught. The outcomes remain the same: to allow students time to write, to incorporate both formative and summative assessment, to have students purposefully practice a skill, and to provide timely feedback that students can apply immediately.
Using this schedule, teachers in every content area can provide students with time to write and and can provide them with feedback specific to the rhetorical contexts of their content.
#2 Consistently Immerse Students in a Variety of Texts
Students need to be immersed in texts in order to write well.
The English teacher is not the only person responsible for providing texts to students. In every class, students should be reading texts appropriate to their content area. The content-area teacher can use those texts as exemplars to point out rhetorical strategies.
For instance, a science teacher might give students a sample lab report. The teacher would provide clear expectations for student-produced lab reports that are also evident in the text, and would also point out rhetorical devices such as verb tense, use of headings, and organization, which are specific to one type of writing in science.
Consistently providing different texts to students in multiple classes broadens their perspectives and gives them text-rich examples on which they can model their own writing.
#3 Providing Students Opportunities to Demonstrate What They Know
Again, teachers across multiple disciplines can provide more than one way for students to demonstrate their knowledge. Two common strategies are to allow students to use non-linguistic representation and read-alouds.
STRATEGY 1: Non-Linguistic Representation
An effective grammar technique is with non-linguistic representation can be used for teaching action verbs.
For instance, in a history class, after students have turned in a draft of a paper, have them highlight each action verb in pink and each intransitive verb in blue. For the intransitive verbs, have students talk to a neighbor about ways to rewrite each sentence using an action verb. When the pair decides on the best verb, have them stand and act the verb out. Here is a student example:
First draft sentence: George Washington was going across the grassland to the Potomac River.

Second draft sentence: George Washington marched across the grassland to the Potomac River.

The purpose of the activity is for students to see how much more powerful the word marched is rather than was going. Acting out the verbs adds a kinesthetic element to the lesson and helps students remember how to use action verbs.
STRATEGY 2: Read-aloud
A second strategy that can be used across the curriculum is the read-aloud. This is a powerful tool in every discipline. First, it provides students with an opportunity to hear content-specific texts. A read-aloud exposes students to a variety of writing genres and sentence structures. A read-aloud also gives students an opportunity to listen to verb tenses and details that are important and are embedded in various academic contexts. The impact on teaching grammar effectively is profound, as the read-aloud allows students to be immersed in texts in order to learn well.
Resources to Support Teaching Grammar Effectively

It is essential that principals, coaches, and specialists support teachers in their endeavors to teach grammar effectively across content areas. Visit the Sadlier Resource Center to download a variety of grammar and writing activities teachers can use in the classroom. Additionally, below are some instructional resources that you may find beneficial!
#1 Characteristics of Effective Grammar Instruction Tip Sheet

Direct instruction and modeling of grammar is part of a balanced literacy framework. To teach grammar effectively, teachers must give students multiple and various opportunities to correct grammar in order to achieve at high levels in every classroom. Download a tip sheet with ten characteristics of effective grammar instruction.
#2 Teaching Grammar Effectively Do's and Don'ts
Effective grammar instruction across grade levels and content areas is key to increasing student achievement and learning. My "Do's" and "Don'ts" Chart provides a great reference when implementing grammar instruction in the classroom and across subject areas.
#3 Establishing Writing Communities in Schools
I recently started a series of blog articles about establishing writing communities school-wide. I believe that building a community of writers in a school might be one of the most powerful steps school leadership can take.
In my most recent article, How to Build a School Writing Community Around Shared Values, I outlined steps principals and specialists can take with teachers to develop a shared value system and get their school community moving toward a common goal of writing as a group.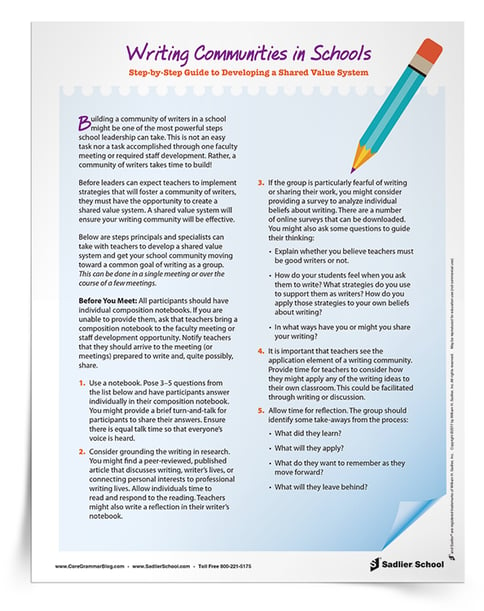 #4 Best Practices for Teaching Grammar and Writing in Elementary
When students understand the standards of written English, they can make appropriate choices about grammar, usage, and mechanics to improve their writing. In this eBook, Dr. Chin outlines effective strategies for teaching grammar and writing to students in grades 3–5.

#5 Engaging Middle/High School Students in Writing And Grammar Instruction
As teachers seek to balance instruction in the development and organization of ideas with choices in language fluency and correctness, they often ask, "What is the relationship between writing instruction and grammar? How is grammar addressed in standards and evaluated in large-scale assessments?" Download Dr. Chin's eBook on the review of the research that will help answer these and other questions on grammar and writing instruction.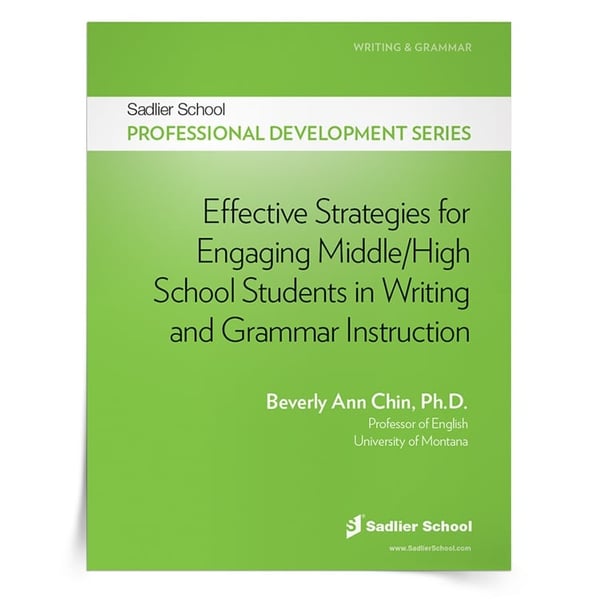 In Summary
Teaching grammar effectively in schools starts with instruction taking place across content areas. Effective grammar instruction is a content literacy piece for which all teachers can be responsible. All teachers can allow time for students to practice content-specific skills.
Remembering the formula is key: allow students to try, adjust, and try again.