Add some spooktacular elements to your classroom curriculum with my free Halloween reading comprehension worksheets, book suggestions, and interactive read aloud.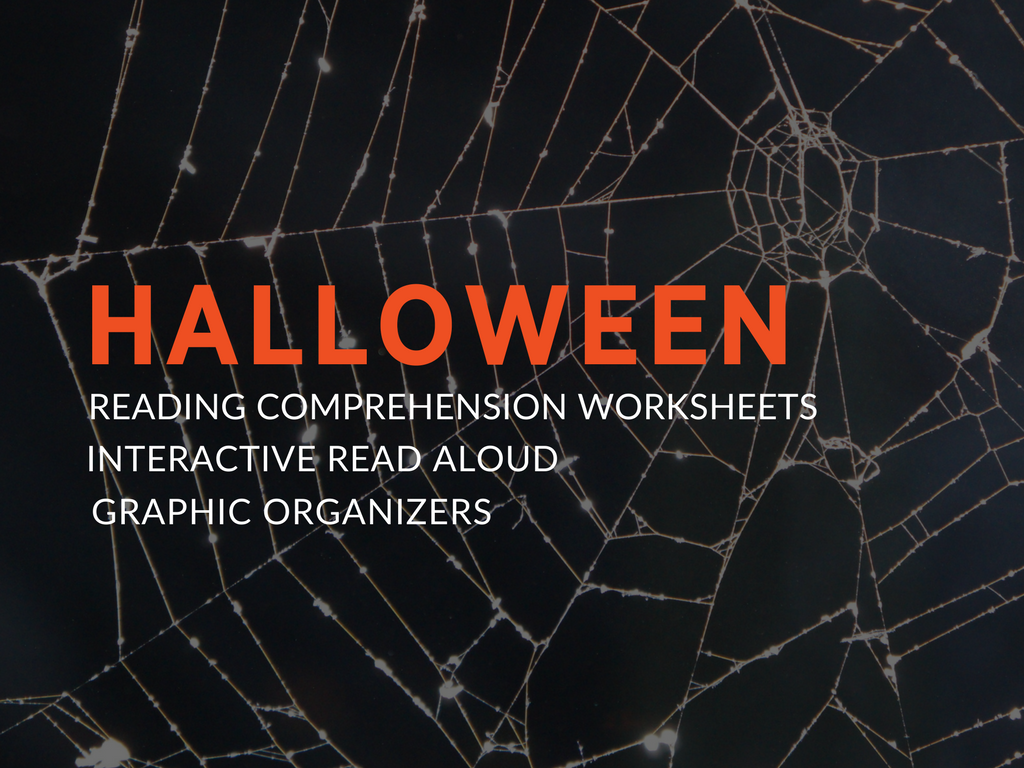 When I first started teaching, holidays took on a whole new meaning for me. Like many people, I have always enjoyed the festivities surrounding most holidays, but there is nothing better than experiencing that joy through the eyes of a child. Halloween in particular is one holiday when I adore listening to my students' conversations about costumes, sharing the thrill of haunted houses, carving pumpkins, and— of course —collecting candy.
I use all of this anticipation and excitement to my advantage, by incorporating some of the ideas and symbols of Halloween into practical learning experiences for my students.
In case you missed them in past years, I am going to share again a few of my favorite Halloween picture books, lessons, activities, and organizers.
TOP 10 FAVORITE HALLOWEEN PICTURE BOOKS
A frequently-visited section in any classroom library is often the "Holiday Collection" of books. Children just love to read holiday-inspired books. It seems that holiday magic can be enjoyed at any time of the year!
Here are a few of my favorite Halloween picture books. Please note that some books are not specifically about Halloween, but rather are on Halloween-related topics, such as bats and spiders.
If you don't already have these books in your classroom library collection, I recommend you order them new online or check out ebay!
HALLOWEEN READING COMPREHENSION WORKSHEETS
I have a bundle of Halloween Reading Resources you can download to strengthen reading comprehension.
The first worksheet lists my favorite Halloween books and then gives suggestions for using The Pumpkin Book by Gail Gibbons for a reading comprehrension activity.
The second printable worksheet is a Pumpkin Template I use after reading The Pumpkin Book to have students record their favorite pumpkin facts.
The third Halloween reading comprehension worksheet is my Haunted House Graphic Organizer. This graphic organizer can be used as a pre-writing brainstorming session, before having your students write a spooky story — or it can be used as a story map to identify the main characters, problem, plot events, and solution after reading one of their favorite Halloween books.
Download my Halloween Reading Resources now!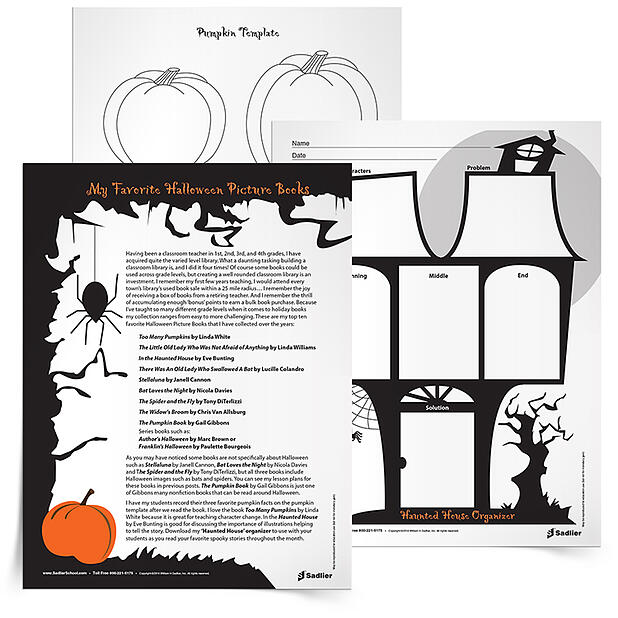 HALLOWEEN GRAPHIC ORGANIZERS
The other Halloween reading comprehension worksheets I have available for download are my Halloween Graphic Organizers! Holiday-themed graphic organizers are an easy way to keep things new and interesting. My bundle includes a Pumpkin Venn Diagram, Spider Story Web, and a 5Ws & 1H Pumpkin Web.
HALLOWEEN INTERACTIVE READ ALOUD
Take advantage of the Halloween hysteria to teach students the different characteristics of birds and bats with an Interactive Read Aloud of Stellaluna by Janell Cannon.
This book can be enjoyed in almost any elementary classroom (K-5). Janell Cannon has a wonderful way of teaching kids about animals without them even realizing they are learning. One of my favorite things about her books is how she often provides factual information about the topic at the end of the book in the author's notes to increase the readers' understanding of the text.
Stellaluna is the heartwarming story of a fruit bat that makes a home with a family of birds after she is separated from her mother. Kids will learn about the different characteristics of birds and bats as they enjoy this story about friendship, compromise, and acceptance.

Download the critical thinking Read Aloud of Stellaluna now!