It is always difficult to know exactly what to do during the first days of school, but I do know that I want to establish a great classroom community. The best way to do that is for me to get to know my students and for them to get to know each other. I also want to show students — from the beginning — that I want them learning all the time, and that every activity we do relates back to our classroom instruction. In this article, you'll find fun back-to-school activities for middle school students and free printable downloads!

Establishing Community & Emphasizing Learning

Each of these back-to-school activities for middle school encourages student learners to work together and/or learn about each other. I make sure that I always encourage students to celebrate each other and also understand that respect is paramount in the classroom. Additionally, I love that these back-to-school activities for middle school students are fun, but more importantly also encourage students to utilize their vocabulary from the first day of school.
Back-to-School Activities for Middle School
#1 Your Face Tells Your Story
My first, and favorite, back-to-school activity for middle school students is both fun and creative. Have students fill out the face template with interests, aspirations, and ideas about themselves. Their hair can be made of phrases that incorporate favorite already-learned vocabulary words or the first few words of your unit. Note: You can also use these faces later as narrative writing prompts.
#2 Now Introducing…
The second back-to-school activity for middle school students helps students really learn about one another. Pair students up and ask them to interview each other using the downloadable template. When the interviews are complete, have students share with the class the top three interesting aspects of their interviewee, and encourage them to use at least one or two vocabulary words as they tell the class about their partners. Make sure to emphasize the importance of respect, diversity, and learning from one another in these interviews so that students take them seriously. Please note that some of the details students glean from these interviews can be used for creating characters later in students' writing.
Download both of these back-to-school activities for middle school now!

#3 Breaking the Ice
This next back-to-school activity for middle school students is a bit goofy, but it encourages the use of vocabulary and creates the positive community atmosphere that is so important in our classrooms. Students will be completing sentences one (vocabulary) word at a time with hilarious results! See the directions and template for specific instructions.
Download the Breaking the Ice activity now.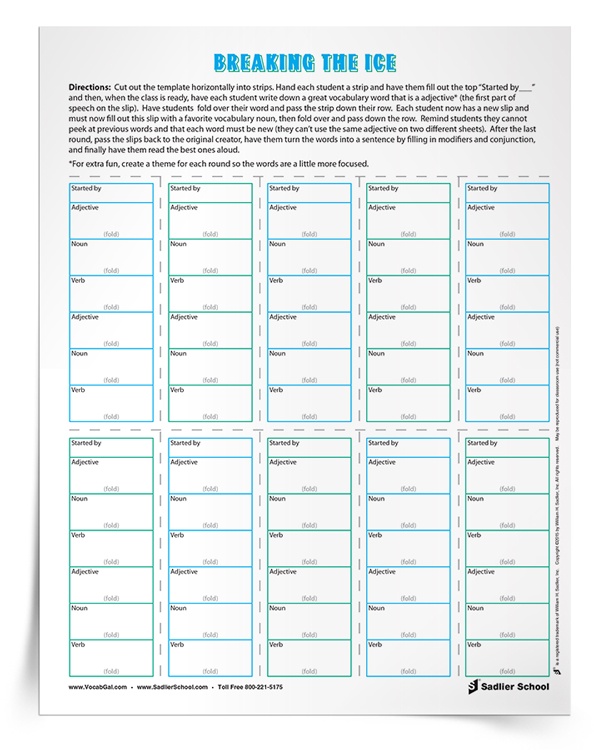 #4 Vocabulary Names
I love this final back-to-school activity for middle school students because it again encourages students to use vocabulary words... it also helps me to remember students' names. Students essentially create their own mnemonic devices for their names using their vocabulary words and some creativity! I suggest reading all of the details for this activity in the original blog article!
First, students should flip through their vocabulary book (or alternatively a vocabulary list or even Vocab Gal's word of the week to familiarize themselves with some higher level words). Have them write down the words that in some way describe their personalities-preferably with some alliterative or consonance connection to their own first and/or last name.
Some examples:
Elementary:
Ms. Ressler at the Center (as the teacher)
Ms. Ressler the Inventor (that's what we teachers do every day!)
Ms. Ressler the Present Leader (this year, I'm your teacher)
Middle/High School:
Ms. Ressler the Benefactor (I am here to give you knowledge)
Ms. Ressler the Venerable Renegade (I like to flout traditions and am become respected amongst my peers)
Have the students write their finalized name (extra points/awards if they can use more than one word) on the template provided and decorate it. They can attach it to their desks, you can hang up the slips around the room, etc; you decide where they should go.
Download the Create a Name with Vocabulary Activity now.