8 Books Educators & Students Should Add to Their Summer Reading Lists
When I first started teaching, the summer seemed to come and go and I would feel like I had accomplished nothing for school that I hoped to. Now I'm a woman with a plan... a summer reading lists plan. Every summer, I make and share summer reading lists in the following categories:
Summer Reading Ideas for Educators
Summer Reading Ideas for Students Grades 6-8
Summer Reading Ideas for Students Grades 3-5
Summer Reading Ideas for Students Grades K-2
Each category has two books within its summer reading list. I have found that two is the magic number for me and makes my summer reading manageable. These eight books stay on my nightstand until I finish them. If you are looking for a few summer reading suggestions or summer reading lists to share with students, read on...
I would like to share two books in the categories Professional Reads; Grades 6-8 novels; Grades 3-5 novels; and Grades K-2 picture books. Below you will see a suggested favorite book in each category, as well as a new book in the category that I am planning to read myself over the summer. Under each of the suggested titles you will find a synopsis of the book; under the books I am planning to read for the first time this summer is a summary from the publisher's website. I hope that my summer reading lists inspire you to create your own summer reading program!
Summer Reading Ideas for Educators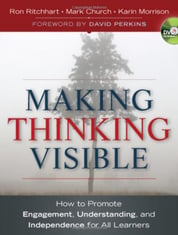 My suggestion: Making Thinking Visible: How to Promote Engagement, Understanding and Independence for All Learners by Ron Ritchhart, Mark Church, and Karin Morrison
Beginning at Harvard's Project Zero, Visible Thinking is a research-based approach to teaching students' thinking skills. Visible Thinking teaches students thinking "routines" that improve thinking and comprehension abilities. By making thinking visible, students can discuss and reflect on their own thinking, as well as understanding their peers' thinking. Through reflective thinking and discourse, a deeper understanding of the topic or subject should develop.
We used Making Thinking Visible as a professional book study at my school this year. I really enjoyed the book because I have always considered that my job as a literacy specialist is to teach students strategies to better comprehend literature. One way that I do this is by making my thinking visible. I try to explain to my students exactly what I do (my thought processes) as I work through a text. Making Thinking Visible has been a valuable resource because the book contains "thinking routines." These are thinking activities to use with students to increase understanding of a topic by analyzing their thinking. For example, one suggested "thinking routine" is Step Inside. Your students need to think about these three core questions:
What can the person or thing perceive?
What might the person or thing know about or believe?
What might the person or thing care about?
I have used this thinking routine to teach my students in Grades 3-5 how to examine the main character.
Come back for more – each month I will share a different thinking routine and how I have used it with my students.
I will be reading: Leaders of Their Own Learning: Transforming Schools Through Student-Engaged Assessment by Ron Berger, Leah Rugen, and Libby Woodfin
From Expeditionary Learning Schools comes a proven approach to student assessment. Leaders of Their Own Learning offers a new way of thinking about assessment, based on the celebrated work of Expeditionary Learning Schools across the country. Student-Engaged Assessment is not a single practice but an approach to teaching and learning that equips and compels students to understand goals for their learning and growth, track their progress toward those goals, and take responsibility for reaching them. This requires a set of interrelated strategies and structures and a whole-school culture in which students are given the respect and responsibility to be meaningfully engaged in their own learning.
Includes everything teachers and school leaders need to implement a successful Student-Engaged Assessment system in their schools
Outlines the practices that will engage students in making academic progress, improve achievement, and involve families and communities in the life of the school
Describes each of the book's eight key practices, gives advice on how to begin, and explains what teachers and school leaders need to put into practice in their own classrooms
Ron Berger is Chief Program Officer for Expeditionary Learning and former public school teacher
Leaders of Their Own Learning shows educators how to ignite the capacity of students to take responsibility for their own learning, meet Common Core and state standards, and reach higher levels of achievement.
Summer Reading Ideas for Students Grades 6–8 (Novels)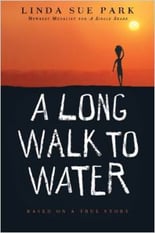 My suggestion: A Long Walk to Water by Linda Sue Park
Based on a true story, the novel begins as two separate stories about two eleven year-old children living in Sudan. Each chapter begins with Nya's story, a girl fetching water from a pond that is almost two hours walking from her home. Nya makes two trips to the pond to get water for her family every day. Her story takes place in 2008. The rest of each chapter continues with Salva's story, beginning in 1985. He becomes one of the "lost boys" of Sudan during the Second Sudanese Civil War. Salva and his companions walk the African continent on foot as they look for their families and for a safe place to stay. They are faced with constant danger, from rebel attacks to the deadly elements of the African environment (heat, lions, crocodiles, and so on). Finally, Salva reaches a refugee camp. After years of moving from one refugee camp to another throughout Africa, he is taken in by a family in Rochester, New York. By the end of the book he is reunited with his family in Sudan. Salva's story merges with Nya's when he starts an organization that digs wells for Sudanese villages.
I will be reading: Inside Out and Back Again by Thanhha Lai
Inside Out and Back Again is a New York Times bestseller, a Newbery Honor Book, and a winner of the National Book Award! Inspired by the author's childhood experience of fleeing Vietnam after the Fall of Saigon and immigrating to Alabama, this coming-of-age debut novel told in verse has been celebrated for its touching child's-eye view of family and immigration.
Hà has only ever known Saigon: the thrills of its markets, the joy of its traditions, and the warmth of her friends close by. But now the Vietnam War has reached her home. Hà and her family are forced to flee as Saigon falls, and they board a ship headed toward hope—toward America.
This moving story of one girl's year of change, dreams, grief, and healing received four starred reviews, including one from Kirkus which proclaimed it "enlightening, poignant, and unexpectedly funny."
An author's note explains how and why Thanhha Lai translated her personal experiences into Hà's story. This paperback edition also includes an interview with the author, an activity you can do with your family, tips on writing poetry, and discussion questions.
Summer Reading Ideas for Students Grades 3-5 (Novels)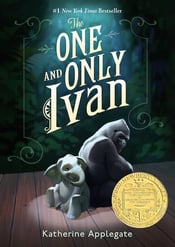 My suggestion: One and Only Ivan by Katherine Applegate
Ivan is a gorilla living at the Exit 8 Big Top Mall and Video Arcade. Ivan does art projects, watches television shows and spends time with his friends Stella (an elephant) and Bob (a stray dog). Then Ruby (a baby elephant) comes to live with them and it is up to Ivan to protect her. This winner of the 2013 Newbery Medal and a #1 New York Times bestseller is a wonderful story of friendship and hope.
I will be reading: Brown Girl Dreaming by Jacqueline Woodson
Jacqueline Woodson, one of today's finest writers, tells the moving story of her childhood in mesmerizing verse.

Raised in South Carolina and New York, Woodson always felt halfway home in each place. In vivid poems, she shares what it was like to grow up as an African American in the 1960s and 1970s, living with the remnants of Jim Crow and her growing awareness of the Civil Rights movement. Touching and powerful, each poem is both accessible and emotionally charged, each line a glimpse into a child's soul as she searches for her place in the world. Woodson's eloquent poetry also reflects the joy of finding her voice through writing stories, despite the fact that she struggled with reading as a child. Her love of stories inspired her and stayed with her, creating the first sparks of the gifted writer she was to become.
Summer Reading Ideas for Students Grades K-2 (Picture Books)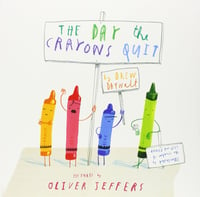 My suggestion: The Day the Crayons Quit by Drew Daywalt
When Duncan opens his box of crayons he finds letters from all the crayons explaining that they have quit! They all give various reasons such as: Red works harder than the rest of the crayons and even has to work on holidays like Christmas and Valentine's Day; Grey has to color all the big things like elephants and whales; Pink has been only used once in the last year... Each letter is unique and absolutely hilarious. I just love a picture book that can be enjoyed by both children and adults.
I will be reading: The Right Word: Roget and His Thesaurus by Jen Bryant

For shy young Peter Mark Roget, books were the best companions — and it wasn't long before Peter began writing his own book. But he didn't write stories; he wrote lists. Peter took his love for words and turned it to organizing ideas and finding exactly the right word to express just what he thought. His lists grew and grew, eventually turning into one of the most important reference books of all time.

Readers of all ages will marvel at Roget's life, depicted through lyrical text and brilliantly detailed illustrations. This elegant book celebrates the joy of learning and the power of words.
More Summer Reading Resources:
10 Ways Parents Can Fight Summer Reading Loss
Summer Reading Strategies Bookmark