Celebrate the Thanksgiving season in the classroom with vocabulary words! Like most holidays, the festivities surrounding Thanksgiving give teachers an opportunity to add excitement to routine classroom assignments. Use the Thanksgiving vocabulary printables below to engage and inspire your students.

FREE THANKSGIVING VOCABULARY WORKSHEETS

#1 THE TURKEY'S TALKING
How can a turkey escape being the main course at Thanksgiving dinner? By describing how delicious all the other foods on the table will be, of course!
Your students' task with The Turkey's Talking activity is to make Mr. Turkey use as many vocabulary words as possible to describe the other dishes in the Thanksgiving feast. If Mr. Turkey uses enough vocabulary words and makes the descriptions tantalizing enough, he will be pardoned!
Have students compete over who can write the zaniest descriptions, the most gourmet descriptions, or even the most disgusting descriptions of the Thanksgiving meal. Download the The Turkey's Talking activity now!
#2 MENU FOR THE PERFECT THANKSGIVING
Thoughts of a Thanksgiving feast can set one's taste buds to watering. I propose harnessing students' stomachs and attaching their memories of traditional Thanksgiving foods to vocabulary word meanings.
With Menu for the Perfect Thanksgiving vocabulary activity, students will create a dinner menu of their favorite dishes. Each food item students fill out on his or her menu worksheet needs to have a description written for guests to read at the feast. Students must use vocabulary words in their description of each food item.
Finally, students will draw pictures of their food items or perhaps find clip art images that match their descriptions. Download this tasty Thanksgiving vocabulary worksheet now!
#3 SAYING THANKS WITH VOCABULARY WORDS
Have students express thanks this November while using vocabulary words!
This simple writing activity challenges students to write four "thank you" messages to hand out to people at school. Each note of thanksgiving must include at least three vocabulary words.
From secretaries to principals, teachers to custodians, have students deliver* their positive and encouraging notes to someone who might not always feel valued. Download the Saying Thanks with Vocabulary Words notecards to get started.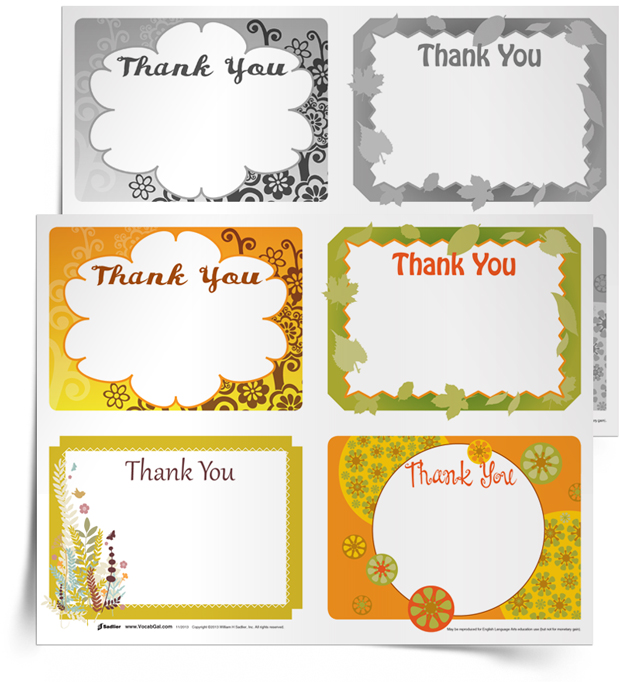 IN SUMMARY
Hopefully, these three Thanksgiving activities for vocabulary instruction will add excitement to your classroom. You can also download free Thanksgiving reading activities for elementary students here!
May the pens be mightier than the carving knives!
RELATED RESOURCES:
| | | |
| --- | --- | --- |
| Vocabulary Pumpkin Patch | Fall Vocabulary Haikus | |
*If a student has reservations about delivering the notes give them the option of writing anonymously.