In the wake of natural disasters that have occurred in the past several weeks, Pope Francis expressed his "spiritual closeness" to those affected. We keep in our hearts and minds the victims of earthquakes in Mexico, Hurricanes Maria, Irma, and Harvey, fires burning in the western states, and widespread flooding in Asia. Pope Francis said , "I am following this with my heart, praying for them. And I ask you to join me in this intention." Sadlier joins Pope Francis and all those praying for the victims of natural disasters, both here in the United States and worldwide.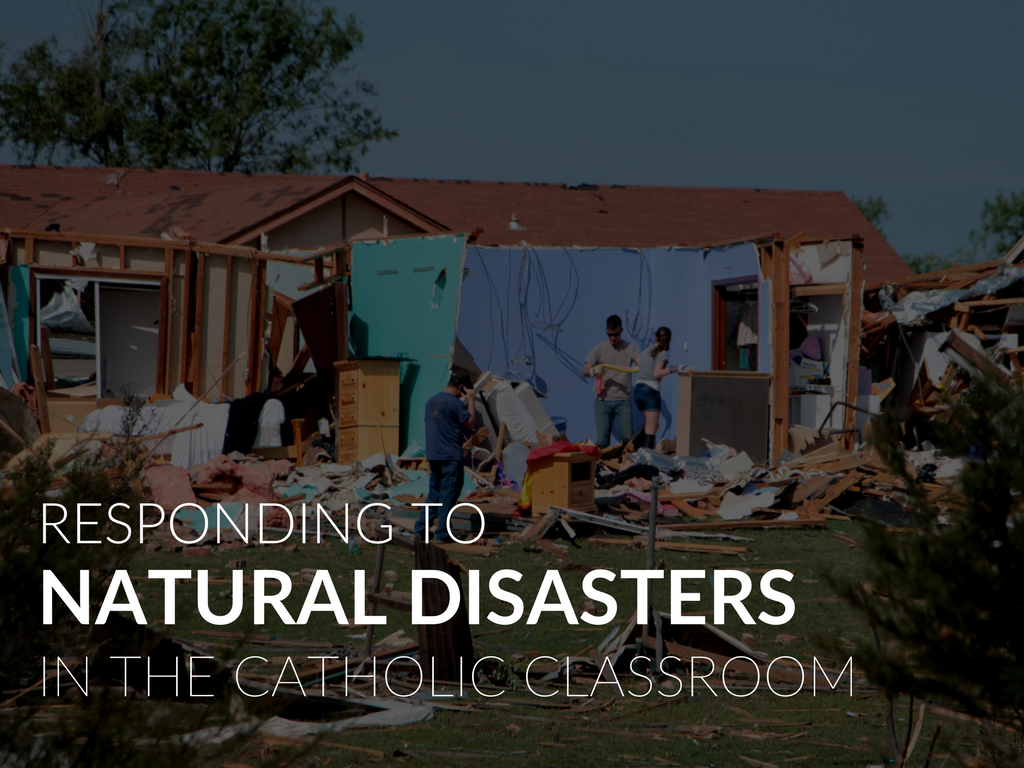 WHAT IS A NATURAL DISASTER?



Natural disasters are events that are outside of human control, caused by forces of nature. Natural disasters strike all over the world, and result in harm to people and to property. Often weather related, natural disasters can include floods, droughts, earthquakes, fires, tsunamis, tornadoes, and hurricanes.
WHAT ARE THE EFFECTS OF NATURAL DISASTER?



Natural disasters pose danger to humans and can have immediate physical effects, threatening harm to people and to property when they strike. However, the effects of natural disasters can extend far beyond the event itself. They impact health with threats of contamination and disease. And they have emotional and psychological effects, causing stress, anxiety, grief, and fear. Communities can be devastated by the loss of neighborhoods as people move to other parts of the city, state, or country in order to rebuild. Natural disasters can particularly impact children.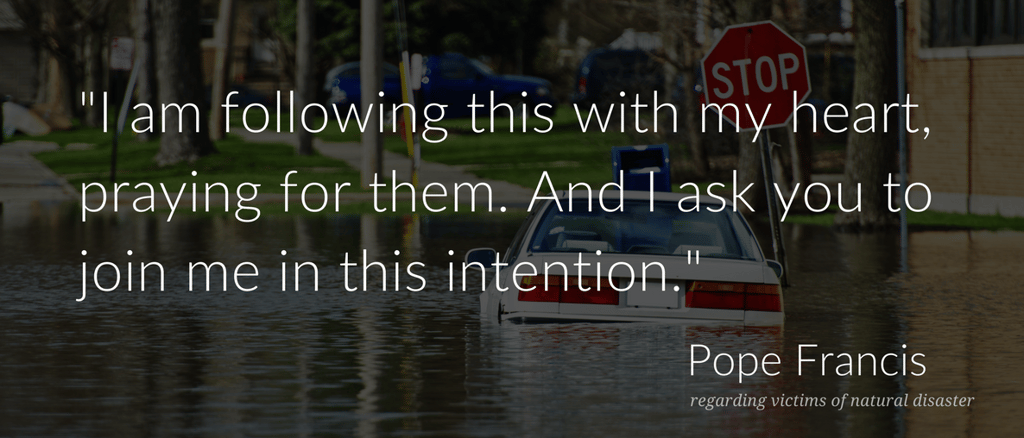 WHAT CAN WE DO TO HELP THOSE RECOVERING FROM A NATURAL DISASTER?



PRAYER FOR THOSE RECOVERING FROM NATURAL DISASTERS
In response to natural disasters, individuals, families, and parishes can pray for the victims. Download a Prayer for Those Recovering from Natural Disasters to ask God to bring comfort and relief to those in the midst of desolation, and to inspire in those unaffected by disaster both mindfulness and generosity. We also pray for the helpers and first responders who risk and sacrifice to serve those in need.
PRAYER FOR FAMILIES WHO SUFFER
Prayer is one of the most precious things we can do for and with families in pain. We can support those who suffer in our prayers and petitions. Download a Prayer for Families Who Suffer and share it in your parish, classroom, or home.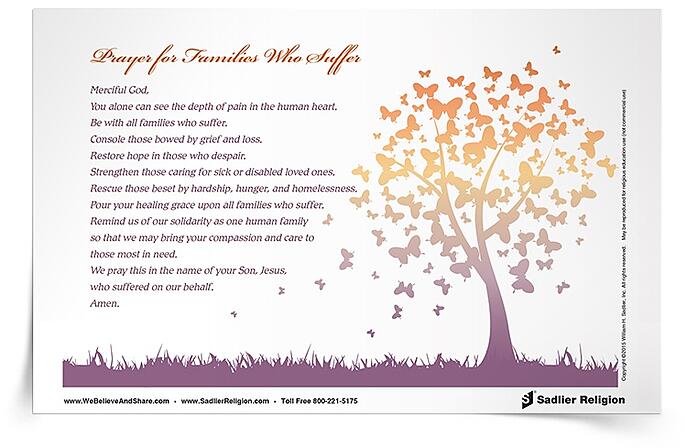 DONATIONS

Some parishes and dioceses may offer special collections for the victims of Hurricanes Harvey or Irma, which is another way to support sufferings individuals and families as they rebuild lives and homes. National and international aid is provided through Catholic Charities USA and Catholic Relief Services. Both agencies not only serve areas as an immediate response to natural disasters, but also remain in place to help communities rebuild.
LENDING A HAND
For those able to directly lend a hand, safely helping with cleanup or organizing and delivering needed supplies – such as food, water, and diapers – is another way to serve and care for victims of natural disasters.
HOW CAN WE COMFORT CHILDREN WHO FEAR NATURAL DISASTERS?



Because natural disasters are outside of human control, children may worry about a natural disaster happening. Here are some tips for conversations with children about natural disasters:
If appropriate, help children learn more about natural disasters so that they understand where and why these events can occur.

Remind children that many natural disasters can be predicted and prepared for using community networks and modern technology.

Encourage children and families to talk about and make plans for natural disasters that may affect their communities.

Monitor young children's media consumption of natural disaster-related news.

Remind children that they can always talk and listen to God in prayer. Emphasize the loving care God has for all of creation and stress the ways that we, as a faith community, reach out in support to those in need.
IN CONCLUSION



Natural disasters affect people all over the world. Though humans cannot prevent these disasters, we can support those affected through prayer and our collective actions of giving and service.