13 Easter Season Printables for Catholic Families– Liturgical Year
The Easter season is a time of great joy. The Church rejoices and celebrates the Resurrection of Christ. The promise of hope and new life are all around. The Easter season lasts fifty days. Support families in celebrating each day of the Easter season with activities to share throughout the liturgical season of Easter. Begin with an Easter Calendar that offers a Scripture quote and a simple family activity daily from Easter Sunday through Pentecost.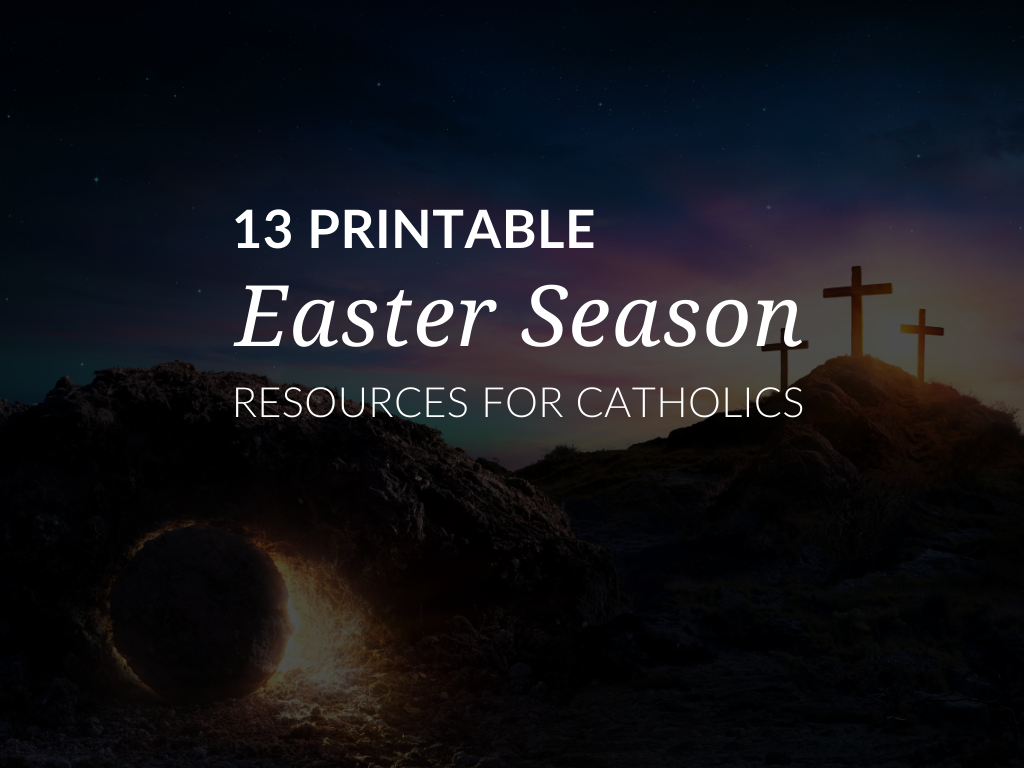 Feast of Saint Joseph the Worker
During the Easter season, various feasts of the Lord, of Mary, and of the saints are celebrated. One of these is the Feast of Saint Joseph the Worker. In addition to his feast day in March, Saint Joseph has a second feast day, celebrated on May 1. Joseph was a man of great compassion and faith. He worked hard as a foster father and as a carpenter. Joseph's trade and commitment to work is particularly highlighted in a year marked by a global pandemic, a reminder of the dignity and value of work and of the essential worker. This year, the Church is also in the midst of the "Year of Saint Joseph." Pope Francis' apostolic letter Patris corde ("With a Father's Heart") marks the 150th anniversary of the declaration of Saint Joseph as Patron of the Universal Church.
To learn more about Saint Joseph, download an activity for children and families.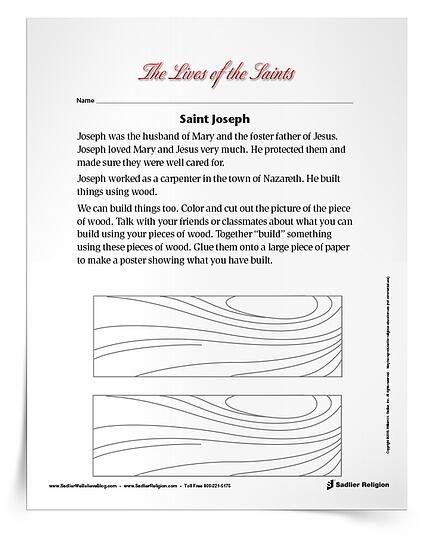 Easter Season Printables for Catholic Children & Families
Liturgical seasons offer multiple opportunities for families to engage in simple prayers and rituals that build and strengthen their faith. Below are 13 printable Easter resources parents can use at home with their children! These Catholic Easter lessons, activities, and prayers will enrich this special liturgical season while also adhering to social distancing guidelines.
#1 Easter Season Calendar
Designed for families, Sadlier's Easter Calendar offers a joyful daily activity, prayer, or reflection for each day of the Easter season.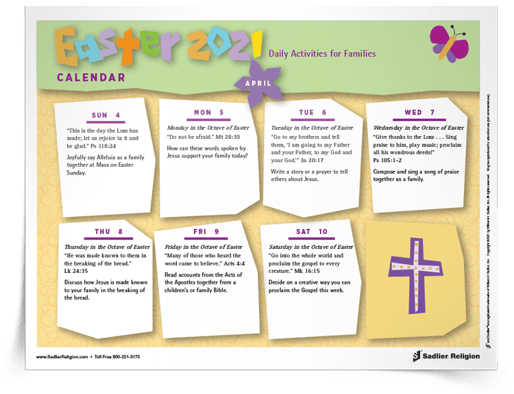 #2 Holy Week and Easter Resource Kit
Help children and families prepare for and celebrate Holy Week and the Easter season with prayers, practices, and activities that can be used at home. Download the Holy Week and Easter Resource Kit now!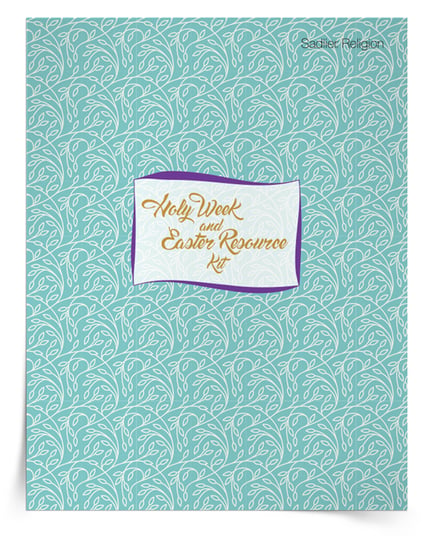 #3 Easter Cross Craft Activity
The Easter season is a sacred time in which Catholic families can rejoice over the new life we have in Christ. Download a primary activity in which children make an Easter cross. Place the Easter cross in the family prayer space or other prominent place during the 50 days of Easter.
#4 Easter Mobile Activity
Families can use this printable handout to create Easter mobiles at home as part of their faith formation efforts during the 50 days of Easter!
Parents will need to gather a stapler or hole puncher, scissors, string or yarn, crayons, markers, or colored pencils, and paste or glue. Have children decorate the parts of the mobile from the printable handout and then cut out the parts of the mobile. Assemble the mobiles using a hole puncher or stapler; attach one end of each piece of string or yarn to the "dot" on the mobile parts "love", "new life" and "Jesus." Staple the other end of each string to the "Easter" part of the mobile!
#5 Easter Season Skit Activity
The season of Easter is a season of meeting. We meet the risen Jesus in the Eucharist and in one another. Invite families to write and perform a skit that tells a story of "meeting" the risen Jesus. This Catholic Easter activity appeals to bodily-kinesthetic, linguistic, and interpersonal learners.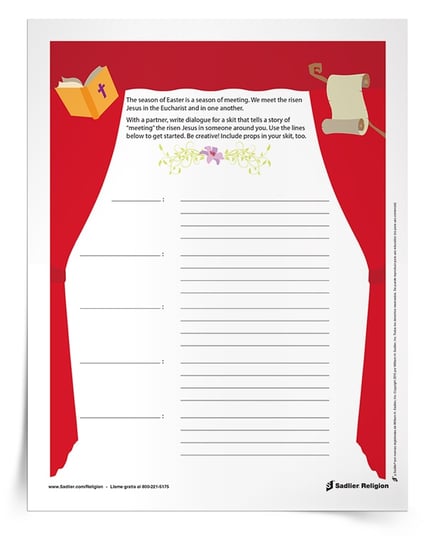 #6 Easter Signs of New Life Lesson
Signs of new life in Christ are around us all year long, but they take on a particular meaning during the 50 days of Easter. Download a 4-page reproducible Easter lesson and prayer celebration to use during this special season.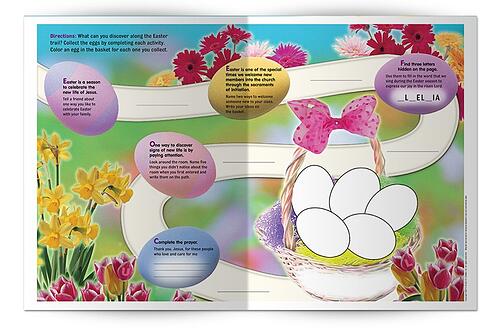 #7 Alleluia Easter Activity
During the season of Easter, the Church sings the song of "Alleluia," meaning "Praise God!" Teach Catholic children the meaning of the word Alleluia as they compose a song to celebrate Easter.
Catechists and parents may want to encourage kids to use a familiar melody for their original lyrics. They also may want to record children performing their songs and compile a classroom or family album to enjoy and share! Download the Alleluia Easter Activity now!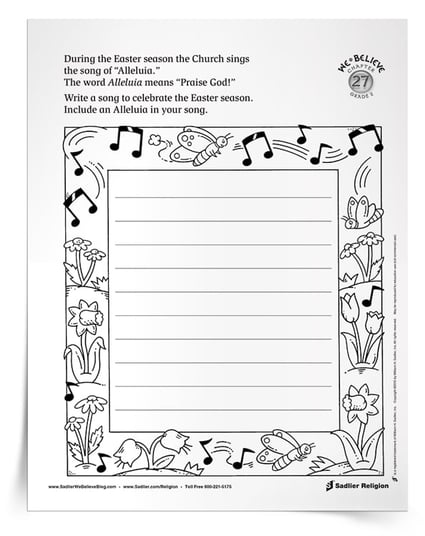 #8 Easter Table Prayer Card
One of the special ways we celebrate Easter is by sharing a meal. Invite children to design a table prayer card to be shared during an Easter meal with family.
This printable prayer card highlights the signs of new life that we experience during Easter and our new life in Jesus Christ. After it is decorated, it can be used on Easter Sunday or before meals shared during the Easter season.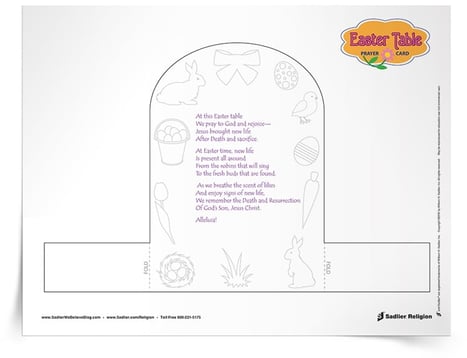 #9 Prayer for Easter Eyes
Families can download a Prayer for Easter Eyes and use it in your home as you celebrate the joyous Easter season.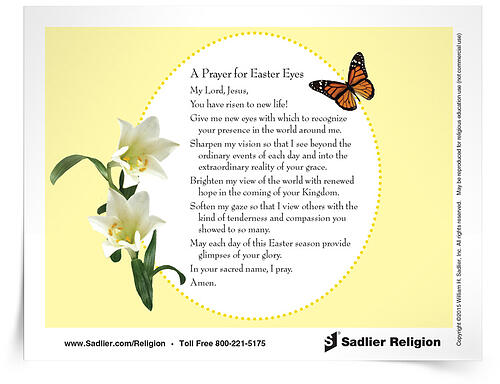 #10 Blossoming Celebration Easter Prayer Service
The Easter: A Blossoming Celebration is a downloadable Easter-themed prayer experience and activity. In this combination prayer service and art activity, children in the intermediate grades are invited to joyfully and prayerfully celebrate the new life in Jesus Christ during the Easter season. It is based on the Scripture passage in which the risen Jesus appears to Mary Magdalene, as well as beautiful imagery from the Book of Isaiah and Song of Songs.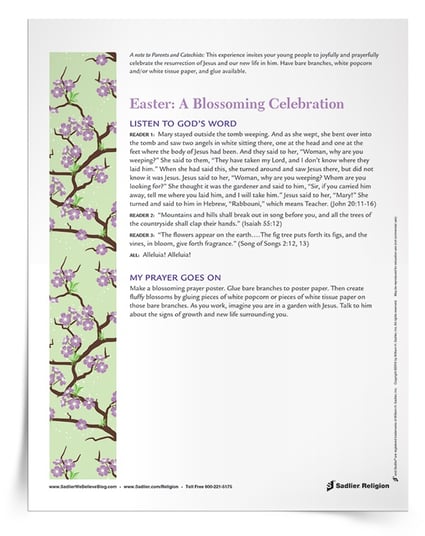 #11 Easter Preparation Checklist for Families
The Easter Preparation Checklist for Families helps families prepare for the joyous celebration of Easter in their homes. Download the checklist and share it with families in your parish or school program.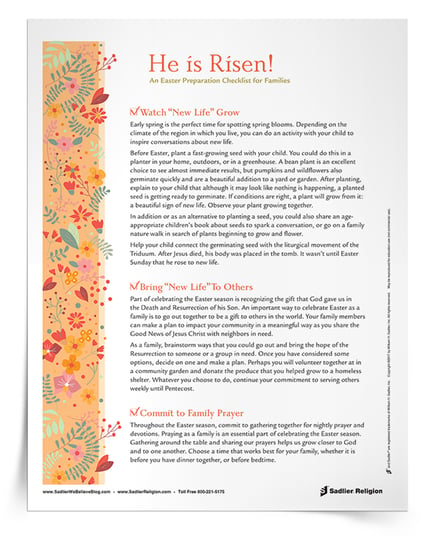 #12 Signs of New Life Sensory Bin
Sensory bins provide young children with several sensory opportunities at once. Sensory bins are typically plastic containers or tubs filled with objects and materials that stimulate the senses and can be compiled around a season, theme, or topic. Children aged preschool through Grade 2 will especially benefit from the chance to interact with different materials. The Signs of New Life Sensory Bin provides inspiration and instructions for setting up an Easter-themed sensory bin for children in the preschool or primary grades in your faith formation program.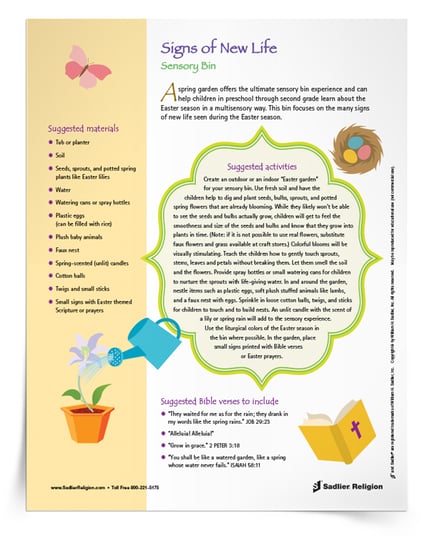 #13 Easter Season Prayer Service
Are you looking for a meaningful way students can celebrate the Easter season at home? Download and share a seasonal prayer service with families that is designed to introduce Easter to the students you teach. The Easter Prayer Service includes Scripture and a "new life" activity.
BONUS: Prayer of Easter Gratitude Reflection
Encourage children to express their gratitude for Christ's gift of life. Download A Prayer of Easter Gratitude Reflection and use it with your family to name the ways you have been blessed this Easter.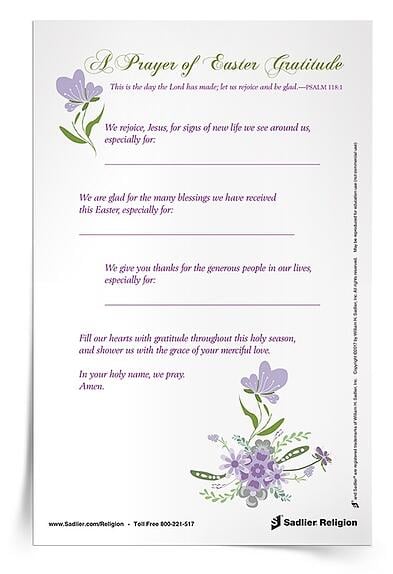 Learn more about the liturgical season of Easter and explore more resources for Easter and each season at our Liturgical Seasons page.