As far as texting goes, I am a relative newcomer. I use it primarily to stay in touch with my two children, thus accumulating no more than a half dozen messages, at most, a week. To boot, I spell all of my words correctly. This, as my son points out, reveals something about my age and generational status. I felt that gap widen when I learned recently that young adults between the ages of 18-29 send or receive an average of 87 text messages a day.
All of this came to mind as I presented a workshop in Evansville, Indiana, last week. I was invited to speak about the implementation of the Third Edition of the Roman Missal and how catechetical leaders might prepare and inform catechists and parents. Since these changes are mainly around the responses and prayers used during the Mass, the importance of language comes into play.
Every day we use language to communicate with one another. Consider the everyday greetings we send out – via voice, text, email, and other means of communication. "How are you?" "Have a nice day." "Take care." "Be safe." Untold numbers of greetings, reminders, cautions, admonitions, and well-wishes are exchanged on a continual basis between parents and children, wives and husbands, friends and acquaintances, co-workers and service providers. My children and I end almost every text message with the same words: "Love you." It's a simple way of exchanging a much larger expression of mutual care and affection. Words convey more than we know.
The same holds true for liturgical language. The words we use to greet, to bless, to consecrate, to anoint, and to initiate have deep importance. They form a sacred vocabulary that is best learned by heart – not in rote, meaningless fashion, but through repeated usage within the context of prayer and ritual. Like any well-crafted message, they convey much more than a few letters or words thrown together in casual fashion; they form us as a family of faith.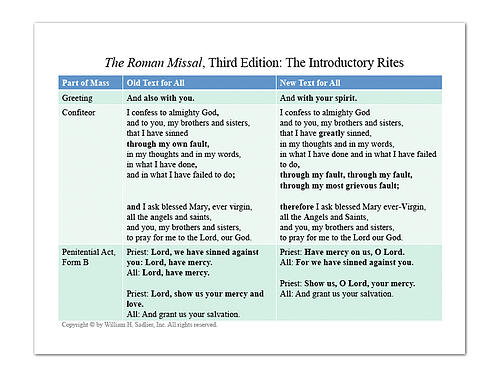 Bright Ideas
Initiate a conversation in your family or group about everyday language. Ask each person to name a message he or she is likely to say or send to a family member, friend, teammate, or co-worker to convey best wishes, support, and affection. Use this as a way to talk about the words we use for our liturgical celebrations, and what those words convey about our beliefs, dreams, and hopes.
photo © iStockphoto