Ordinary Time is the longest season of the liturgical year. The season of Ordinary Time is divided into two periods, with the first falling between the end of the Christmas season and the start of Lent, and the second at this time of year, between Pentecost and the start of Advent. Though the word ordinary can connote something commonplace or dull, Ordinary Time is far from mundane!
Ordinary in the sense of Ordinary Time is derived from the word ordinal, meaning "to count." We call Ordinary Time ordinary because the weeks are named in number order: The Second Sunday in Ordinary Time follows the First Sunday in Ordinary Time, and so on. During the season of Ordinary Time, the Lectionary readings focus on the ministry and teachings of Jesus. We reflect on and celebrate the life and teachings of Jesus Christ, making Catholic Ordinary Time is an extraordinary time to learn and follow the teachings of Christ in our daily lives and to grow as his disciples. We also learn about and celebrate the lives of the saints.
Liturgies celebrated during the different seasons of the liturgical year have distinctive music and specific readings, prayers, and rituals. All of these work together to reflect the spirit of the particular season. The colors of the vestments that the priest wears during the liturgy also help express the character of the mysteries being celebrated. Green, seen everywhere in plants and trees and symbolizing the life and hope that comes from Christ, is used during Ordinary Time. Ask the students in your religious education program to notice the special ways we celebrate Ordinary Time during the celebration of Mass. You may want to review the Liturgical Colors Mini Lesson and Activity with the students in your religious education program.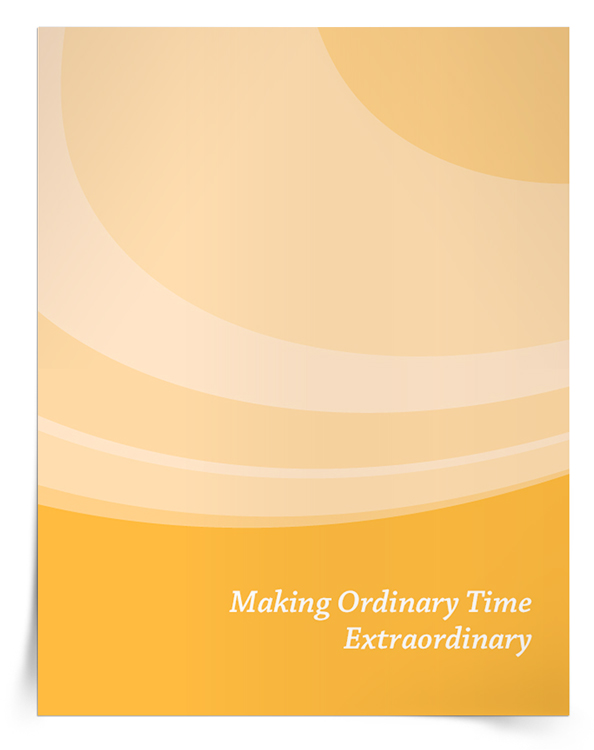 Ordinary Time invites us to be better able to give witness to the Good News of Jesus Christ in our "normal" or everyday lives. In this way, Ordinary Time can present a challenge. For children, it can lack the influx of activity and holiday excitement of the other liturgical seasons. To help make Ordinary Time an extraordinary experience for the students in your religious education program, download a Making Ordinary Time ExtraordinaryeBook & Prayer Service. Together these resources contain simple ideas and an engaging prayer experience to help children and students understand the beauty and importance of Ordinary Time.
What are your favorite ways to teach about the season of Catholic Ordinary Time in your religious education classroom or home?
RESOURCES FOR CATHOLIC ORDINARY TIME: