Modern Saints for Modern Catholics
What is a Saint? The saints are followers of Christ who lived lives of holiness on earth and now share in eternal life with God in Heaven. When we look at the lives of the saints, we see examples of how to live as disciples of Christ. We celebrate the saints in a special way during the liturgical season of Ordinary Time. The saints can be a source of information and inspiration for modern Catholics as they investigate their holy lives and times in which they lived. In this article, discover free printable resources for celebrating modern saints at home or in the classroom! Available in English and Spanish.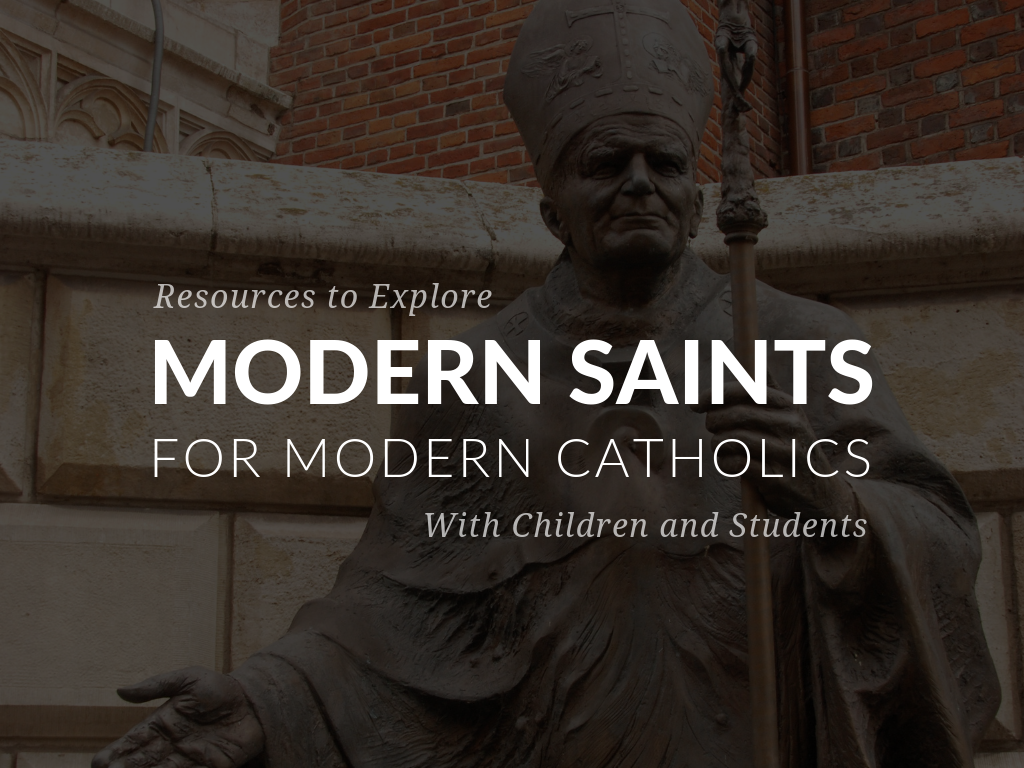 The Path to Sainthood
Being named a saint in the Catholic Church is a very high honor. The Catholic Church recognizes these very special individuals through the process of canonization, which involves four major steps.
At least five years after a person's death (unless a special exception is made by the pope), a formal request is made to consider him or her for sainthood. The people making the request are usually from the candidate's church or religious community. They submit their request to the bishop of the diocese where the person died. The request tells how the person lived a life of holiness and lists reasons for considering the candidate for sainthood. If the bishop believes there is enough evidence to consider the person for sainthood, he asks the Vatican for permission to open a special tribunal. Witnesses are then called to attest to the candidate's goodness, holiness, devotion to God, and other virtues. If a person passes this step, he or she is named a "Servant of God."
The bishop sends a formal report and request to Rome where it is reviewed by the Congregation for the Causes of the Saints. Nine theologians read the material and determine whether there is enough cause to pass it to the entire Congregation. If so, the candidate's writings and other aspects of his or her life are studied to make sure there is nothing that goes against the teachings and practices of the Church. As part of this investigation a person called a "devil's advocate" raises questions and objections to the candidate's sainthood. This is to make sure the final decision is complete and fair, and all evidence of the candidate's saintliness is assured. Once a candidate has been determined to be virtuous and heroic in his or her faith, he or she is declared "Venerable."
The next step is beatification. If the candidate was a martyr, someone who died for their faith, he or she may be beatified and named "Blessed." Otherwise, a miracle brought about by the intercession of the saint must occur and be verified by the Congregation. Once the person is beatified and named "Blessed," he or she can be venerated, or officially honored, in his or her city, diocese, region, or religious community.
After being beatified, another miracle is required for the person to be canonized and officially declared a saint. Once again, the miracle must have occurred as a result of the person's intercession. The Prefect of the Congregation then sends the cause for canonization to the pope who makes the final decision. Once a person is canonized, he or she is of officially declared a "Saint." The pope declares this in an official way at a special Mass in honor of the new saint.
Teach your students about the steps to sainthood with The 4 Steps of Canonization resource.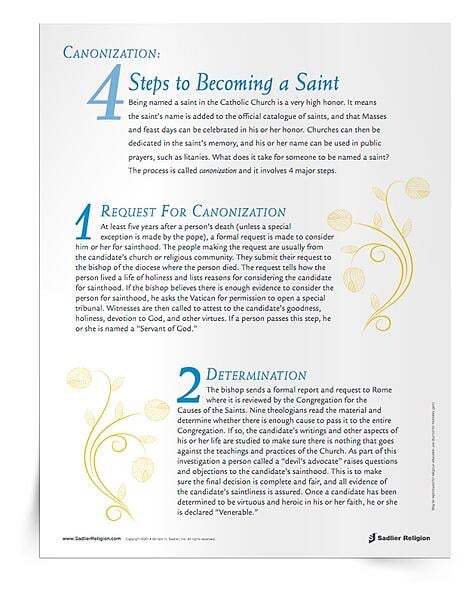 Honoring the Saints
Once a saint's name is added to the official catalogue of saints, Masses and feast days can be celebrated in his or her honor. A feast day is a date assigned by the Church for a saint.
Churches can also be dedicated in the saint's memory, and his or her name can be used in public prayers, such as litanies. We can pray to the saints to help us and intercede for us. Devotion to and veneration of the saints unites us as the Body of Christ.
Learning about the lives of the saints reminds us of our call to be saints. We can look to the saints for guidance and inspiration. With saints as our role models in faith, we can help others, care for those in need, and witness to our love for Jesus Christ.
Contemporary Saints
The Catholic Church has named many people Saints throughout history. Modern saints continue to show us what it is to live as disciples of Christ.
Francisco and Jacinta Marto
Francisco and Jacinta were tending to their families' flock of sheep when Mary appeared to them. She asked the children to say the rosary and to help others. Mary came to the children several times. There were adults who did not believe the children had seen the apparition. Francisco and Jacinta always stayed faithful and shared what they had seen. They remained prayerful and continued to give to the poor and less fortunate. Saints Francisco and Jacinta were beautified in 2000 by Pope John Paul II. Pope Francis declared Francisco and Jacinta saints on May 13, 2017. The Church celebrates their feast day on February 20.
Pope John Paul II
John was an advocate for human rights and justice for all. Growing up, he had a love of the arts and helped to organize a group called the "Rhapsodic Theatre," or theatre of the Word. John and other actors would use this as a way to share joy during the time of German occupation. After the war, John studied theology. He continued his journey with Christ over the years, becoming a priest, a bishop, a cardinal, and pope. During his life, Pope John Paul II met with millions of people to share the Word of God. His idea of World Youth Day is a tradition still celebrated today. Saint John Paul II was canonized by Pope Benedict XVI on April 27, 2014. The Church celebrates the feast day of Saint John Paul Ii on October 22.
Everywhere he went, he preached the mission of peace and reconciliation, and the importance of spreading the Good News of Jesus Christ throughout the world. Download a printable intermediate activity that encourages students to live a little more like Saint John Paul II and reach out to other young people across the world with a message of peace.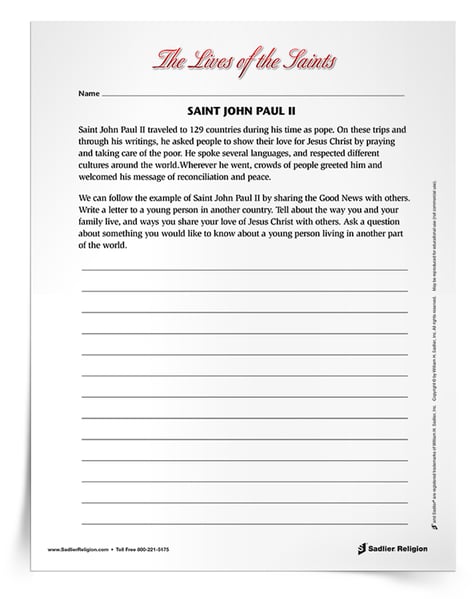 Teresa of Calcutta
Saint Teresa of Calcutta had a strong love for God at a young age. After making her First Communion, Teresa decided to travel. She worked as a missionary and later taught at Saint Mary's school for girls. While working there as a principal, Teresa felt a special call from God that there was more for her to do. She started the Missionaries of Charity and she was able to serve the poor. Many of her former students joined her in feeding those who were hungry and caring for those who were sick. Teresa founded countless charities and missions to help those who needed it most. Saint Teresa of Calcutta was canonized by Pope Francis on September 4, 2016. We celebrate the feast day of Saint Teresa of Calcutta on September 5.
Download a primary activity or intermediate activity to celebrate the life of Teresa of Calcutta, a modern saint who devoted her life to caring for the homeless people on the streets of Calcutta.
Our Call to Sainthood
Just like Saint John Paul II, Saint Teresa of Calcutta, and Saints Francisco and Jacinta, we too are called to live lives of holiness. Like Saint John Paul II, we can proclaim the Word of God to others. Like Saint Teresa of Calcutta, we can be of service to others, especially those who are hungry or sick. Francisco and Jacinta show us that children can become saints. Looking to modern and contemporary saints is a great way to begin the journey.
Children living in modern times are often said to be "digital natives." Contemporary saints who lived during the modern age may have been recorded or photographed in ways that other saints were not. Children accustomed to watching videos, listening to audio, and looking at photos will relate to media offerings about modern saints. Use media to spark discussion about the lives of these saints and their example. You might encourage catechists and children or families to use technology to do a research project about a favorite saint, and to share findings with others through video, audio, or imagery.
Download a lesson and mini-poster exploring the lives of saints and the invitation of sainthood.
Watch a video about Saint Teresa of Calcutta, our partner in faith.