As families gather to share a meal and express gratitude for their many blessings this Thanksgiving, they have the opportunity to pray. With these prayers of thanksgiving, printable activities, and reflections, Catholic kids and families can enhance their practice of gratitude. Downloads available in English and Spanish!


Thanksgiving Prayers for Kids and Catholic Families
Resource 1: Prayer for Thanksgiving Day
Download a Prayer for Thanksgiving Day Prayer Card and share it in your home or parish as a way to enlarge capacity for gratitude.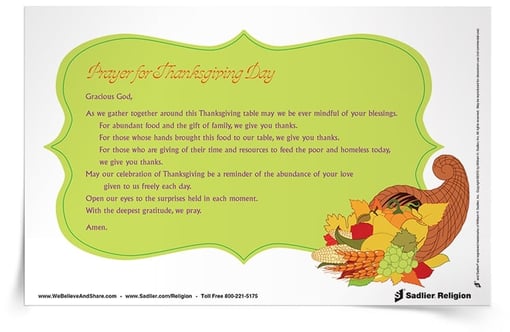 Resource 2: Thanksgiving Prayer Service

The Thanksgiving Prayer Service brings children of all ages together to remember that all good things come from God and guides children to thank God for the wonderful lives they have. The prayer service begins with an opening prayer and a reading from Scripture and includes a multi-age activity that combines art and prayer.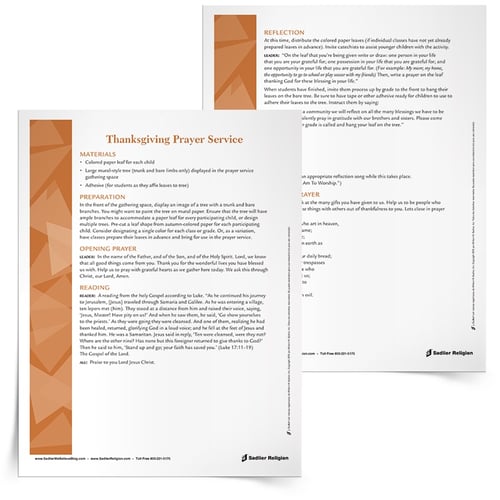 Resource 3: Prayer of Grace Before Meals
On Thanksgiving, Catholic families and friends gather to share a meal packed with meaning and tradition. Download a Prayer of Grace Before Meals Prayer Card and use it as a reflection to enhance your practice of gratitude leading up to the holiday.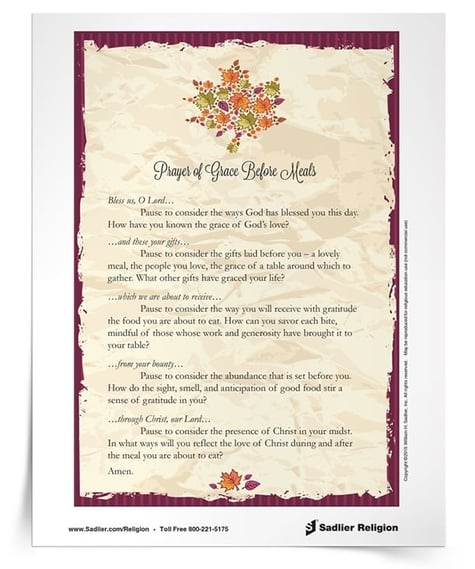 Resource 4: Thanksgiving Table Prayer Card Mini Lesson
Invite children to reflect on God's many gifts and decorate a Thanksgiving Table Prayer Card. Upon completion, use this activity to decorate the family table for your holiday feasting!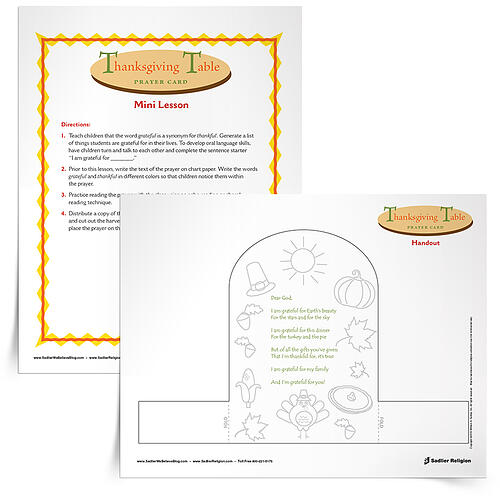 Resource 5: A Prayer for Thanksgiving
We have so much for which to be grateful! Giving thanks for everything is a grace-full way to live. Engage your students or family in thanksgiving and gratitude with A Prayer for Thanksgiving Prayer Card.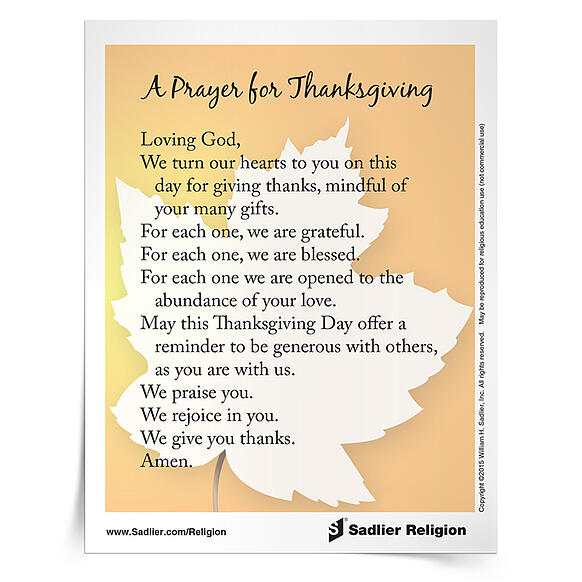 Resource 6: Reflection on Gratitude
Download a Reflection on Gratitude Handout, and use it in your parish or home as a way to celebrate Thanksgiving and to cultivate a grateful heart!