Takeaways from World Meeting of Families: Waste Time on Your Kids & Stress Less
The World Meeting of Families (WMOF) wrapped up today in Philadelphia, and our first reaction is, "Wow." It's been an overwhelming four days of workshops, keynotes, conversations, and every now and then, a little sleep. But now what?
Archbishop Charles J. Chaput from the Archdiocese of Philadelphia put it all in perspective during his brief closing remarks, "If what we do here does not change the way we do things back home, we've wasted our time."
There was a lot to take in over the last four days, and we needed to get out of the city to internalize it. So as we wait for the arrival of Francis, Pope #266, we followed the example of Peter, our first Pope. After watching Christ die on the cross, hear of his resurrection, and see him appear twice to the Apostles behind locked doors, he needed to get away and went back to what he knew best: life on the water.
Simon Peter said to them, "I am going fishing." They said to him, "We will also come with you." So they went out and got into the boat, but that night they caught nothing. John 21:3
Since we left our fishing gear back in Cincinnati, we went into tourist mode and headed the two hours to Rehoboth Beach, Delaware, to play in the water. The drive was a great way to just spend time with each other, and the ocean has such a calming effect on us.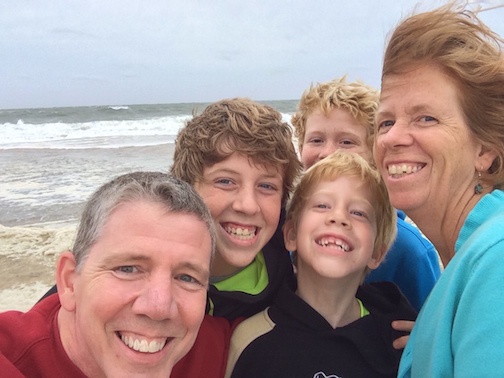 Our Takeaways From the World Meeting of Families
With the ocean spray in our face and seagulls calling overhead, themes from the WMOF began to filter through.
First, we are made in image and likeness of God.
This is a message that came through in every keynote and workshop we attended, and also in the children's catechesis our boys received.
Second, God has a plan for all of us that is revealed in his time.
Ugh. It is so hard in this microwave culture to swallow that one. We want our prayers answered now, and expect things to happen in our time.
Pastor Rick Warren reminded us of who's in charge with his line, "How does God teach you patience? The Department of Motor Vehicles. Have you ever been in a hurry when God wasn't?"
Third, as families we are called to live out our baptismal promise of being priest, prophet, and king.
"Form the moral conscience of children in truth and freedom," Archbishop J. Michael Miller of Vancouver encouraged us. He added that young people must be inspired to know the truth, which is the task of the priest; to defend it, the task of the prophet; and to share it, the task of the king on mission.
Fourth, parents need to stress less and love more.
Sr. Patricia McCormack, IHM, noted in Thursday's panel discussion that we shouldn't second-guess ourselves and we need to trust our instincts. From her research on more than 400 families, she found that statistically, we beat ourselves up and think others can do this parenting thing better than us.
But as Chris Stefanik noted in today's talk, "Even God's first two children rebelled!"
And it's okay for us to have fun parenting. Other parents shared so many funny stories during conversations, and no matter where in the world they lived, it all came back to love, respect, laughter, and being present sans devices.
"Nothing is more important than wasting time on your kids," Stefanik added.
Fifth, we have to be present as Christ in today's society.
Pope Francis is constantly challenging us to go out and serve, and Pastor Rick Warren reminded us, "You are the only Bible some people may ever read."
As Jesus commissioned the Apostles 2,000 years ago, we receive that same call today today:
"Go, therefore, and make disciples of all nations, baptizing them in the name of the Father, and of the Son, and of the Holy Spirit." Matthew 28:19
So Monday morning, we will make the roadie back to Cincinnati, Ohio, and do our best to live up to that Great Commissioning. Please pray for our family, and all those traveling home from the Congress. And a huge prayer of thanksgiving for all those who made this event memorable.
Devlin Family WMOF 2015 Reflections
Printable Prayer Cards for Families