Two years ago, on September 1, 2015, Pope Francis established the World Day of Prayer for the Care of Creation. On this day each year, people all over the world can thank God for the wonderful gifts of creation for which we are to care. People can ask God for the strength to care for creation, and also for forgiveness of any sins committed against creation. The annual World Day of Prayer for the Care of Creation is a reminder that we are all called to be stewards of creation.
THE CALL TO CARE FOR GOD'S CREATION
Care for creation is an essential element of our faith. Catholic Social Teaching, which calls us to work for justice and peace as Jesus did, includes care for God's creation as one of its seven themes. Responding to this call means becoming stewards of creation, respecting and protecting the environment for the health of the world today and for generations to come.
We are all called to care for creation, and we can all answer this call. No matter how young or old we are, each of us has influence over the world we call home. Children love to learn about and care for creation. By participating in the care of creation, children are empowered. Their innate sense of wonder, compassion, empathy makes the theme of caring for creation especially relevant.
Children can be involved in family and community discussions about conservation and care for the environment. Families can plant trees that provide shade and clean air, and flowers that welcome pollinators to their own gardens. Families can choose to buy or use products that are made with the earth in mind. Families can come together to pray and thank God for the gifts of creation and can enjoy these gifts with wonder and awe. Small personal decisions, like turning off a light switch when leaving a room, the proper disposal of trash, and the conservation of water can be steps that even the youngest disciples take to care for creation.
These acts—done by us and by others—are multiplied when they are joined to the efforts of others, in the family, religious education program, school or parish, community, and beyond. They add to a collective commitment that can make a big difference in the world.
Saint Francis has been an inspiration to Pope Francis in his teachings about creation. Saint Francis is the patron saint of ecology. Pope Francis' encyclical letter Laudato Si': On Care for our Common Home, is named from that same canticle in praise of creation composed by Saint Francis.
THE LIFE OF SAINT FRANCIS OF ASSISI
As we as Catholics reflect on this encyclical and our call to care for God's creation, we can remember the life and the words of Saint Francis of Assisi.
Saint Francis grew up the son of a wealthy cloth merchant and his wife in the town of Assisi in the Italian hills. Francis loved life and had lots of friends. His father and mother were proud to have a son who was liked by everyone. They made sure that he had everything he wanted.
Yet for Francis, this was not enough. He wanted to give his life to a noble cause. When he was twenty years old, he decided to join the army. That did not satisfy him either, so he turned in a very different direction. He started to get involved in works of charity. He visited hospitals, took care of those who had no one to care for them, and gave money and clothing to beggars.
One day he was praying in the rundown church of San Damiano when he heard a voice challenging him to rebuild the Church. At first, Francis thought the voice was referring to the actual building of San Damiano, which badly needed repairs. He took cloth from his father's storehouse and sold it to buy building materials. His father was embarrassed by the dramatic change in Francis and demanded that he give the money back, even appealing to the bishop to talk sense into his son. The bishop kindly explained to Francis that he could not serve God by taking what did not belong to him. Francis realized that the best gift he could give to God was not any possession, but the gift of his life.
Francis dressed in old clothes and traveled through the countryside doing manual labor and helping the poor. He refused to own anything so that he would be reminded of God's love and care for everything he has created.
Francis had a deep respect for nature and animals. He composed a hymn in praise of creation. Many of the friends who had shared his previous extravagant lifestyle were now attracted to Francis' enthusiasm for a simple way of life. Some of them sold all of their belongings and came to live with Francis. A young woman named Clare asked Francis to help her start a community of women who wanted to live the dramatic poverty of Francis and his brothers.
Near the end of his life, Francis became very ill and suffered greatly. However, he did not complain, nor did he want the brothers to treat him differently because he was sick. He welcomed suffering as a way to draw close to Christ. He died surrounded by his brothers, who sang the famous canticle that he had written in praise of all creation.
Like Francis, we can serve God by being thankful for the good things he has given to us. Like Francis, we should look for ways to use our talents in the service of God and one another. Francis realized that the best gift we can give to God is the gift of ourselves.
CANTICLE OF CREATION
In preparation for the annual World Day of Prayer for Creation, download Saint Francis' Canticle of Creation. Disciples of all ages can color the image as they reflect on the words of the prayer. Display and pray the prayer in the home or parish on the World Day of Prayer for Creation and be inspired to be a steward of creation!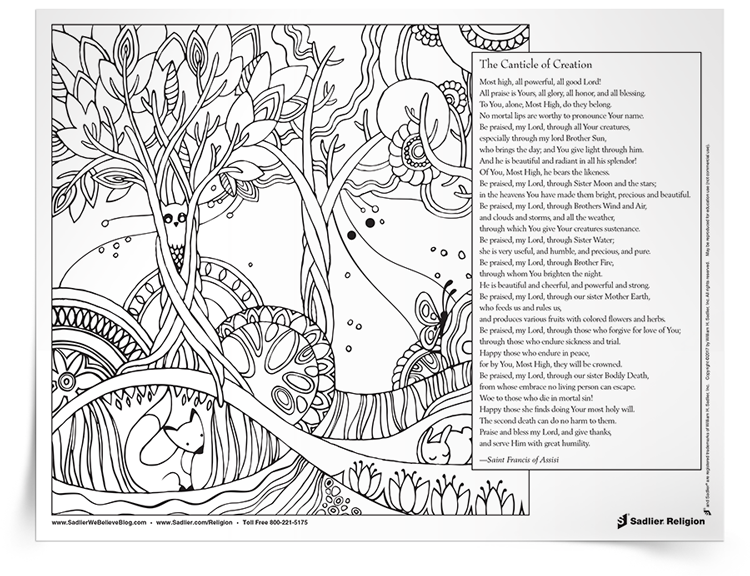 ADDITIONAL RESOURCES: