The Advent season is a time to pray to God, seek his forgiveness, and work for peace. Children can strive to help other people see God's love during Advent. Download and print free Advent resources designed to be used at home or in the parish! Available in English and Spanish.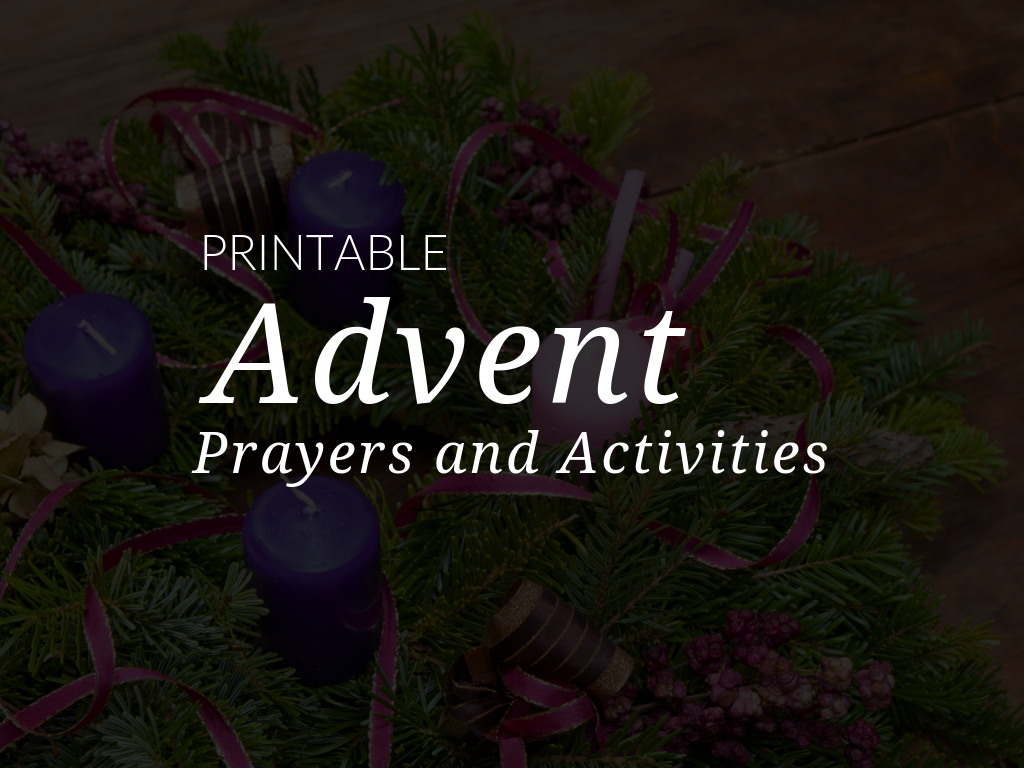 Advent Catholic Prayers and Activities for Kids
Advent Calendar
Help students share each day of the Advent season with their family! This printable Family Advent Calendar is filled with daily suggestions for an action, prayer, or reflection. Suggestions include lighting of the candles in the Advent wreath and celebrating seasonal feast days.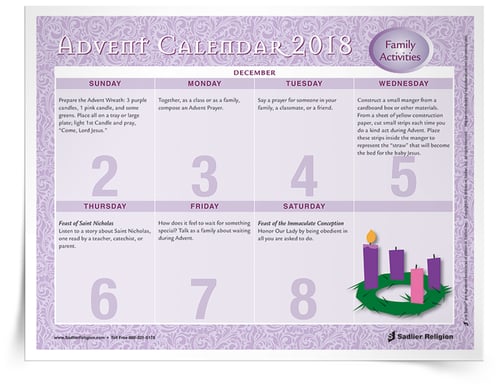 Voices of Advent Lesson & Prayer Celebration



The meaning of Advent season is two-fold, reminding us both to remember the past and to look to the future. Advent is also a time to direct our hearts and minds to the joyful expectation of Christ's Second Coming. Download a colorful Voices of Advent lesson with a prayer celebration and suggested activities for children.


Prayer for the Advent Wreath
During Advent, reflection and prayer help us to maintain awareness of God's mercy towards us. In this time of Advent, let us remember that mercy comes hand in hand with love and solidarity. Let us go out and heed those in need of our help and lead them to the mercy of God in Heaven. Download the Prayer for the Advent Wreath Prayer Card and herald it to all our brothers in Christ.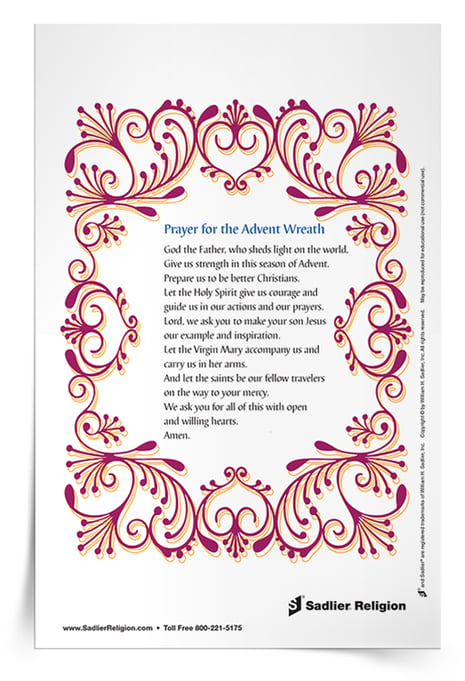 Advent and Christmas Lesson & Prayer Celebration



The liturgical year begins with Advent, the four weeks prior to Christmas. It is a season of preparation, waiting, and anticipation. Christmas is both a feast and a liturgical season. Each day of the Christmas season renews the celebration of the birth of Jesus Christ. Celebrate with this 4-page Advent and Christmas lesson and prayer celebration.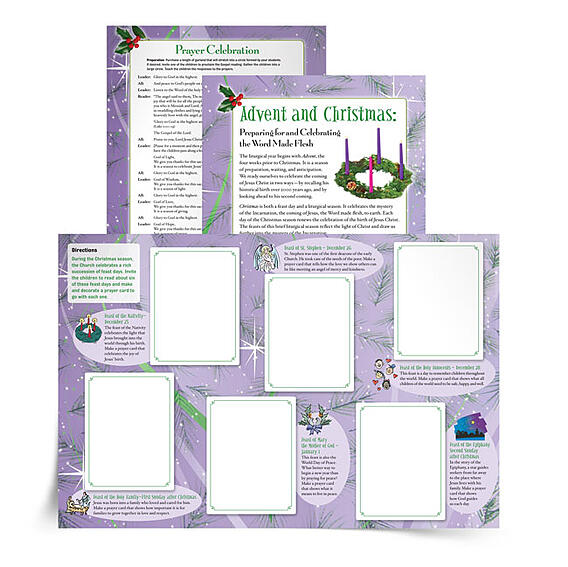 Advent Activities for Teens



Engage Catholic teens during the entire Advent season with a kit offering an eBook, a prayer service, and a mini lesson specifically designed for students in grades 7 and 8. Download the Celebrating Advent with Junior High School Students Kit now.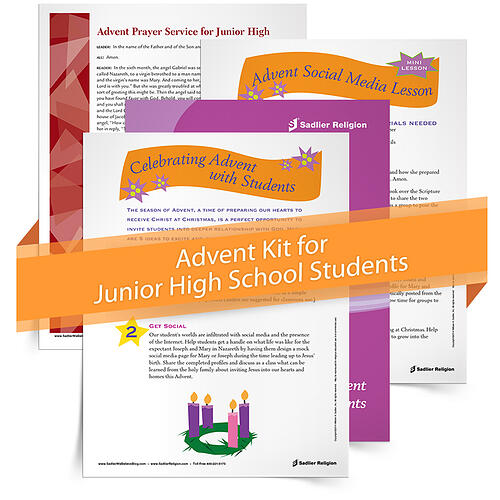 Let Us Be Light Prayer Card
Advent is a time of great activity, which takes us from one place to another, often overwhelming us, but also filling us with renewed energy. We unwittingly combine religious and secular activities. We end up so weary that we forget what we are actually celebrating, awaiting the Light of the World.
We are all able to reflect the light that is Jesus. We still have time to slow down, take a break and devote time to getting ready and enjoying the wonderful Advent celebrations with our families. We can still be the light to shine on others for them to see Jesus, the light of the world. We shall shine lights of friendship, love, companionship, generosity, compassion and peace. Download the Let Us Be Light Prayer Card and share it with your community.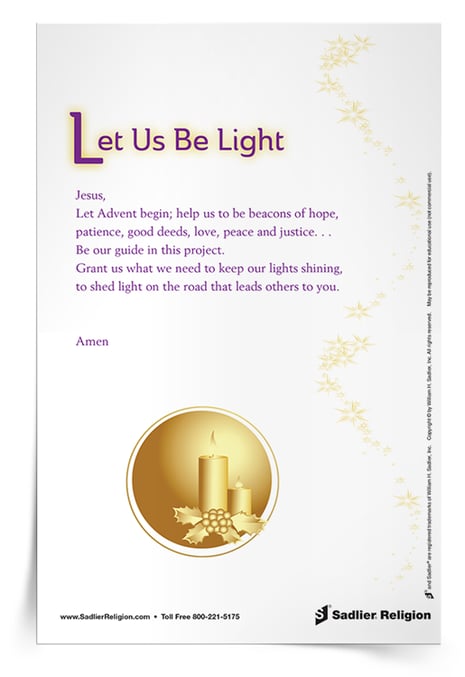 Advent Light Activity



The Advent season helps us to prepare for the coming of the Son of God, the Light of the World. Download an Advent Light Activity to share with kids as you teach about the Advent season to remind them that Jesus is our light.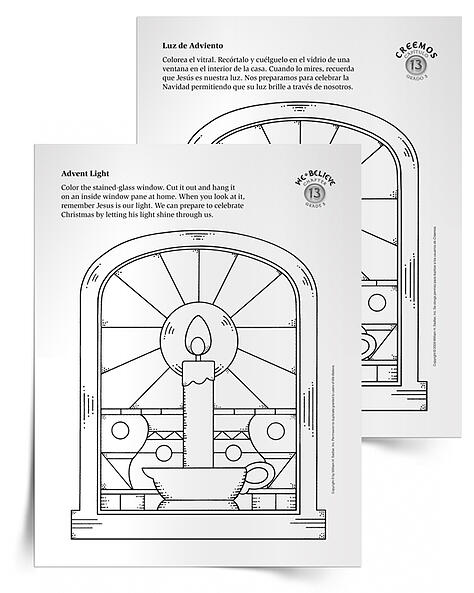 The Advent Wreath Activity
The Advent wreath that we see in our parishes during the month of December helps us to reflect upon and count the Sundays to come before the birth of Baby Jesus. This Advent wreath is ever present in our parishes and may also be placed in our homes.
Consider giving the Advent wreath higher significance this year. Rather than just having it as a Christmas decoration, pray weekly for a special purpose that needs an extra dose of hope. Download this small The Advent Wreath Activity, and practice it with your students, families or community.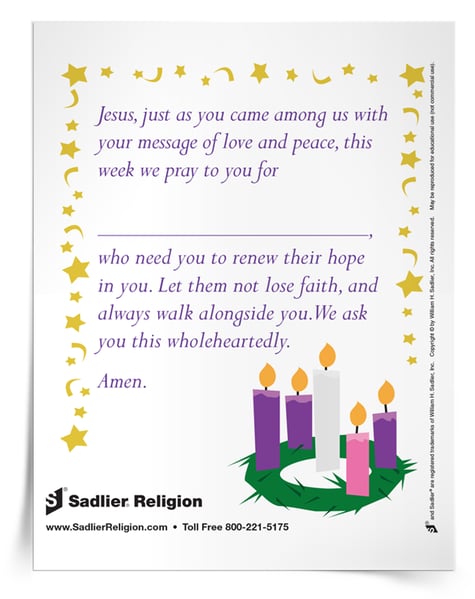 Advent Blooms Activity



In this activity, children will color the blooms on an image of a Christmas cactus to represent times during Advent in which they share God's love with others. The Advent Blooms Activity is a lovely way to help introduce young children to Advent and keep them focused on sharing God's love throughout the season.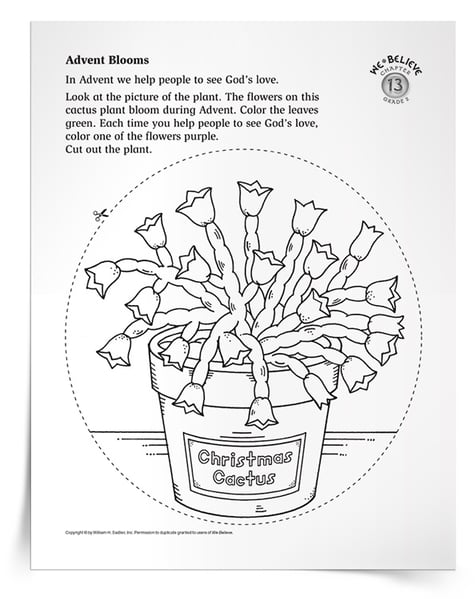 Prayer for Lighting the Advent Wreath



Advent's light is a beacon of hope and a call to trust in the presence of Christ's love shining in the midst of our darkest days. We invite you to download Prayer for Lighting the Advent Wreath Prayer Card to use at home or in your parish.


Prayer for Advent Grace



What distractions keep you from discovering the beauty of Advent? We invite you to download a Prayer for Advent Grace Prayer Card, and use it in your parish or home.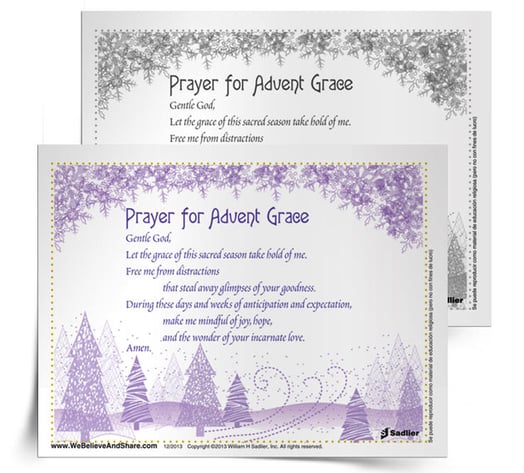 Simple Prayers for the Advent Wreath
The liturgical year begins with Advent, and with it the Christmas season. It is the magic time of the year when hope becomes most intense for the majority of Christians. We usually say that the main significance of Advent is to prepare ourselves to celebrate Jesus's arrival in the world. During Advent, let us direct all our faith and enthusiasm towards the memory of the glorious coming of Our Lord Jesus Christ, so that we can celebrate this sacred moment together. Download the Simple Prayers for the Advent Wreath Prayer Card and pray it joyfully with your family.