Professional Development for Catechetical and Catholic School Leaders: A New Feature for We Believe and Share
A new year begins and, with it, a fresh aspect of We Believe and Share. In addition to the spirituality focus this blog has taken for the past five years, I will be including two articles each month aimed in a particular way at those who are involved with visioning, planning, implementing, and assessing catechetical ministry in parishes and Catholic schools. Having served in these roles myself, I know the scope of responsibility they carry and the challenges they involve. In providing these articles my hope is that they will provide inspiration, support, encouragement, and affirmation for the work of all of you involved in catechetical leadership.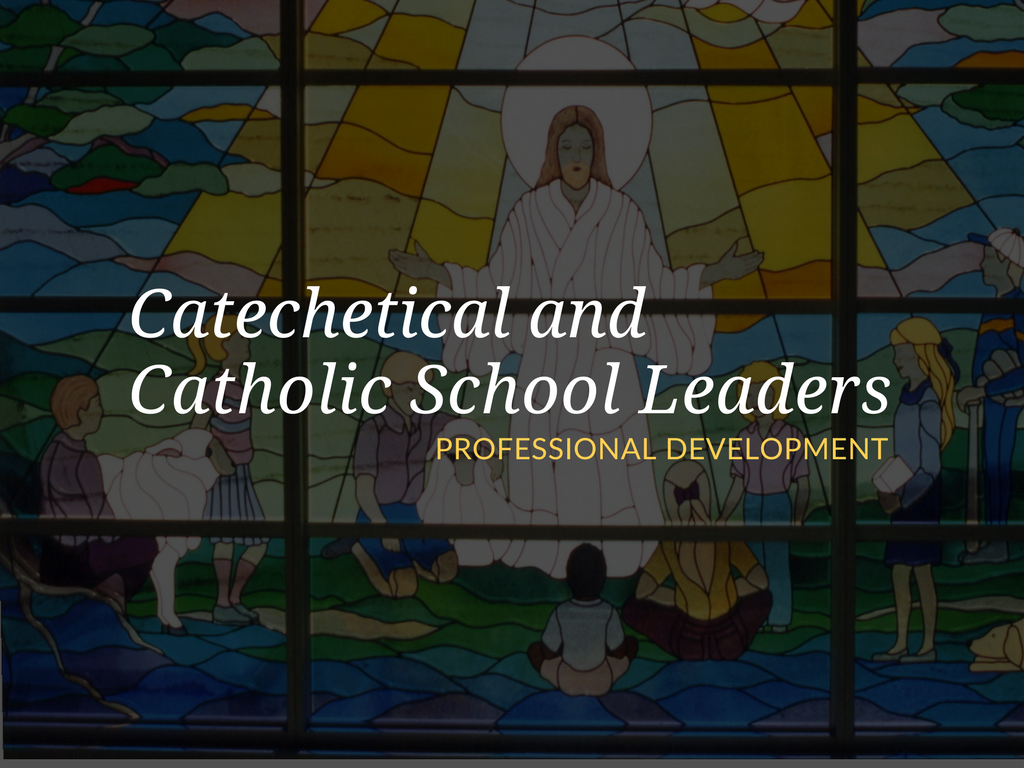 "Professional development" sounds rather stodgy and yet it is vital for anyone wanting to stay engaged and energized by their role in Catholic schools and parishes. It is also broad enough to include a variety of topics, ones that range from the pragmatic to the theoretical.
I think I came to truly appreciate the value of professional development while serving as a Parish Catechetical Leader in Sitka, Alaska. In addition to the small community (about 150 families) I was the single lay Catholic minister on the island in which Sitka was located. Without co-workers or colleagues to collaborate and bounce around ideas, I felt isolated and often depleted. Every time I got a catalog listing books on ministry, spirituality, and pastoral issues I pored through them and placed orders for new material. The insights and ideas I found in these materials provided much-needed impetus for carrying out my job. I also cherished the times when diocesan leaders came to town, often at my invitation, to offer workshops for catechists or retreats for the parishioners. Each resource and experience brought fresh ideas and renewed motivation for the work at hand.
In the months to come you can look forward to articles on family ways of sharing faith, ideas for engaging the parish in sacramental celebrations, and a summer plan for understanding and catching up on digital technology. Some of these will be written by guest bloggers who have expertise around a particular topic. With each new post, you will find questions for reflection as well as application ideas for your role in a parish or school. I will also post links for resources that support your work and ministry.
In all of the We Believe and Share posts you will continue to find the spiritual inspiration that has been central to this blog since its inception. I hope you will continue to tune in, read and reflect, and perhaps leave a comment with your own ideas and insights. So pass the word to other leaders in your diocese, parish or school as we launch into this new facet of the blog. Thanks for being a loyal reader and for your great and important work!
FOR REFLECTION



What kind of professional development has helped you in your role as a catechetical leader?

How might you carve out time for your own professional and spiritual development? Who will help you do this? What is the next step in moving towards this?
MAKING CONNECTIONS



Parish Catechetical Leaders – As a new year begins, you are midway through your program. Take some time to look back at the catechetical goals you set for the year. Use your calendar or planning tool to recall events, meetings, and other gatherings and consider how they helped you meet those goals.

Catholic School Leaders – The school year is half over. Review the first half of the year and how you integrated the teaching of religion into the rest of the school curriculum. Is there a moment that stands out as particularly rewarding or effective?
RESOURCE IDEAS



Have you visited Sadlier Religion lately? If not, you will want to check out the Leadership Library through the link on the home page. There you will find a huge array of articles, prayers, e-books, and other resources that support and inspire your work and ministry. Here are a few tips for navigating the page:
Resources are listed in alphabetical order. If you are looking for a particular topic, such as Holy Week, you can scroll down to find it.

The filter on the upper left-hand side of the page will narrow the search by allowing you to find the resources keyed to more general areas.

The search on the top right-hand side of the page allows you to enter a keyword so you can skip directly to the topic you want.
The web site also has a complete archive of webinars offered by Sadlier Religion. Just click on the "Sadlier Resources" box at the top of the home page to see the drop-down menu. Click on webinars and scroll down to find those related to Professional Development. Another list will appear, allowing access to a range of topics that will support your ministry.