12 Printable Catholic Christmas Prayers
The Catholic Christmas season begins on December 25th and ends in January on the Feast of the Baptism of the Lord. During this season, we celebrate the birth of Christ, the Son of God, God with us, Emmanuel, who was born long ago in Bethlehem and is still among us today. Download Catholic Christmas prayers to celebrate this joyous season with students, children, and families!
Printable Catholic Christmas Prayers
Christmas Tree Blessing Catholic Prayer Card
As Advent passes its mid-point, the anticipation for Christmas grows. Download a Christmas Tree Blessing Prayer Card and use it as part of your home or class celebration.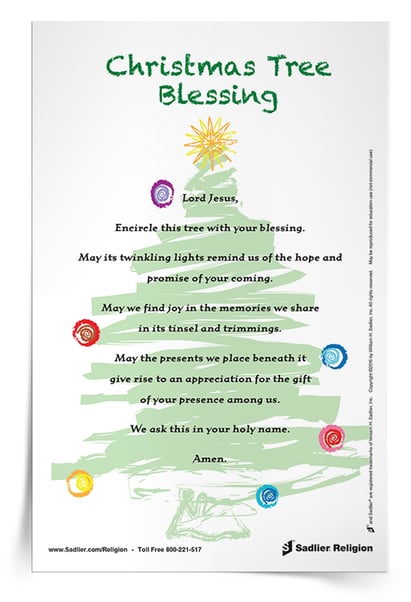 Prayer for Christmas Giving Catholic Prayer Card
Giving to others who are truly in need rather than gifting a bunch of stuff to one another seems fitting for a season focused on the great gift of love embodied in the person of Jesus. Use the Prayer for Christmas Giving Prayer Card to discuss the difference between gifting and giving with children.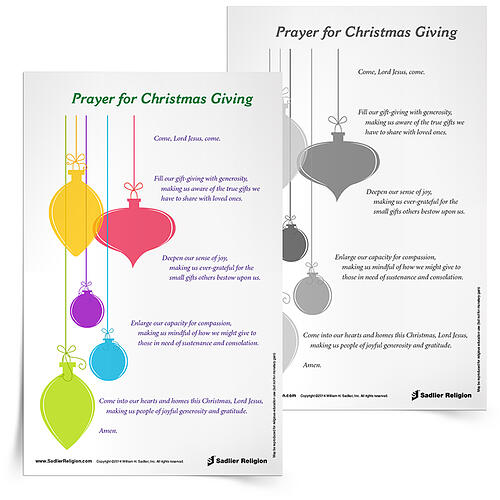 Prayer for Christmas Consolation Catholic Prayer Card
In recognition of those who are struggling with various forms of loss at this time of year, many churches are now holding "Blue Christmas" services. Download a Prayer for Christmas Consolation Prayer Card to use as a compassionate response to those whose hearts are heavy with sadness, loneliness, fear, and grief. This Catholic Christmas prayer is a great way to start a conversation with children on how we can love and support people during the season. Download it now!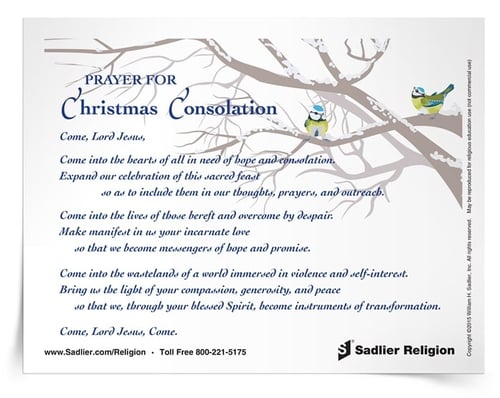 Christmas Past, Present, and Future Catholic Prayer Card
How do your Christmas traditions bring together a sense of past, present, and future? Download a Prayer of Christmas Past, Present, and Future and use it in your home or parish as a way to celebrate the season of Christmas. These Catholic prayers for Christmas will help children reflect on the past, the present, and the future.
O'Antiphons Reflection & Catholic Prayers for Christmas
The O Antiphons, a Catholic tradition of prayer that marks the Octave of Advent, provide a beautiful framework for reflection in the week preceding Christmas. As holiday activities ramp up, they provide a respite in the midst of the day to consider different aspects of this sacred season. Download my reflections on the O Antiphons and incorporate them into your personal reflections, as well as into your family or class activities. These seven cards can be used on a day-to-day basis throughout the Octave of Advent!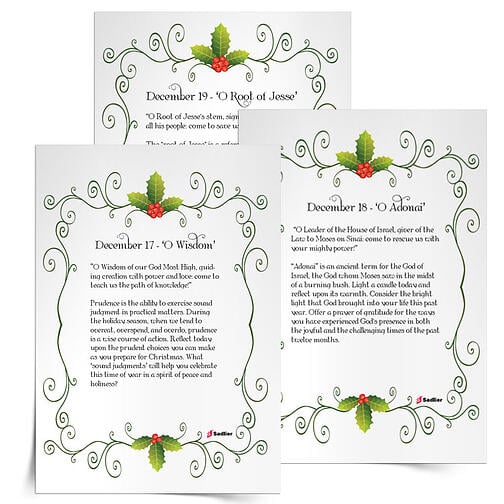 Catholic Christmas Prayer Service
The coming of Jesus at Christmas brings light, love, and peace into our lives. Share with students a Celebration of Peace Christmas Prayer Service, including Scripture reflection and a meditation to help students consider the changes Jesus has brought into their lives.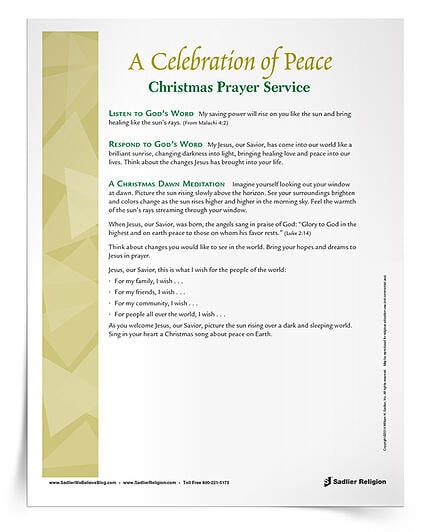 Advent and Christmas Catholic Lesson & Prayer Celebration
The liturgical year begins with Advent, the four weeks prior to Christmas. It is a season of preparation, waiting, and anticipation. Christmas is both a feast and a liturgical season. Each day of the Christmas season renews the celebration of the birth of Jesus Christ. Celebrate both Advent and Christmas with this 4 page reproducible lesson and prayer celebration!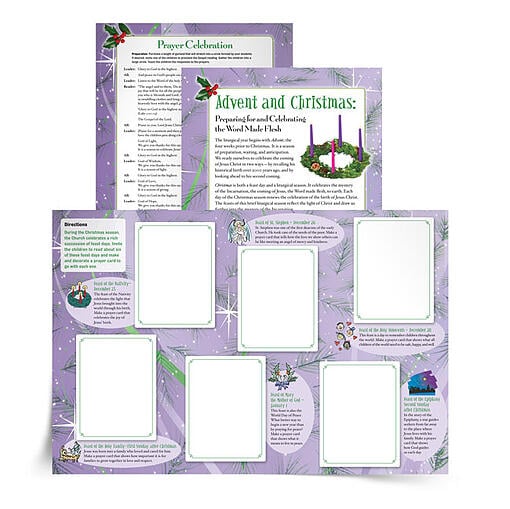 In Thanksgiving for Christmas Traditions Catholic Prayer Card
Download In Thanksgiving for Catholic Christmas Traditions Prayer Card and use it as a way to reflect on the beauty of your own traditions during the Christmas seasons.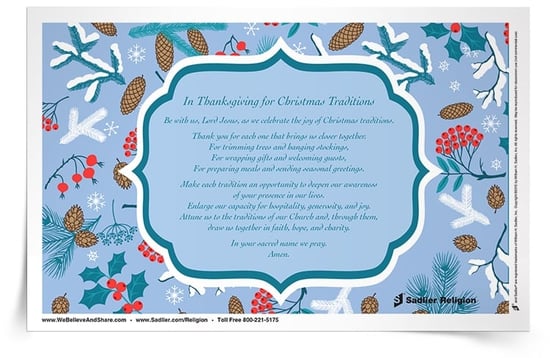 The Hope of the World Catholic Prayer Card
It's Christmas, the time when we remember that the Son of God came and came to stay. Jesus is present among us. He loves us, and He speaks to us. Let us acknowledge his presence so we don't get confused, so we don't let the unpleasant events of everyday life blur our vision of reality. So that we can see that Jesus is here in the midst of all this uncertainty, and that we may live in the hope that with Him everything is possible.
Let us find clarity and light in Jesus Christ, He will open up the doors of hope and love for us, especially this Christmas. Download the Hope of the World Prayer Card and share it with your family.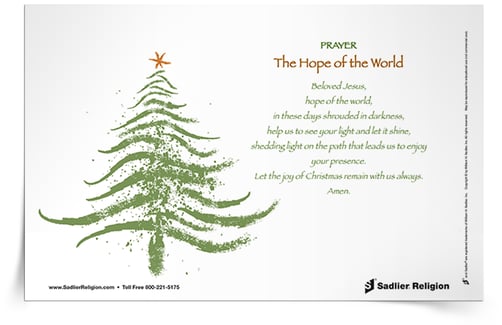 Blessing for the Birth Catholic Prayer Card
The birth of Jesus, or the nativity scene we place in our homes or local parish is a good reminder of the gift God gave us. The birth of Jesus changed our world. It is a gift for humankind that brings us much love and peace. That is why we are thankful to God this Christmas for his gift of Jesus who brings us peace and love.
Let the Baby Jesus be born into our hearts, so we can follow his example in the teachings he left us and continues to leave us forever and ever. Download the Blessing for the Birth Prayer Card and pass it on to others as a symbol of peace and love.
Jesus, the Reason for Christmas Catholic Prayer Card
God has delivered unto us his Son, his light, to illuminate us with his light, to be with us. That is the gift we receive when celebrating Christmas. It is an occasion to remember that God loved the world to such an extent that He gave us his only Son. What better gift can a father make? Let us not exchange God's gift for material gifts.
There's no need to go out and buy. What better gift than to enjoy the presence of Jesus and let Christ's light shine on all the moments of our lives? During these Christmas celebrations, let us set aside a moment to receive this wonderful gift and share it with our children and all the family. Download the Jesus, the Reason for Christmas Prayer Card and share it with your family and community.

Prayer for the Novena of Christmas Gifts Catholic Prayer Card
We are eternally thankful for the gifts life grants us, especially those we get from our parents and from God. Let the gift of Jesus Christ here on Earth and in our hearts remain with us forever. Download the Prayer for the Novena of Christmas Gifts Prayer Card and recite it along with your students and family members these days before Christmas.