How Catechetical Leadership Can Make the Most of Learning Opportunities
A few years ago I was invited to write a small booklet called Pep Talks for Parish Ministers. It was part of a series that addressed some of the challenges faced by those in parish and school ministry and offered ideas and inspiration for dealing with them. As I pulled together the table of contents, I contacted several people in leadership and solicited their ideas. Several noted how they were becoming jaded. Pressing demands on their time and energy led to exhaustion and, in the worst cases, burnout.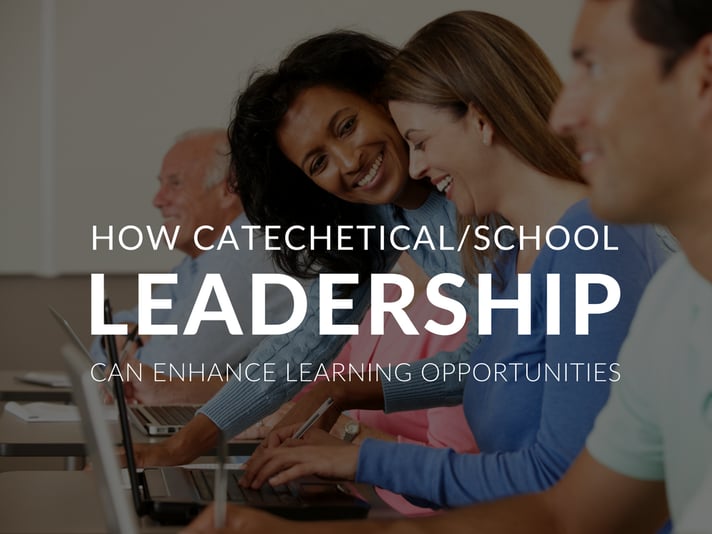 One respondent also offered an antidote: "When I go to workshops and hear about all the good that is going on, I am renewed and energized." It was somewhat surprising because one might think the last thing a busy parish or school leader would want is another commitment.
As you read this article, reflect on the following questions:
What sort of mental stimulation do you crave? How will you go about satisfying it?

What three things might you do to jump-start a plan for self-directed learning?
The catechetical year is punctuated by conferences, workshops, and seminars. For example, in the fall dioceses often sponsor events tied to the theme of Catechetical Sunday. After the first of the year, national conferences and congresses take place around the country. The summer break provides time to take a course online or through a local educational institution.
Each one of these offerings is an opportunity to sweep away the mental cobwebs and to jump-start a plan for self-directed learning. Even if you are not able to attend gatherings like the Los Angeles Religious Education Conference (LAREC), the National Catholic Education Association (NCEA), or the National Conference of Catechetical Leadership (NCCL), there are numerous ways to reignite your energy and enthusiasm, find creative ideas for your parish or school ministry, and affirm the work you are already doing. Here are some ideas for making the most of various learning opportunities...
IDEAS FOR MAKING THE MOST OF VARIOUS LEARNING OPPORTUNITIES
CONFERENCES, WORKSHOPS, MEETINGS, AND RETREATS

WIDEN YOUR INTERESTS. Make the most of your participation during on-site gatherings by considering what you want to take home from the experience. If you attend a conference like LAREC or NCEA on an annual basis, for example, look for topics and speakers that not only offer "hands-on" ideas for your ministry but ones that also expand your mind, heart, and soul. Learn more about the Bible or social justice, for example, or sign up for a session with a focus on spirituality. The inclusion of topics for both your personal and professional growth will leave you stimulated and refreshed.
TAKE YOUR OWN NOTES AND NOT THE SPEAKER'S. When I offer presentations I often use Power Point slides as a way to appeal to various learning styles and provide a visible guide to my talk. I often see people frantically trying to write down everything on my slides (even though I limit the words so that they don't become visual handouts). I don't suppose those notes go much farther than the trash bin once the attendees are back in their schools or parishes. While there might be key points or quotes you want to retain, trying to capture a speaker's exact words is hardly conducive to one's personal and professional needs and interests. Try conversational notes instead. These consist in jotting down points and the connections they make with your particular ministry and situation. This makes for a more vibrant learning experience.
TAKE TIME TO VISIT THE EXHIBIT AREA. As a consultant for Sadlier, I am obviously glad to see participants stop by our booth to review our products. I often engage in conversation with parish and school leaders to hear about their interests and listen to their questions and needs. The feedback publishers receive from people in the field plays a big part in crafting resources that best serve you. In addition, visiting the vendors at a conference gives you an overview of resources and trends that will assist you in carrying out your ministry. Try to walk away with at least one new resource idea to bring back to your school or parish.
ONLINE LEARNING OPPORTUNITIES

E-COURSES AND WORKSHOPS. In addition to my role as National Religion Consultant for Sadlier I also serve as an online facilitator for Boston College's STM Crossroads courses. I love the chance to learn from both the course materials and the conversation of the participants. The internet provides a wealth of opportunities for online learning from various colleges and dioceses. These are relatively inexpensive and can be completed whenever it is most convenient for you. In addition, many of them qualify for accreditation, depending on your diocesan policies.
WEBINARS. These shorter versions of online courses offer everything from retreats to professional development and can be completed in "real time" or by watching recorded sessions. Check out the archived webinars at Sadlier Religion and choose one that will both inspire and inform.
PRINT AND DIGITAL RESOURCES
PRINT AND EBOOKS. Reading is a simple pleasure and one that stimulates the mind and opens the heart. One of the most valuable ways to avoid becoming "ministerally myopic" is to read a variety of material—fiction and non-fiction, poetry and prose, and subject matter that varies widely. If you don't have time to read, consider these possibilities: Include a book of inspiration as part of your daily routine and read a page or paragraph to set a tone to your prayer. Check out audio books from the library and listen to them while driving back and forth to appointments and meetings. Let the day settle by reading a chapter or even just a page before going to sleep.
PERIODICALS AND BLOGS. The first thing I read every morning is a quote from gratefulness.org, This beautiful web site, founded by Brother David Steindl-Rast, offers a lovely entré into my day through a short reflection on gratitude. I then turn to the lectionary readings through the periodical, Give Us This Day. Both of these provide food for the soul that places me in a peace-filled frame of mind. In addition, the readings are short and easy to incorporate into a busy day.
One of my favorite educators, Parker Palmer, noted the value of being a continual learner throughout life:
Learning is a magic of sorts, a healing, an empowerment, a conduit of grace, a wellspring of health and wholeness, of life itself... Learning is the only way to move in and through those travails to the life on the other side. Only when we are open to the grace called learning will we be not ruined but restored by the great sadness life can bring.
May you find the flow of the year to be a continual time of renewal for your own heart, mind, body, and soul as you continue to explore what it means to be a lifelong learner.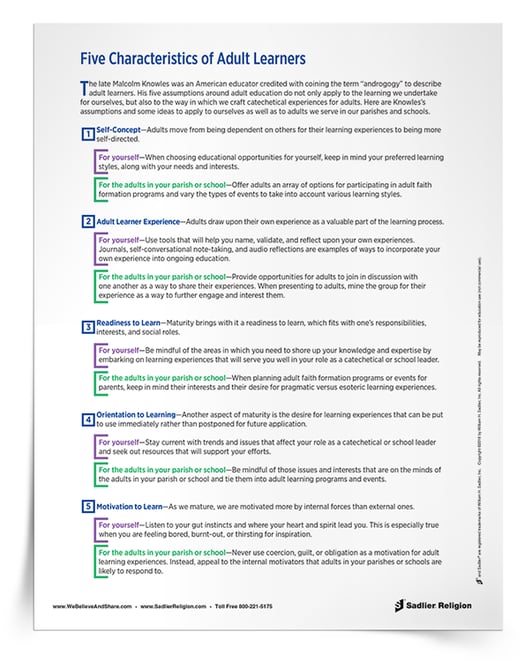 MAKING CONNECTIONS
PARISH CATECHETICAL LEADERS– Prior to attending a conference or workshop, write down your intentions. What do you hope to hear? What will you do to make the most of your experience?

CATHOLIC SCHOOL LEADERS– Compile a list of favorite books, articles, and online resources to share with teachers and other members of your school staff. Encourage them to add their own ideas by keeping an ongoing list in the faculty room.
RESOURCE IDEAS
As noted above, Sadlier has a number of archived webinars that offer both helpful information and meaningful inspiration. Here are five that you might want to check out in the weeks ahead.