15+ FREE Resources for Lent You Will Love
During this six-week season, we are encouraged by the Church to engaged in three spiritual practices – prayer, penance, and almsgiving. To assist you in carrying out these practices for yourself and with your family or students, Sadlier is pleased to offer a number of inspirational and practical resources. We hope it adds to your experience at this sacred time of year. Download them now!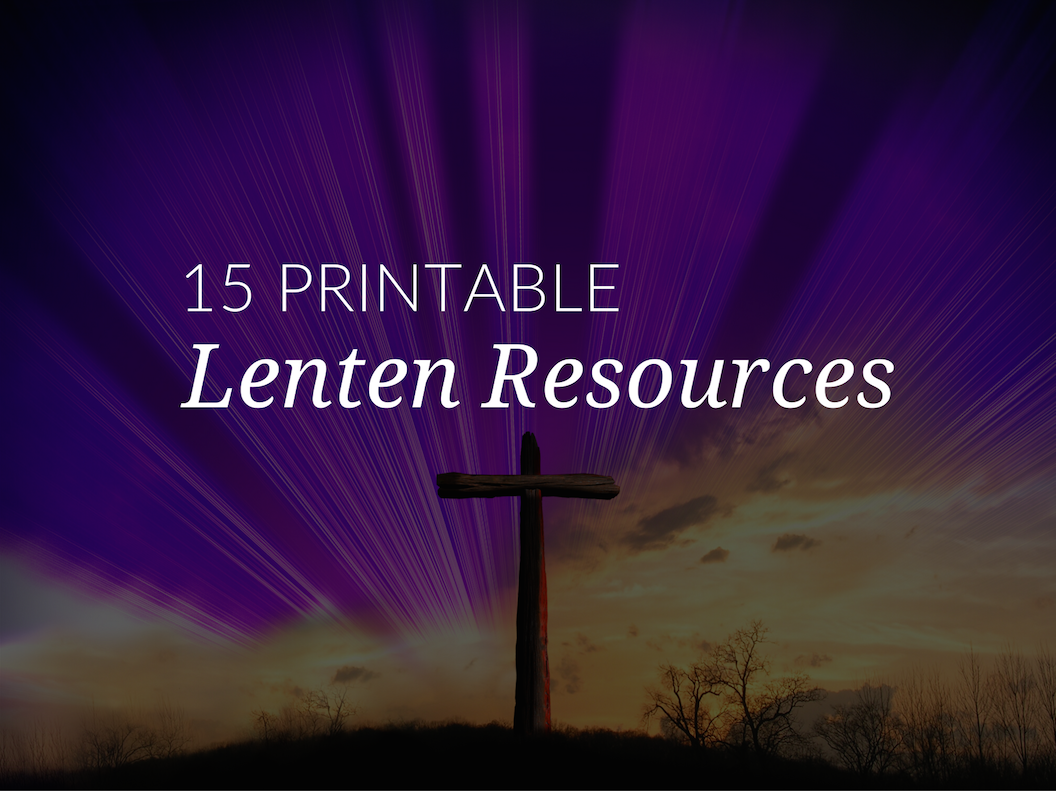 Printable Resources for Lent
Resource 1: Lenten Practices Reflection Cards

Need ideas on how to keep your momentum strong throughout the six weeks of the Lenten season?Download complimentary Lenten Practices Reflection Cards to use at home or in your parish!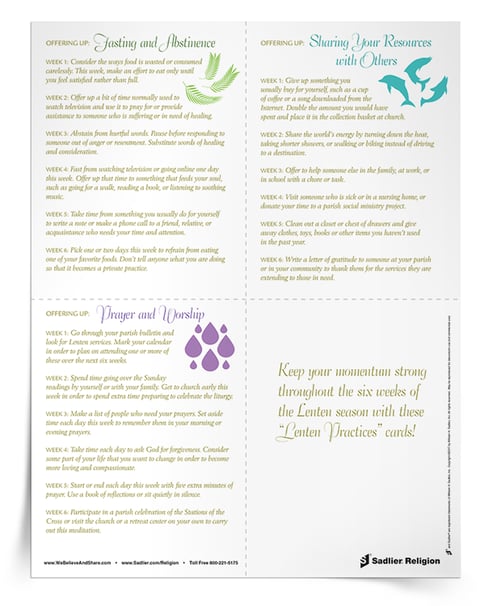 Resource 2: The Road to Lent Leads to Easter



Lent is a time of preparation for the celebration of Christ's Death and Resurrection at Easter. Lasting for forty days – from Ash Wednesday to the evening of Holy Thursday – the season draws us towards the light of Christ.
Download The Road to Lent Leads to Easter lesson and prayer celebration to discuss the spiritual practices of Lent with your family or class.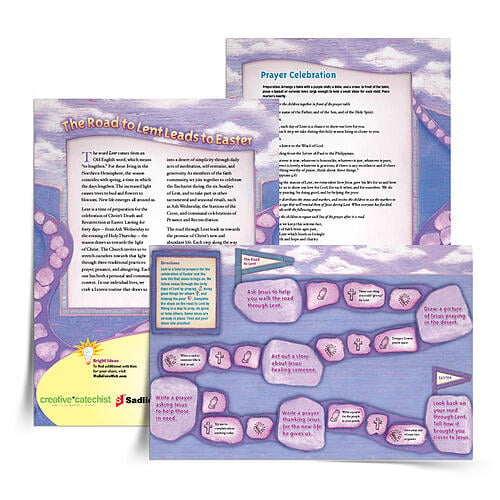 Resource 3: What If I'm Asked About Lent?

When you hear the word Lent, what picture comes to mind? Penance, purple, fish, ashes, fasting, sacrifice, giving up movies? These are the images many Catholics associate with Lent.
Our idea of what Lent is will be closer to the Church's meaning of the seasons if the first thing that comes to our minds is an image of new life– of Baptism! Download the What If I'm Asked About Lent? Faith Fact with an explanation of Lent by a Master Catechist to share with junior high school students.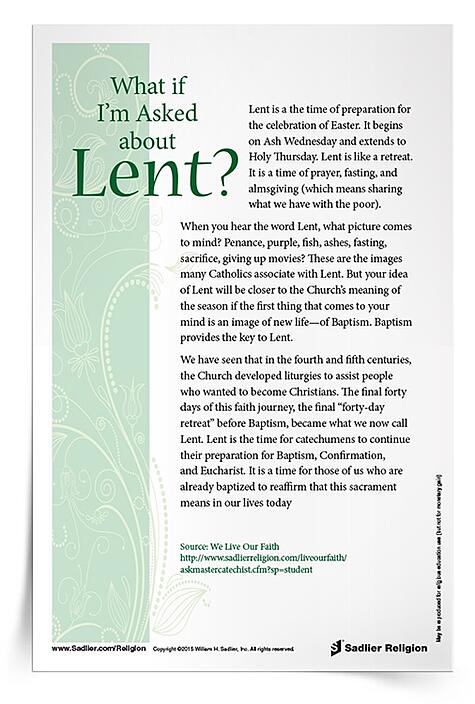 Resource 4:

Living Out Lent Cube Activity

Teach children that Lent is a special season that prepares us for Easter with an interactive activity. With the Living Out Lent Cube Activity children will brainstorm things they can do to make Lent a time of simple living. During the season of Lent, students will roll the cube to determine an activity they will "live out."
Resource 5: Prayer for a Lenten Spirit



Keep your seasonal intentions intact with a Prayer for a Lenten Spirit. Download it and share it in your home or parish.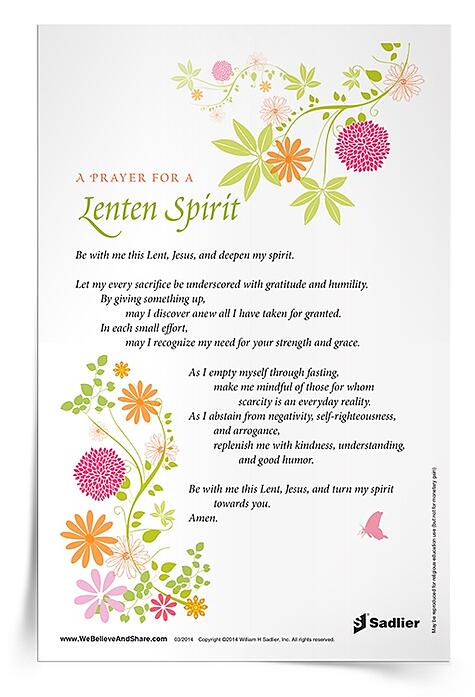 Resource 6: Lenten Preparation Checklist for Families



Sharing the meaning of Lent with our family members and students, adorning our learning and living spaces with signs of the season, and taking part in Lenten practices helps us understand the important preparation of this liturgical season.
To help families prepare for the season of Lent, download a special Lenten Preparation Checklist for Families. This checklist can be distributed to families to help them to prepare and to observe the season of Lent in their homes and in their daily practices.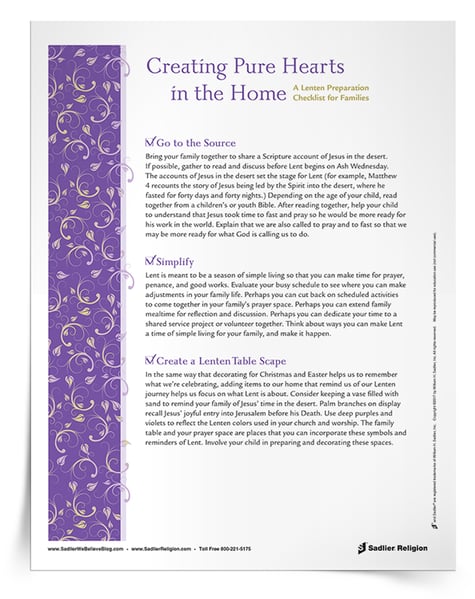 Resource 7: Renew Your Baptism During Lent Activity

Baptism provides the key to Lent. In the fourth and fifth centuries, the Church developed liturgies to assist people who wanted to become Christians. The final forty days of this faith journey, the "forty-day retreat" before Baptism, became what we now call Lent. As part of the Rite of Christian Initiation of Adults (RCIA) Lent is the time for catechumens to continue their preparation for Baptism, Confirmation, and Eucharist. And it's a time for those of us who are already baptized to reaffirm what this sacrament means in our lives today.
Download the Renew Your Baptism During Lent Activity to use with primary children. This Lenten worksheet to help young children practice renewing their Baptism during Lent.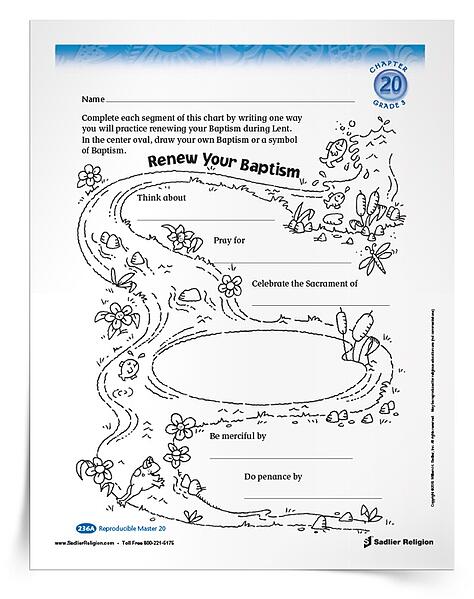 Resource 8: Lenten Whole Community Catechesis

Bring parishioners of all ages together to learn about and share their faith during a special seasonal event. Download these Lenten Whole Community Catechesis handouts to implement your event for the entire parish community or all the students in a school community or Religious Education program.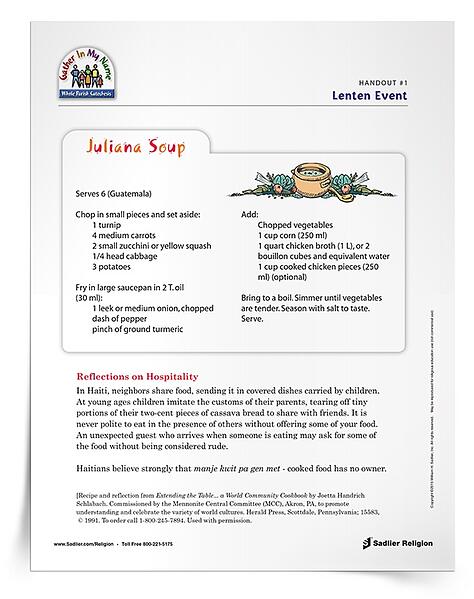 Resource 9: Lenten Word Search Puzzle

Download a primary Lenten Word Search Puzzle Activity for children to use during the season of Lent.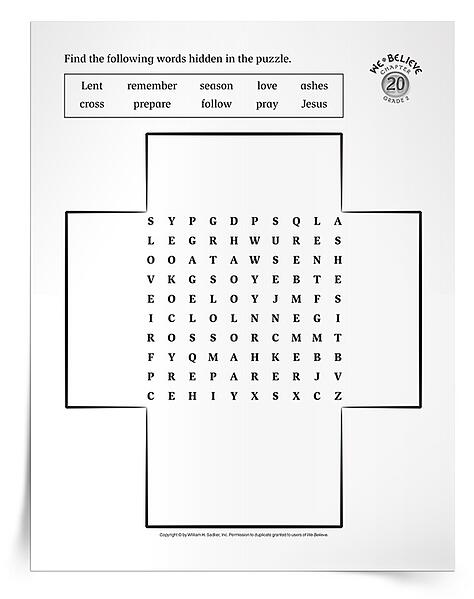 Resource 10: Lenten Calendar for Families

Designed for families, Sadlier's 2020 Lenten Calendar in English and Spanish offers a Scripture passage for reflection and a suggestion for an action, prayer, or contemplation for each day of the Lenten season.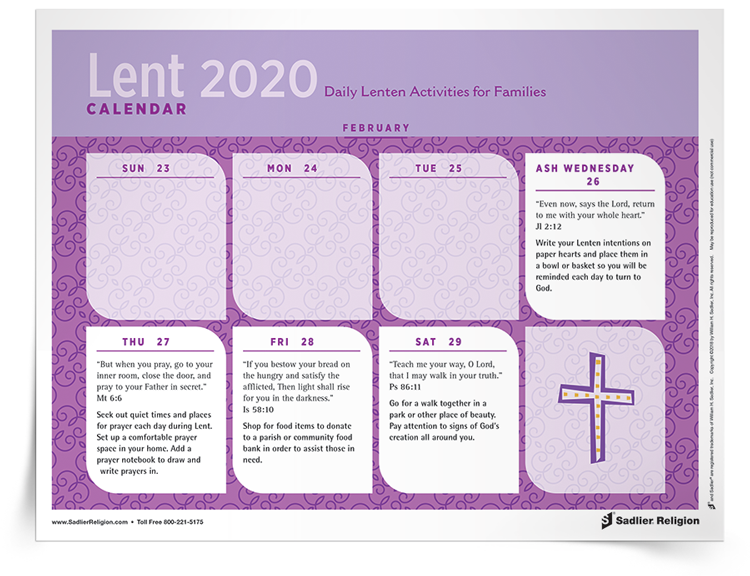 Resource 11: Prayer for Lenten Initiative



To keep from giving up on the traditional seasonal practices, download a Prayer for Lenten Initiative and share it in your home or parish.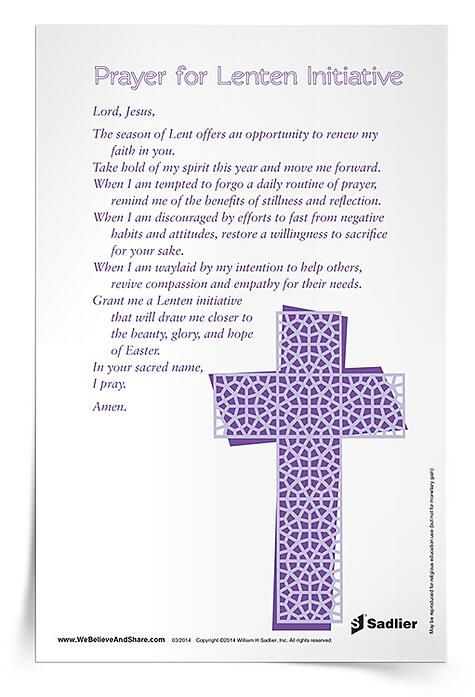 Resource 12: Prayer for Lenten Reflection

The season of Lent encourages us to go outside of ourselves to serve others and learn what it truly means to live out the love of Jesus. Use a Prayer of Lenten Reflection for your own reflection or share it with your family or class.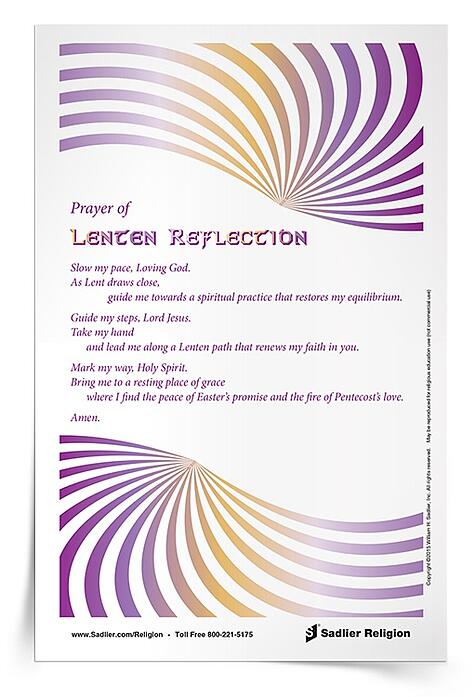 Resource 13: Soul-Nourishing Practices for Lent
As a spiritual tradition, fasting goes back millennia. Jesus followed the practice set by his ancestors. It was a form of purification. Download a Soul-Nourishing Practices for Lent Reflection and use it with your family or class to heighten awareness of Lenten fasting.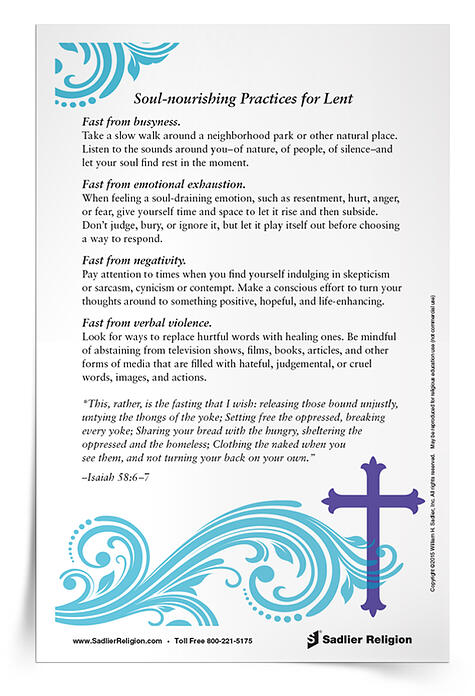 Resource 14: A Prayer for Lenten Grace
During the sacred season of Lent, re-discover the grace of gratitude and generosity. Download the Prayer for Lenten Grace Prayer Card and use it in your home or parish to prepare for and to celebrate Lent.
Resource 15: Psalm for a Prayerful Heart



Lent is an opportune time to pray for our own re-conversion and commitment to our faith. If used as a regular practice, our prayer life during the next six weeks will most certainly open us up to the surprising gift of a new dawn and the bright promise of Easter's life and joy. Download a Psalm for a Prayerful Heart and use it in your family or class!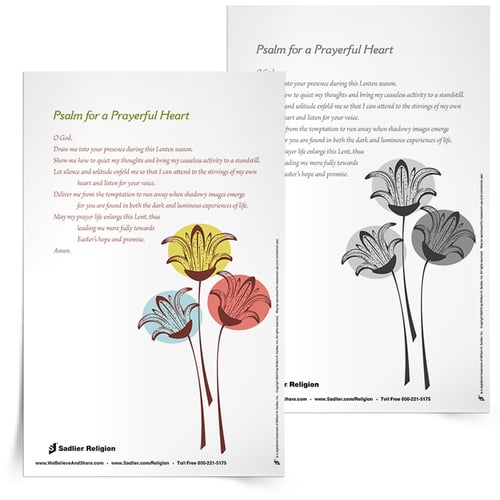 In Summary



These inspirational and practical resources can help families and students prepare their hearts and homes before and throughout the season of Lent.
For more Easter support for students and families, explore the additional resources below.
Additional Resources: