One of my favorite vocabulary activities is Present Vocabulary with Prezi. I quickly learned that combining technology with vocabulary instruction captures the attention of even my most reluctant students. Learn how to use Prezi in the classroom to get students engaged in learning new words!
USING PREZI IN THE CLASSROOM TO TEACH VOCABULARY

This vocabulary assignment came about after I took a Prezi "crash course" back in 2013. I was so excited to find an alternative to PowerPoint, and I knew students would have fun playing with the use of motion, zooming in and out, and spatial relationships the website provides.
So, with my newfound love of Prezi, I set to creating a model to show my students.
After you read how to implement this activity in your own classroom I encourage you to watch my Prezi examples for students. I set out to create Prezi examples for students and soon found myself totally immersed in the fun of this presentation tool!
To create my Prezi examples for students I decided to use a word that had more than one definition (as most do). Linking each definition with a sentence and visual was easy, and Prezi allows the final show to zoom in and out to reflect various definitions of the word while showing how they are all connected together.
This fun and visual vocabulary activity will have both you and your students excited – and isn't that what we want from all our assignments?
HOW IT WORKS: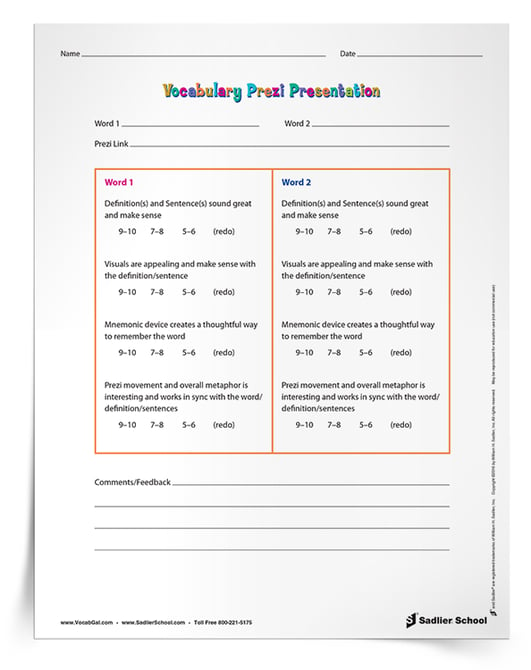 With this vocabulary activity, students will create their own Prezi presentation that highlights two vocabulary words. Within their presentations, students will highlight parts of speech, visual metaphors, definitions, and more!
To start using Prezi in the classroom to learn vocabulary words, give each student this printable assignment sheet. This simple assignment sheet includes instructions for students.
Then, assign each student their two vocabulary words. In their presentation, students must highlight the following elements for each vocabulary word: part of speech, definition with visual metaphor, a sentence using the vocabulary word, and a mnemonic device. If one of their assigned vocabulary words has more than one definition they must highlight each of the items above for EACH definition.
Before building out their presentation in Prezi, students should design their Prezi on paper. They will need to map out the individual zoom-in sections for the four elements they are tasked to highlight.
Students should also think about strong visual metaphors that would help their classmates remember each word or see connections among a word's various definitions and part of speech. Once they've brainstormed ideas, students need to find clipart or other pictures that connect to their words definitions and sentences.
Now that concepts have been mapped out, students can begin creating their Prezi presentations! Once complete, have students present their Prezi presentations!
Finally, have students submit their Prezi (url link) and rubric for review and grading.
IN SUMMARY
I've found that the Prezi vocabulary activity gets students excited about learning. The zooming in and out features-the visual point that all aspects of the word are linked really does help make connections.
Download the PDF version of my Prezi assignment sheet and rubric.