About Sadlier School
In schools today, Sadlier School is often referred to as the Vocabulary Experts. Our flagship program, Vocabulary Workshop, has taught 32+ million students the vocabulary they need for college.
All of our programs provide what's needed to meet the latest educational mandates and offer innovative new ways to reach students, educators, and parents. Adhering to the same high standards, our experts have built Common Core Progress English Language Arts and Mathematics and state-specific versions to ensure your students are prepared for success on the new state assessments, as well as in college, the workplace, and life.
About Sadlier Religion
Sadlier Religion programs offer quality catechesis and sacramental preparation materials that faithfully present the teachings of the Catholic Church. Sadlier's new We Believe Catholic Identity Edition catechetical series for K–8 and other programs, such as First Penance, First Communion, and Confirmation, address the needs of Catholic schools, parishes, and families, all with English and bilingual editions.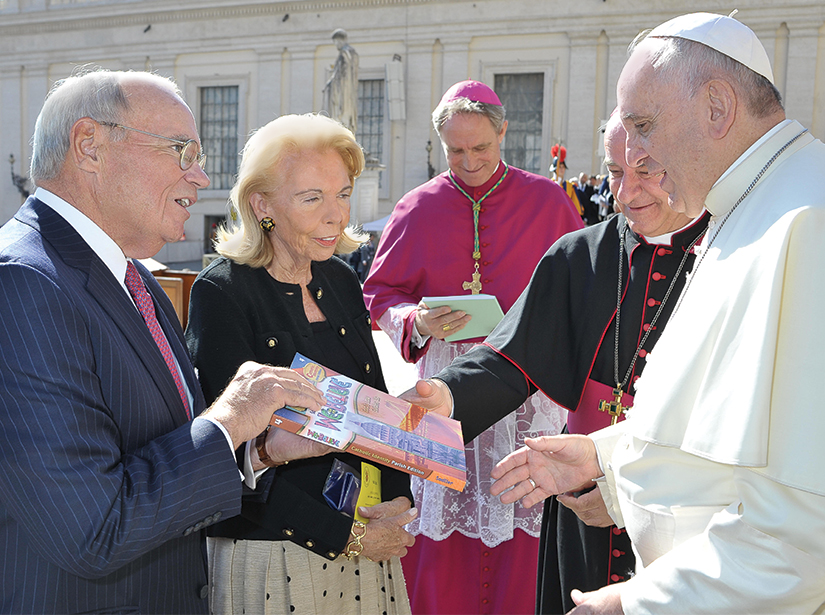 Pope Francis receives a copy of We Believe Catholic Identity Edition from William Sadlier Dinger, President of Sadlier, at the Anziani e Nonni Event at the Piazza San Pietro, 28.9.14. (L'Osservat ore Romano)
History
Back in 1832, two brothers, Denis and James Sadlier, immigrants from Ireland, began publishing materials to meet both the spiritual and educational needs of the Irish immigrant community. This began the story of William H. Sadlier, Inc. and an entrepreneurial, family-owned company that would be passed down across the generations and would continue to innovate and publish educational and religious resources that were in demand.
With the acquisition of the Oxford Book Company in 1972, Sadlier achieved its mission of publishing textbooks in all major academic areas. Today, we are the trusted partner and solution provider to thousands of private and public schools across the world. Sadlier has produced award-winning Mathematics and English Language Arts educational programs that are customized to the needs of every type of learner.
In 1973, Sadlier published it first Spanish/Bilingual textbook. Today, Sadlier continues to be committed to providing the finest materials for the Hispanic market, such as Creemos, Bautismo, and the all-Spanish blog, Creemos y compartimos.
The current Chairman of the Board, Frank Sadlier Dinger, and President William Sadlier Dinger, are the great-grandsons of William H. Sadlier and direct descendants of Denis and James Sadlier. They've been recognized as leaders in educational publishing by the Association of Educational Publishers (AEP) and have been inducted into the association's prestigious Hall of Fame for their lifetime of achievement, commitment, and dedication to education.
For over 180 years, the Sadlier family has nurtured William H. Sadlier's original vision with integrity, creativity, and a commitment to ongoing excellence. That family tradition is felt today and will continue to help us serve our customers into the future.