I'm so excited to go to NCTE this year; I'm especially looking forward to presenting on two panels during the conference. I've always found that attending local and national conferences reignites my passion for teaching.
Here are details on my two sessions:
"Looking Within and Reaching Beyond: Persuasive Writing In and Beyond the Classroom."
Friday, November 20 from 9:30 AM to 10:45 AM
Description: By learning how to write persuasively, students engage in effective communication that empowers them in their academic and civic lives. This workshop will demonstrate effective, creative, and practical strategies that help students identify their stance, analyze their audience, and select powerful, appropriate vocabulary and rhetorical strategies for their persuasive writing.
"Navigating the 10,000 Lakes of NCTE: The Responsibility of Professional Development."
Friday, November 20 from 12:30 PM to 1:45 PM
Description: In this interactive presentation, four "seasoned" NCTE veterans will explain the role of professional development in their own lives and will help participants make the most of their Annual Convention experience, navigating the exhibit hall, presenting for the first time, selecting workshops, and networking with other educators.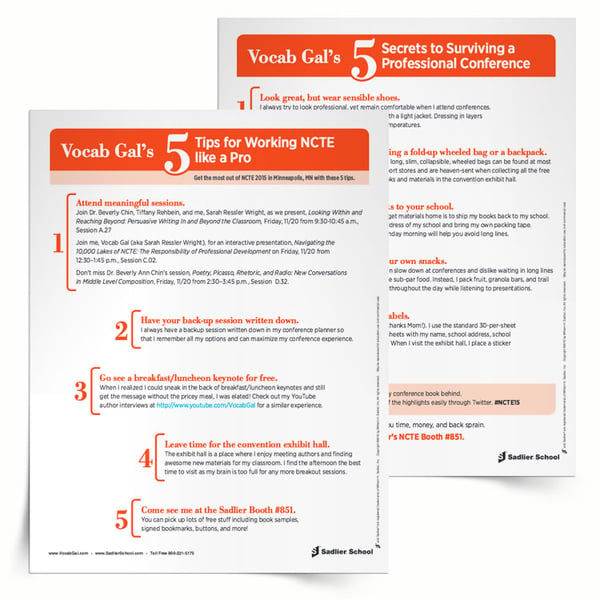 As I prepare to head out to NCTE conference 2015 (and ALAN), I thought it would be a good time to share my two tip sheets to help you make the most of NCTE! I've attended enough education conferences to know there are little tips and tricks that will ensure you have a fun, seamless, and painless experience.
Download 5 Secrets to Surviving a Professional Conference and 5 Tips for Working NCTE like a Pro now!