In honor of Shakespeare's birthday on April 23rd have students create Shakespeare-like insults*, but with vocabulary words! This silly Shakespeare lesson plan will not only get students reviewing vocabulary words, but is designed to get students to feel more comfortable with Shakespeare's language.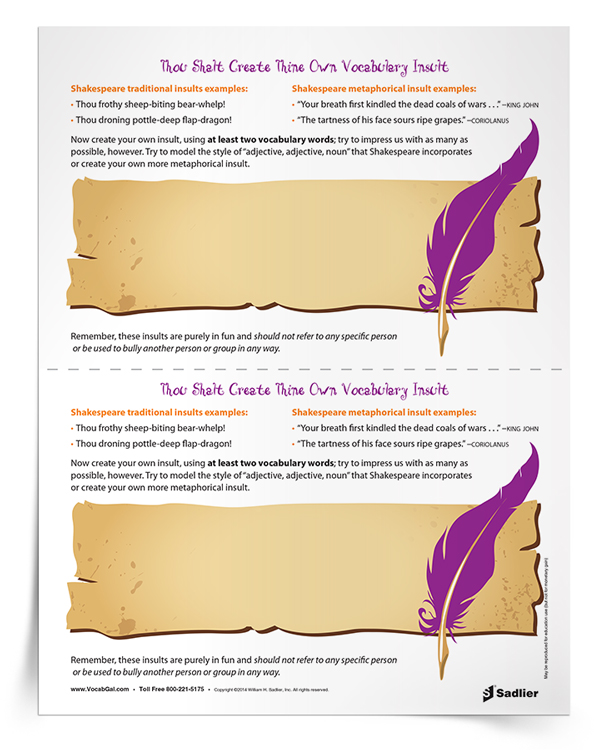 To start, share with students some of your favorite Shakespeare insults. Check out one of the many websites devoted to generating Shakespearean insults. While sharing your favorite insults, discuss how Shakespeare formed many of his insults- either with the "adjective, adjective, noun" formation or with a more metaphorical turn of phrase. This will help students create their own insults!

Next, instruct students to go through their vocabulary books and compile a list of insulting vocabulary words. This part of the Shakespeare lesson plan can be done in groups, individually, or as a class.
Finally, pass out a Thou Shalt Create Thine Own Vocabulary Insult worksheet to each student. On their vocabulary worksheet, students will write down what they believe to be their best Shakespeare-like insult. Once complete, students can share their vocabulary insult with the class or teachers can hang them on a classroom bulletin board!
Download the Thou Shalt Create Thine Own Vocabulary Insult Shakespeare lesson plan now!
*These insults are purely in fun and should not refer to any specific person or be used to bully another person or group.
BONUS SHAKESPEARE LESSON PLAN: