I make it a priority to integrate vocabulary into every aspect of my English class. I really enjoy having students use their vocabulary to discuss the text(s) we are studying in class. Here are a few of my favorite vocabulary activities that can be applied to contextual analysis.

THREE VOCABULARY ACTIVITIES TO USE WITH IN-CLASS TEXTS
ACTIVITY 1: DESIGN A DWELLING
Isn't it amazing that words strung together and typed on a sheet of paper have the potential to transport us into imagined realms!
When we are reading a text as a class, I often wonder how my students are imagining a certain setting in the story or how they envision an intense scene is playing out.
Readers become architects of the author's story and I'm always a bit disappointed that I don't have a superpower that allows me to get a glimpse into what my students are constructing with their imaginations.
One way I get a peek into my students' imaginations is with the Design Your Own Dwelling Vocabulary Activity. With this worksheet, I have students design the dwellings of the book they are reading, based on the author's descriptions and their inferences from the text.
Students label their designs with quotes and inferences from the writing, as well as their vocabulary words.
No matter what the text, having to study author's descriptions and make inferences, as well as use vocabulary words, makes this activity a winner!

ACTIVITY 2: THE MANY FACES OF VOCABULARY
Don't you love when an author describes the features of a character so well that it feels as though they've come to life and must exist somewhere in the world?!
I enjoy discussing with students how the physical features of a character can sometimes indicate what their overall disposition is like, or what they've experienced in the past. From the upturned nose to the way a calloused hand moves... it all tells the reader something they need to know about the character!
Using the Many Faces of Vocabulary Description Activity have students design the faces of the characters from literature, again using both the author's descriptions and their own inferences.
Students should label these designs with quotes and ideas from the novel, as well as vocabulary words.
Making faces is great way to combine text and vocabulary studies!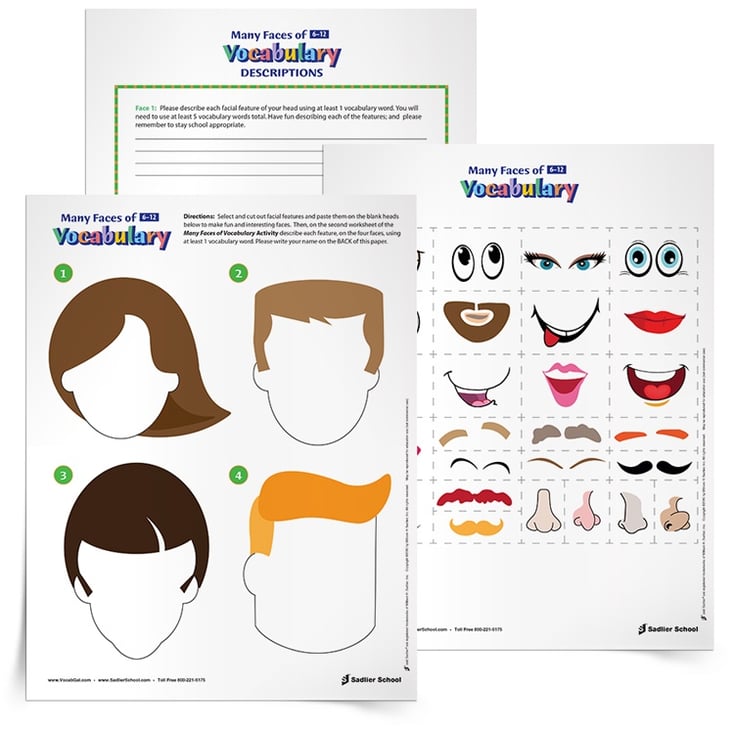 ACTIVITY 3: AWARDS WITH VOCABULARY
Have students give authors, characters, events and places awards befitting their themes or significance.
Simon, from Lord of the Flies, can be "most altruistic" while Jonas, from The Giver, can be "most empathic." Author Jane Austen can be given an award for "most droll" and the setting in "The Most Dangerous Game" can be considered "most belligerent."
Have students be creative in coming up with awards based on textual themes or ideas, and insist that underneath their vocabulary-infused award they have a vocabulary-laden explanation.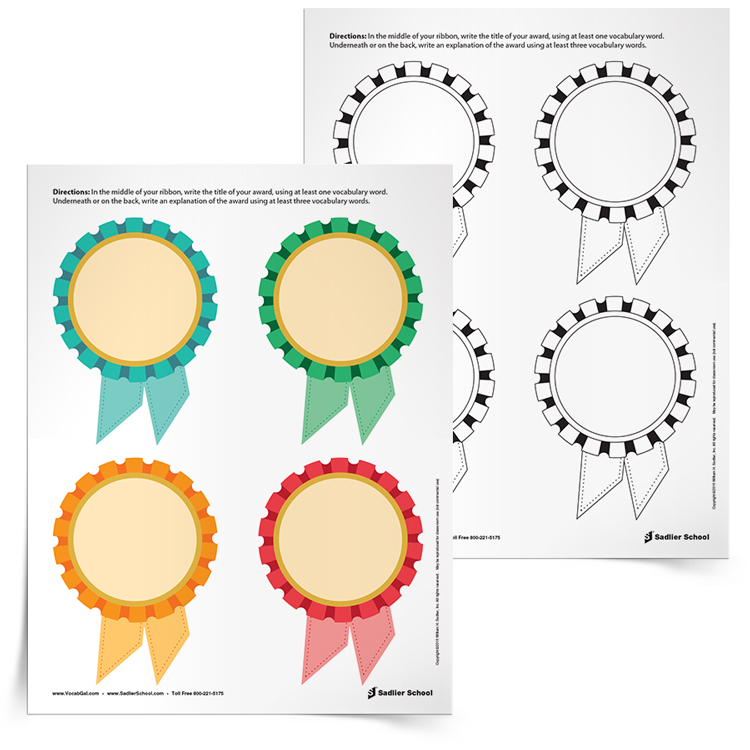 IN SUMMARY
The more ways we can integrate vocabulary with contextual studies, the more students see vocabulary as an essential aspect of English, and hopefully, life skills.
Writing Standard 1. Write arguments to support claims, using valid reasoning and evidence.
Writing Standard 2. Write informative/explanatory texts through the effective selection, organization, and analysis of content.
Writing Standard 3. Write narratives to develop real or imagined experiences or events
Writing Standard 4. Produce clear and coherent writing in which the development, organization, and style are appropriate
Language Standard 3. Apply knowledge of language to understand how language functions in different contexts.
Language Standard 4. Determine or clarify the meaning of unknown words
Language Standard 5. Demonstrate understanding of word relationships and nuances in word meaning.
Language Standard 6. Acquire and use accurately a range of general academic and domain-specific words and phrases; demonstrate independence in gathering vocabulary knowledge