As a literacy specialist, I'm often asked for advice on how teachers and parents can get students to read more. Although I have a number of activities and incentives that can inspire students to increase their reading, I've found that once the excitement of the activity or incentive wears off many students lose interest in curling up with a good book. Luckily, I've found one way to guarantee students will read more...
Get them hooked on a series!
If you help students find a series that they love, typically they will want to continue reading through the collection. Reading several books with a beloved character makes that character feel more like a friend rather than a fictional figure.
For parents, the most appealing reason for having their child read books in a series is that it usually stops kids from complaining they can't find anything to read, because they have their "go to" series books.
As an educator, I always encourage my students to try series books for many reasons.
First reading several books with the same main characters allows children to make a connection on a deeper level. Students get to know the characters and can more easily make predictions about their actions. It also leads to a great discussion when a character contradicts themselves.
Second a book series helps students analyze the author's craft. Students become familiar with the author's writing style and will notice techniques used throughout the author's books.
Finally, it encourages determination and fosters a sense of pride when a student reads a complete series of books.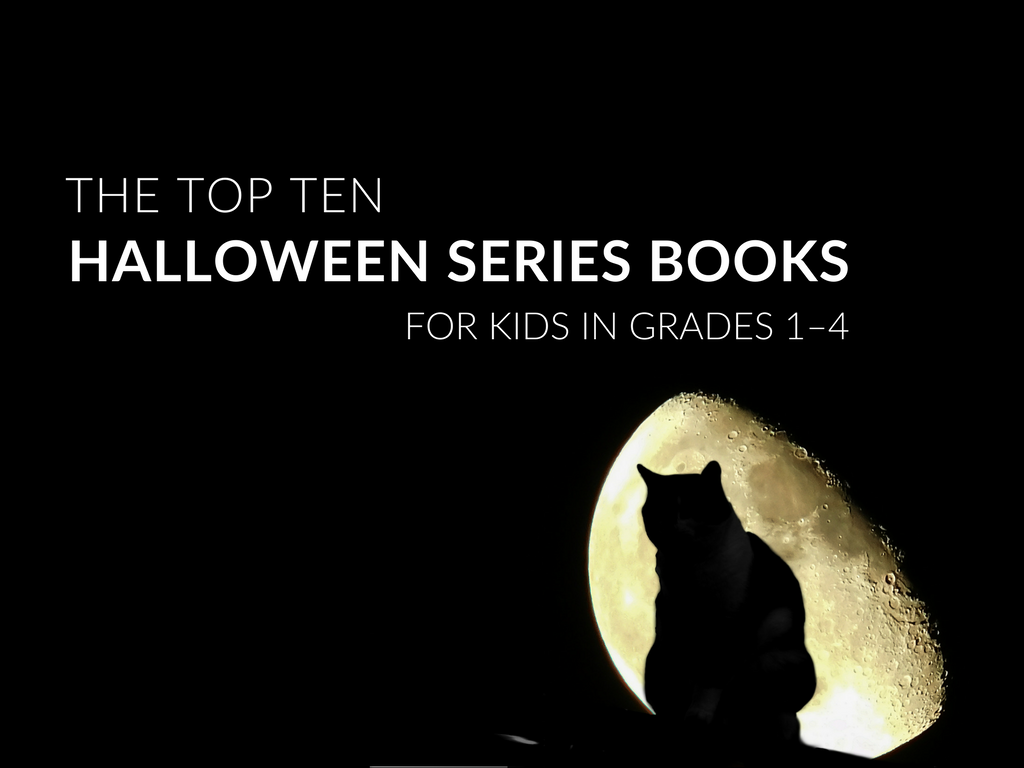 10 HALLOWEEN SERIES BOOKS STUDENTS WILL LOVE
For the month of October, I have selected several fun Halloween series books to share with my students. Below is a list of my top 10 Halloween series books for grades 1-4.
BOOK 1
Jack and Annie are on a mission to find—and inspire—a musician that brings happiness to millions of people. After traveling to New Orleans, Jack and Annie come head to head with some real ghosts, and discover the world of jazz when they meet a young Louis Armstrong.
BOOK 2
Is there a real Headless Horseman haunting Sleepy Hollow? Dink, Josh, and Ruth Rose will sleep in a cabin, take a haunted hayride, and go to a party near an old graveyard. But strange things start happening that don't seem to be part of the spooky fun. Has the famous ghost story come to life?
CAM JANSEN: THE MYSTERY AT THE HAUNTED HOUSE #13 by David A. Adler
Mysteries follow super-sleuth Cam Jansen everywhere she goes...even to an amusement park. Cam, Eric, and Cam's aunt Katie and uncle George have just braved the amusement park's Haunted House when Aunt Katie realizes that her wallet is missing. Did she lose it or was it stolen? Cam is convinced that this is the start of a very spooky mystery!
BOOK 4
HORRIBLE HARRY AT HALLOWEEN by Suzy Kline
Horrible Harry and his classmates all love Halloween. Everyone wears a costume to school-even Miss Mackle. Every Halloween Harry shocks his classmates with his scary costume. In kindergarten he was a bloody Count Dracula, in first grade he was the Loch Ness Monster, and in second grade he was a slithering snake. So everyone in Room 3B can't wait to see what Harry is going to be this year-and they're in for a really big surprise!
BOOK 5
THE HALLOWEEN HOAX (NANCY DREW AND THE CLUE CREW #9) by Carolyn Keene
It's Halloween in River Heights! The girls can't wait to go trick-or- treating and are busy getting their costumes ready. They also can't wait for the Halloween special of their favorite TV show. They even get the chance to visit the TV studio while the show is being taped! But soon after they arrive, Nancy is spooked. With all the scary noises the Clue Crew keeps hearing and the creepy shadows that seem to be lurking, it seems like the studio is haunted! Is it just Halloween jitters...or are there really such things as ghosts?
BOOK 6
BOOK 7
WITCH SWITCH: SUPER SPECIAL (KATIE KAZOO, SWITCHEROO) by Nancy E. Krulik
Katie loves Halloween. Everyone is buzzing about the costume contest, the Halloween parade is just around the corner, and a mysterious black kitten has captured Katie's attention. But the busy holiday doesn't stop the magic wind! Join Katie in this Switcheroo Super Special for twice the switcheroos, and find out how she saves the day!
BOOK 8
JUNIE B., FIRST GRADER: BOO...AND I MEAN IT! (JUNIE B. JONES, NO. 24) by Barbara Park
Meet the World's Funniest First Grader—Junie B. Jones! It's Halloween! But Junie B. is afraid to go trick-or-treating. 'Cause what if witches and monsters are really real? And what if pumpkins with sharp teeth can eat your feet? And don't even get her started on the candy corn problem. So how is Junie B. supposed to enjoy this scary holiday?
BOOK 9
BOOK 10
THE BEST HALLOWEEN EVER by Barbara Robinson
Every Halloween, the six Herdman kids steal candy, spray-paint other kids, and take everything that isn't nailed down. And this year promises to be the same, until the Mayor decides to up and cancel Halloween. True, that means there'd be no Herdman trouble to contend with, but that also means no candy, no costumes, and no trick-or-treating! Is it possible that the Herdmans themselves could make what looks like a horrible Halloween into the best one ever?
FREE HALLOWEEN READING GRAPHIC ORGANIZERS
Now that you have a list of book series that will harness the excitement of Halloween to engage students in reading, use these free printables to dig deeper into reading material.
HALLOWEEN GRAPHIC ORGANIZERS
Holiday-themed reading graphic organizers are an easy way to keep things new and interesting. Help students organize their thinking with festive Halloween Graphic Organizers. This bundle includes my Spider Story Web, Pumpkin Venn Diagram, and a 5W's & 1H Pumpkin Web.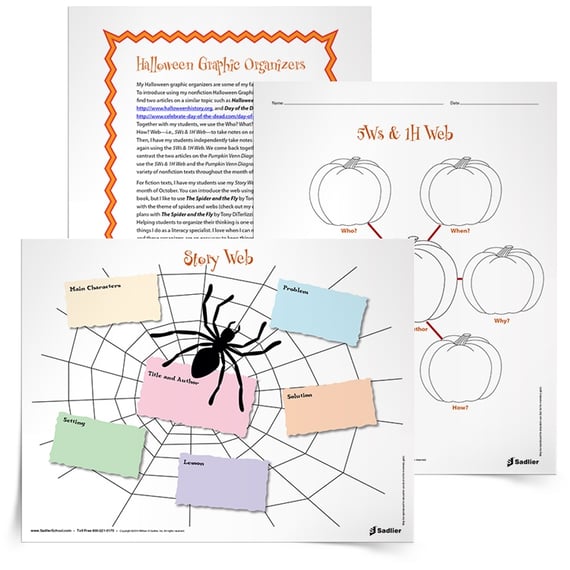 HAUNTED HOUSE STORY MAP
Have students use the spooky Haunted House Story Map graphic organizer with their Halloween book series to identify the main characters, problem, plot events, and solution.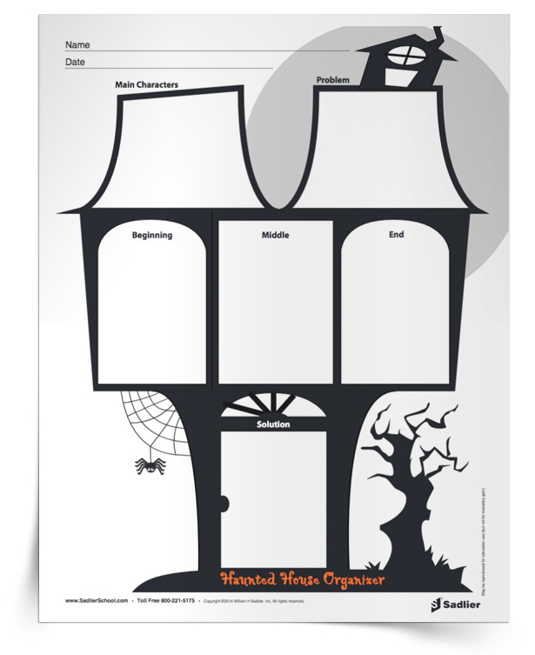 MYSTERY STORY MAP
The Mystery Story Map graphic organizer is a great activity for students that get hooked on a crime-solving or mystery series. With this graphic organizer students will identify crime solvers, suspects and motives, clues, and solution!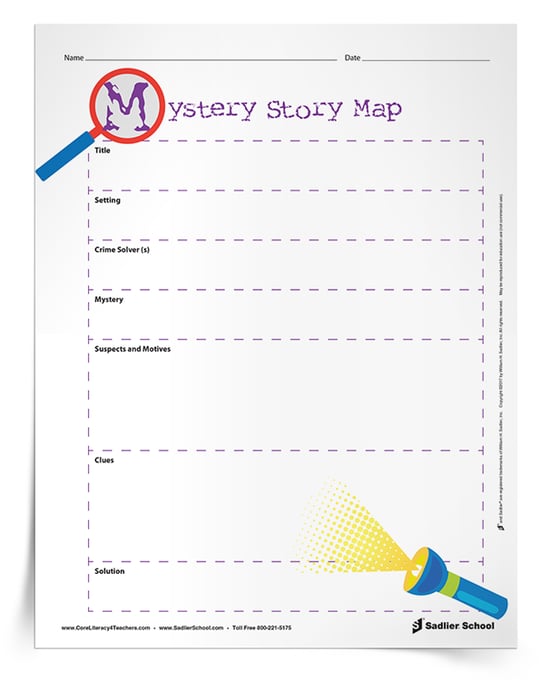 IN CONCLUSION
Teachers and parents can get students reading more by introducing book series! If you can get students interested in a series it will build their reading stamina and make future book selection a breeze. Series books also help students with character analysis, noticing author's craft, making predictions and more!
Most importantly, a good series will help kids fall in love with reading.