I read a story recently about a study of the happiest countries on five different continents. Results showed that it wasn't a surplus of money or goods that equated happiness. Rather it was the absence of worry about the future and a high degree of face-to-face socialization. The findings shouldn't surprise us. Great saints have been demonstrating for centuries that the road to happiness usually winds its way through simple pleasures.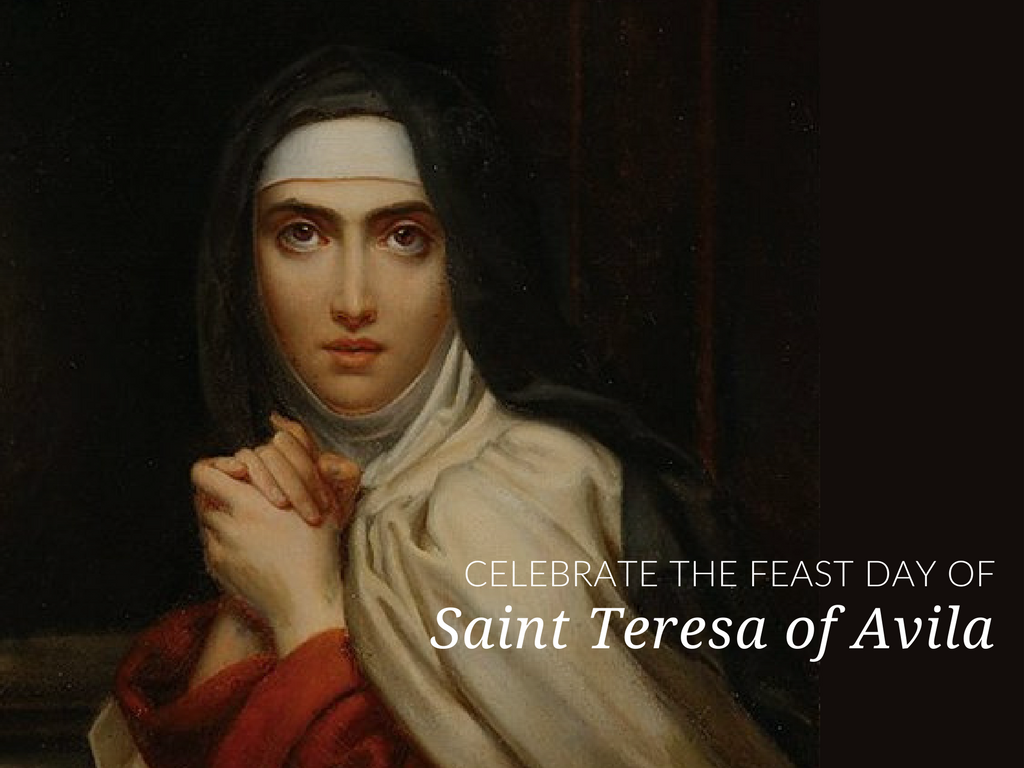 On October 15th, we celebrate the feast of one of the Church's greatest saints – Teresa of Avila. I think of her as the "joyful mystic". Her initial experience of religious life did not entail a life of poverty; it was quite the opposite.
Social class in 16th century Spain determined the accommodations one was given in a convent. In Teresa's case, her quarters consisted of a suite of rooms, including a private kitchen. Hardly the life of a severe aesthetic!
Teresa was known for her beautiful looks, her vivacious charm, and her culinary gifts. Even though hers was a relatively simple life, she became increasingly aware that the crowded community in which she lived was not allowing her to develop a serious prayer life. She eventually left and founded the Order of the Discalced (meaning "shoeless") Carmelites. It was in a life of intentional poverty and transience that Teresa found her true calling. Although she survived a serious illness that left her with digestive problems for the remainder of her life, she retained a joyous outlook on life. "Save me from sour-faced saints," she once quipped. I believe her joy emanated from her continual awareness of God's presence
One of Teresa's best-known reflections is called "The Bookmark Prayer." "Let nothing trouble you, let nothing frighten you," it begins. Put all trust and hope in God's unchanging love and all needs will be met. It is a great prayer for our time. It doesn't take too much effort to recite an endless litany of our woes.
Despite the great advantages of technology, all of the time we spend on computers robs us of face-time with one another. Bookmarking our days with Teresa of Avila's prayer of faith is a much-needed antidote to worry and loneliness that can turn our attitude towards life from drudgery to joy.
TERESA OF AVILA PRAYER REFLECTIONS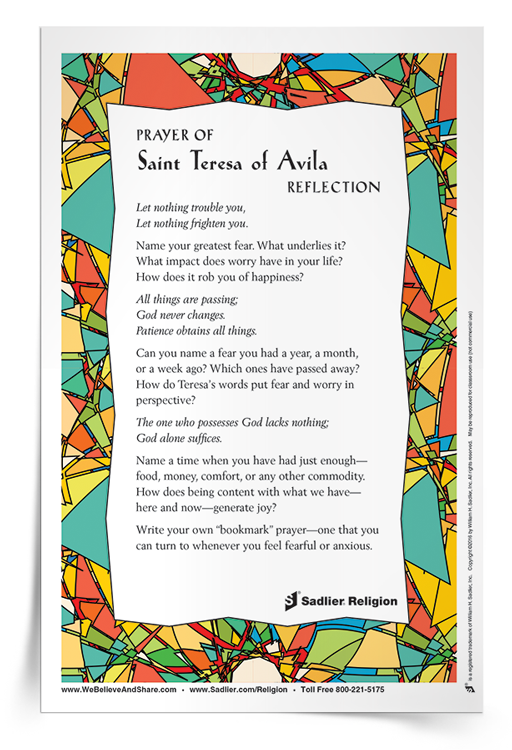 Bright Ideas
For Catechetical Leaders: Learn more about the life and ministry of Teresa of Avila and use it to inspire catechists, parents, and others in your parish.

Download my Prayer of Saint Teresa of Avila Reflection and use it for personal reflection or with your family or class.

Download a primary activity in English or Spanish to celebrate Saint Teresa of Avila with your class.
François Gérard [Public domain], via Wikimedia Commons
By Creative Commons - Creative Commons, Public Domain, Link