The summer season can offer a rest for busy families who have hectic schedules and more commitments during other seasons. Provide families with some inspiration for sharing faith together this summer. Opportunities for prayer and activities to be enjoyed by all family members encourage families to pause, reflect, connect, and share in God's love.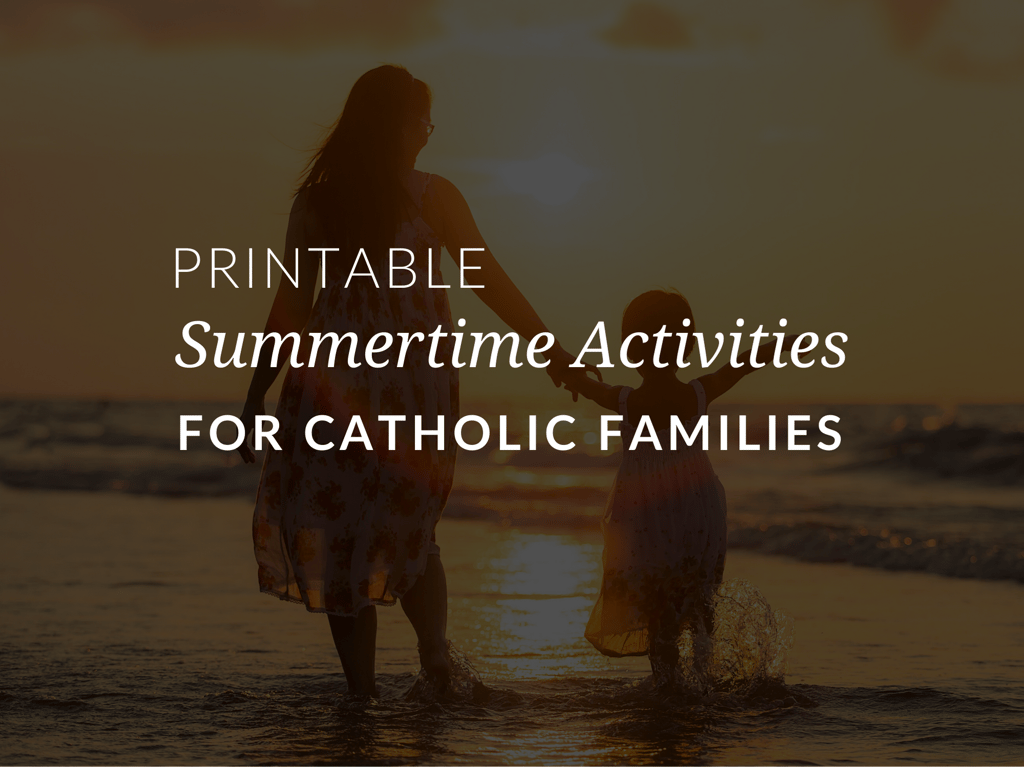 Printable Catholic Family Activities

#1 Summertime Catholic Family Activities
Encourage family members to connect with each other, with nature, with their communities, and with God as they experience the season of summer. Designed for use by parents and children, the Summertime Family Activities resource offers four activity suggestions to support multiple intelligences and engage all the senses.
These family activities also offer parents the opportunity to discuss the importance of taking care of the environment with children.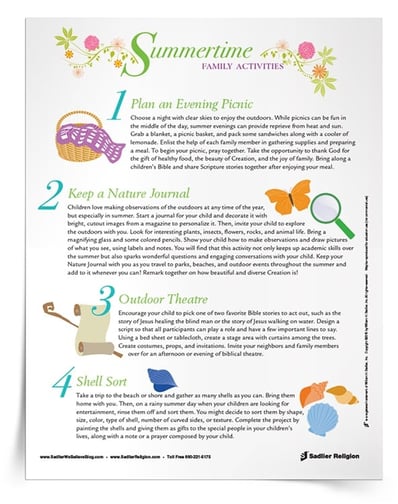 #2 Jesus, the Center of Our Lives Activity
In summer, sunflower fields abound in many parts of the country. At the center of the sunflower is the head. The seeds are contained there and the petals surround it. In the Jesus, the Center of Our Lives Sunflower Activity, an image of a sunflower is used to represent God at the center of our lives.
This activity can be completed at home during the summer months to remind families to put God first.
Download and print the activity sheet to distribute to families, or direct families to download and read the instructions that follow.
What does it mean to put God first, and how can we communicate the goal of keeping Jesus at the center of our lives to our children? When Jesus was asked "Teacher, which commandment in the law is the greatest?," he replied "You shall love the Lord, your God, with all your heart, with all your soul, and with all your mind. This is the greatest and the first commandment." (Matthew 22:36–38) As Catholics, we are called to put God at the center of our lives.
God loves all people and wants all people to love God, others, and themselves. Explain to children that God should be the most important one in their lives. As a family, discuss ways to keep Jesus at the center of your life. Examples may include taking time for individual or family prayer, or using the words and ways that Jesus taught us. Children may also name ways that they can act like Jesus or share stories about Jesus' life and teachings with others. If you wish you could provide situational examples for the children to reflect and comment on as examples or to encourage discussion.
After time for conversation, work together on the activity sheet. Using a sheet of yellow or brown construction paper, a half sheet of green construction paper and a craft stick, glue the activity sheet to the yellow or brown construction paper, color the flowers, and then cut it out. Help children glue or tape the flower to craft sticks and make construction paper leaves. Display the flower in a prominent place at home. Every time you see the flower, remember that Jesus is the center of your lives.
Activity is available in English and Spanish.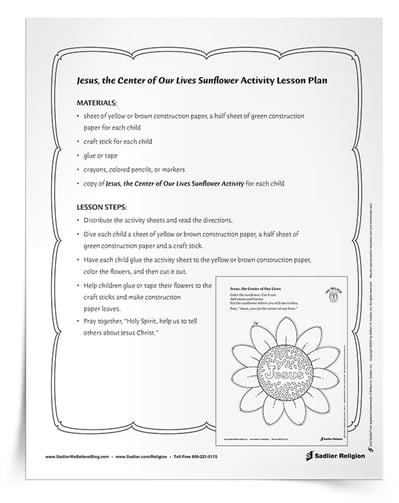 #3 Psalms of Summer Lesson



Together, Catholic families can use the psalms from the Bible throughout the summer to express praise and thanksgiving for all that God gives us and His creation! Psalms that express delight in the wonders of God's creation and sing praises for God's generosity and kindness seem particularly apropos during the season of summer. Download a 4-page reproducible Psalms of Summer lesson that provides a variety of Catholic family activities and prayers centered around psalms.
#4 Mercy Scripture Quest Activity
Catholic families can focus on the virtue of mercy during summer break with this Scripture activity! Mercy is the caring for the needs of people's minds, hearts, and lives. It means to share in God's forgiveness and love. What a perfect virtue to study as families! The Mercy Scripture Quest Activity will challenge children ages 11–15 to find, read, and cite passages from their Bibles related to the virtue of mercy.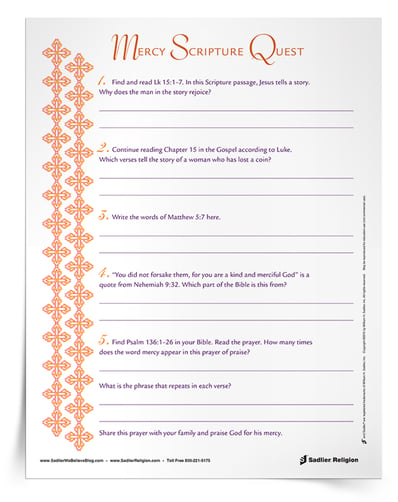 Printable Resources that Support Family Prayer



#5 God's Loving Shade and Protection Prayer Service
Invite families to imagine God's love like an umbrella this summer: like the beach umbrella that provides shade while they are together at the beach or pool, sheltering them as they enjoy the summer sun, or the umbrella that protects them from a sudden summer thunderstorm.
The God's Loving Shade and Protection Prayer Service invites participants to reflect on the ways that God's love protects and shelters. This prayer service includes Scripture, an activity, and reflection, and an optional prop of real umbrellas to bring the activity to life.
Share the God's Loving Shade and Protection Prayer Service with the families in your religious education program, or encourage them to download it for use this summer.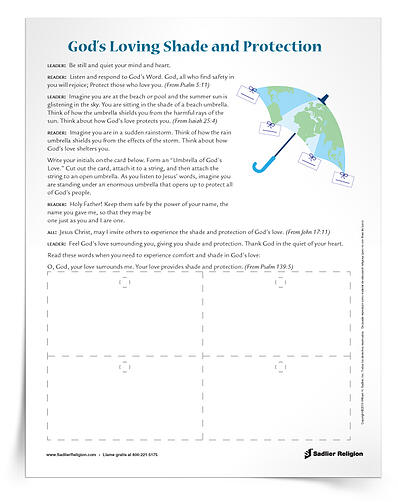 #6 Family Prayer Prayer Card



To support prayer during the summer months, share this Family Prayers Prayer Card with the families in your religious education program. This simple resource encourages families to embrace everyday opportunities to pray with children, offering the text for five traditional prayers that can be prayed together daily.
A perfect resource for making time for family prayer during the summer months, this resource is available in English and Spanish.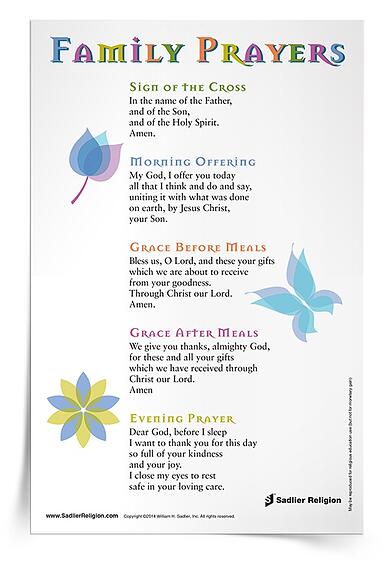 #7 Prayer of Summer Joy



For an additional summer prayer for individuals or families, download the Prayer of Summer Joy from Sadlier's Blog to enhance joy in the summer season.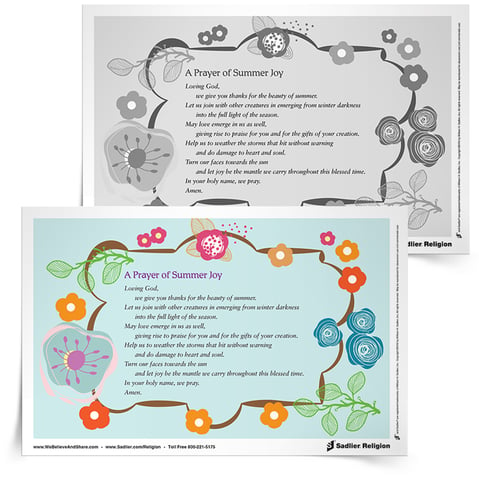 #8 Catholic Family Prayer Service



Help family members strengthen their relationship with one another and with God through family prayer by taking part in a Catholic Family Prayer Service this summer. Families are invited to consider one thing to thank God for, one thing to ask God for, and one to pray for as they participate in the prayer service.
The prayer service can be used by individual families at home, or as part of a larger celebration of families in the parish, and includes Scripture, prayer, and an activity to bring family members together.
The prayer service is available in English and Spanish.