As the end of the semester gets closer and closer, I find my students getting a bit more apathetic-especially at 7:30 in the morning. They are not doing as well on their vocabulary quizzes and not wanting to share vocabulary sentences with the class.
These last two weeks, I have made use of six fun vocabulary activities I have shared previously on the blog, and they have worked well; my students are energized for the day's work, more diligent in test preparations and more focused at the end of the period.
6 Fun Vocabulary Activities to Survive Until the End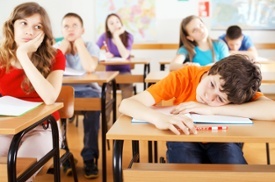 My first vocabulary activity is simple-Give a Word, Get a Handout. To briefly summarize, I ask students to use one or two vocabulary words in order to receive the day's handout. I tried this on Monday at 7:45am when my students just refused to discuss vocabulary words with one another-even when I played music so they could not hear one another's conversations. My students went from lassitude to (positive) attitude in about three minutes-smiling at me as they pleaded for paper so they would not feel animosity toward their missing work or so they did not have to abhor those who were working around them. I tried this again during a later class period, and it worked just as well. Students tried to outdo each other in an attempt to use words we had not used in quite a while.
My second vocabulary strategy, Vocabulary Playlists, is for studying; students need a stronger impetus to fully review for vocabulary quizzes lately. I have had one student who just could not seem to retain the meaning of vocabulary words, no matter how hard we tried to create mnemonic devices or connect to their interests. She mentioned the Vocabulary Playlist assignment where I had students link each word to a specific song. She said that she really liked that activity and learned her words well that way. So after two abortive attempts to make up a terrible score on a unit quiz, she finally passed the quiz with flying colors-because she had a study method that worked! I never would have guessed just how powerful music can be as a study aid! My students are doing this fun vocabulary activity again as a major review exercise to classify several words from previous units, and it seems to be helping.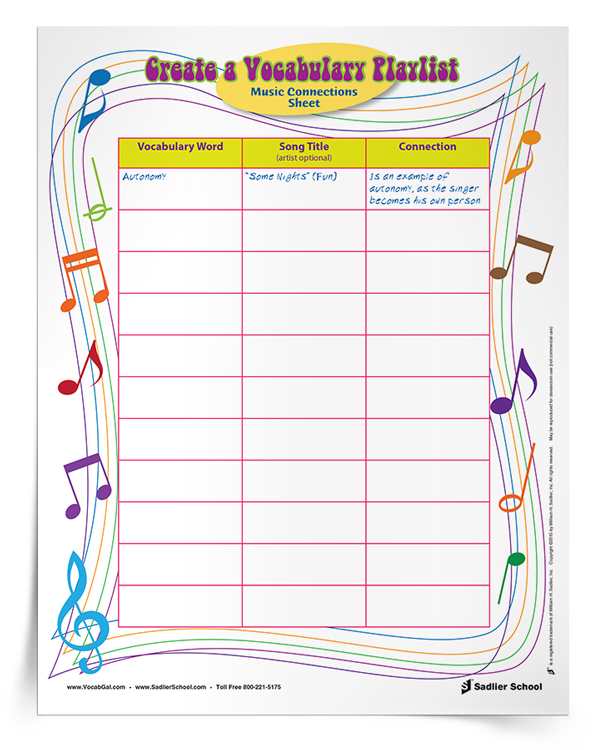 The third fun vocabulary activity worth repeating is Vocabulary Scrabblez. I've created a worksheet that turns Scrabble® into a fun vocabulary activity you can use in the classroom. The Vocabulary Scrabblez Game will get students internalizing their words in a unique and thoughtful way.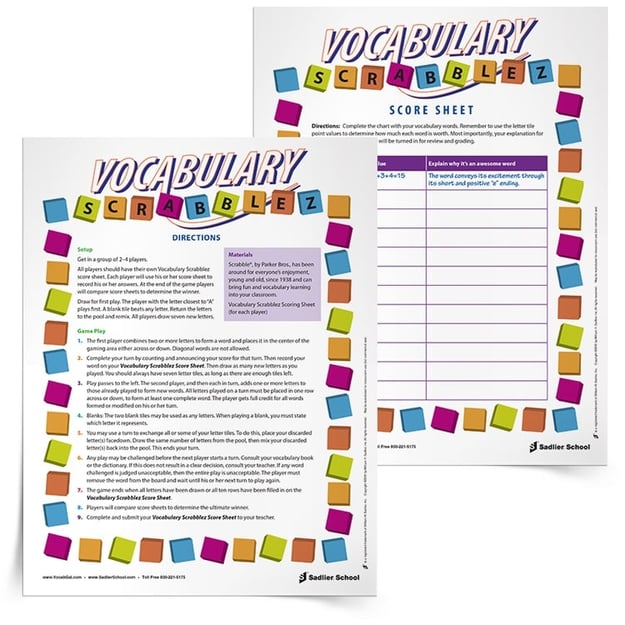 Fourth, is a vocabulary game where students have to incorporate their vocabulary in multifarious ways. Inspired by Hasbro® Scattegories™, the Vocab-Categories game requires students to use vocabulary creatively! My printable vocabulary game includes letter cut-outs, student instructions, vocab-category lists, and make-your-own list cards.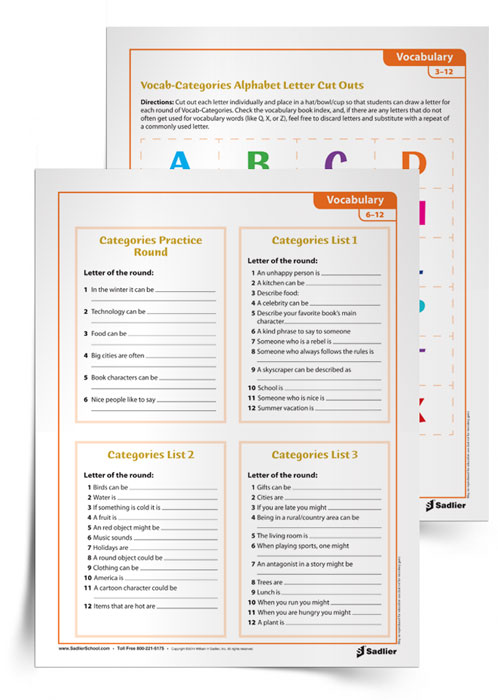 The fifth vocabulary activity I pulled out from the archives was the Relay with Words Vocabulary Game. This fun vocabulary activity gets students moving and provides vocabulary instruction indirectly through play! I've found the quickest way to get students engaged and energized is to literally get them up and moving around. This interactive game encourages students to process topics they are studying more fully, learn vocabulary and generate writing in a different atmosphere.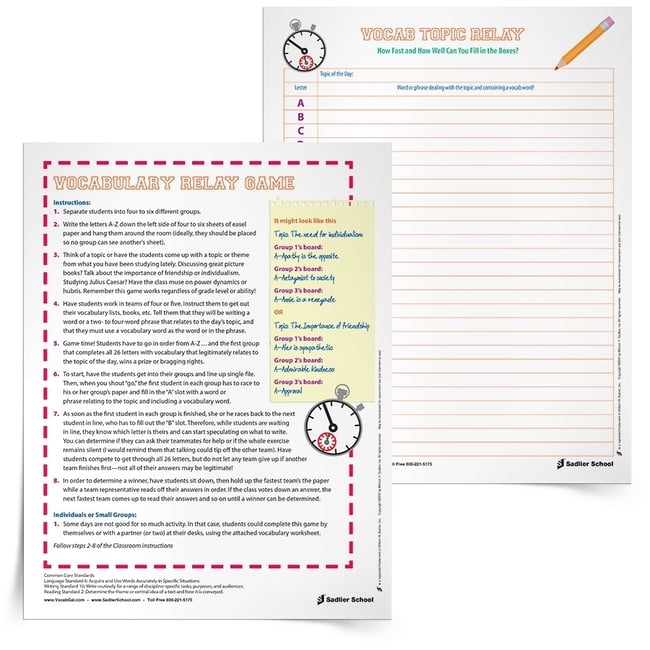 Finally, my last activity, Toss the Vocabulary, is to keep students focused at the end. I don't know about you, but my students are wanting to pack up earlier and earlier before the bell rings. To keep them learning until the end, I have had to bring back Toss the Vocabulary review game more often. I find that this works better than simply calling out the words because it gives students an incentive to stay in their seats, actually pay attention to the words and definitions and makes vocabulary review a little more fun. All you need is a Beanie Baby and a list of words!
So as your students become a bit more restless, listless or just plain recalcitrant, hopefully you can encourage your students to learn and apply their vocabulary and have fun doing so!
Do you have any other fun vocabulary activities to keep students focused at the end of the semester? If so, please share!

Originally Posted May 2013