It's National Poetry Month! In April, classrooms across the country (along with libraries, publishers, and poets) celebrate the art of poetry. I've compiled poetry resources and activities to celebrate April Poetry Month in the classroom.
Casey at the Bat– Close Reading Poetry Lesson Plan

With April being the start of the Major League Baseball season and National Poetry Month, it's the perfect time for a close reading poetry lesson plan of Casey at the Bat by Ernest Thayer. Close reading is when a reader analyzes the details of a text in order to interpret the passage and develop a deeper understanding of it. This lesson plan for grades 3–5 will help students develop a deeper understanding of the poem Casey at the Bat by Ernest Lawrence Thayer.
Poetry Resources for National Poetry Month


I've created three printable poetry resources to help bring April's Poetry Month to your classroom. The first worksheet outlines ten ways students can explore poetry. From apps to poetry tweets, this list will give you a variety of ideas for making Poetry Month this April exciting for students. The other two poetry resources are specifically for Poem in Your Pocket Day. On Poem In Your Pocket Day people throughout the United States select a poem, carry it with them, and share it with others throughout the day. Have students participate by writing their favorite poems down on the Poem in Your Pocket Day Scroll Template and Poem in Your Pocket Day Booklet I have available for download.
A Vocabulary Activity for National Poem in Your Pocket Day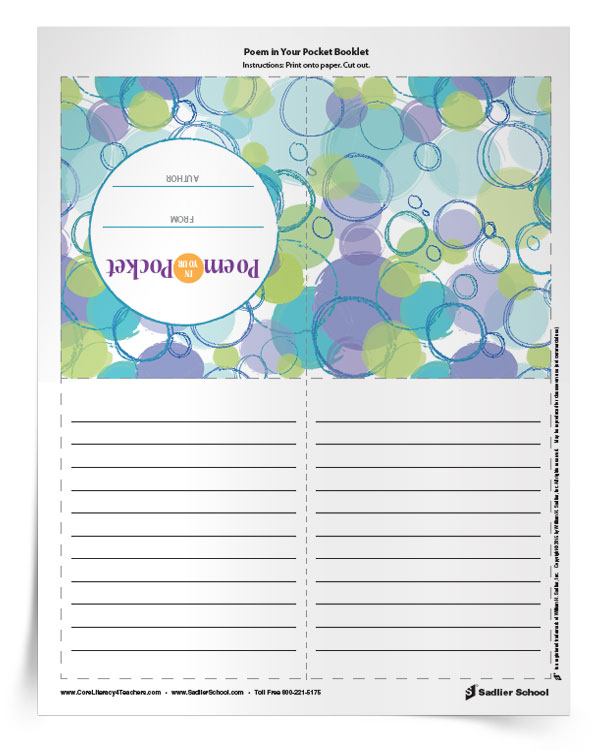 On April 21st, students will be walking around campus with their pockets filled with their favorite poems. Instead of students choosing a poem from a published poet, have students create their own vocabulary poems to share! That way, when students recite their poems, they are not only celebrating poetry, they are also celebrating (and reinforcing) vocabulary! Plus writing and reciting the definition poem reinforces writing, speaking, and listening – as well as vocabulary standards.
For this vocabulary activity, have students define a vocabulary word in the context of a short poem. The poem can rhyme, but does not have to, and the goal is for students to explain the meaning of the vocabulary word with succinct but powerful language, specific examples, and a strong ending. And because the poem is meant to be carried around and to be recited at any moment, it does not need to be long. Have students write their original vocabulary word poem on the Poem in Your Pocket Day Scroll Template and Poem in Your Pocket Day Booklet I have available for download.
Here are my two examples:
Command
To command is to give orders
From on who is in control.
If you are wise, you will obey
the instructions, that is your role.
If you fail to follow the leader,
and the commands that she did make,
you will quickly find that you
have made a grave mistake.
Supercilious
The girl was supercilious.
Her nose was an upturned ramp that her eyes skated down.
Her eyelids were lowered, so all you could see could see
were the three shades of eye-shadow, perfectly blended.
Her skirt swished and swayed a subtle "no,"
its design was not for you.
Her shoes click-clacked the phrase "you-wish, you-wish, you-wish"

But in the end,
the only reason
that she could act so superior
was because you believed it.
MORE POETRY RESOURCES
| | | |
| --- | --- | --- |
| Facebook Poet Profile | Literary Devices in Poetry | Close Reading Poetry Lesson Plan |