How often have you asked your students to go back and reread to create a deeper understanding of the text?
To read the story again and look for powerful word choice by the author? To ask themselves while reading, "Can I trust what this narrator is telling me?" Or to reread and really pay attention to the tone and mood of the text?
As teachers, we have been encouraging students to reread in order to create a more meaningful interpretation of the text, but now this type of instruction has a name: "Close Reading."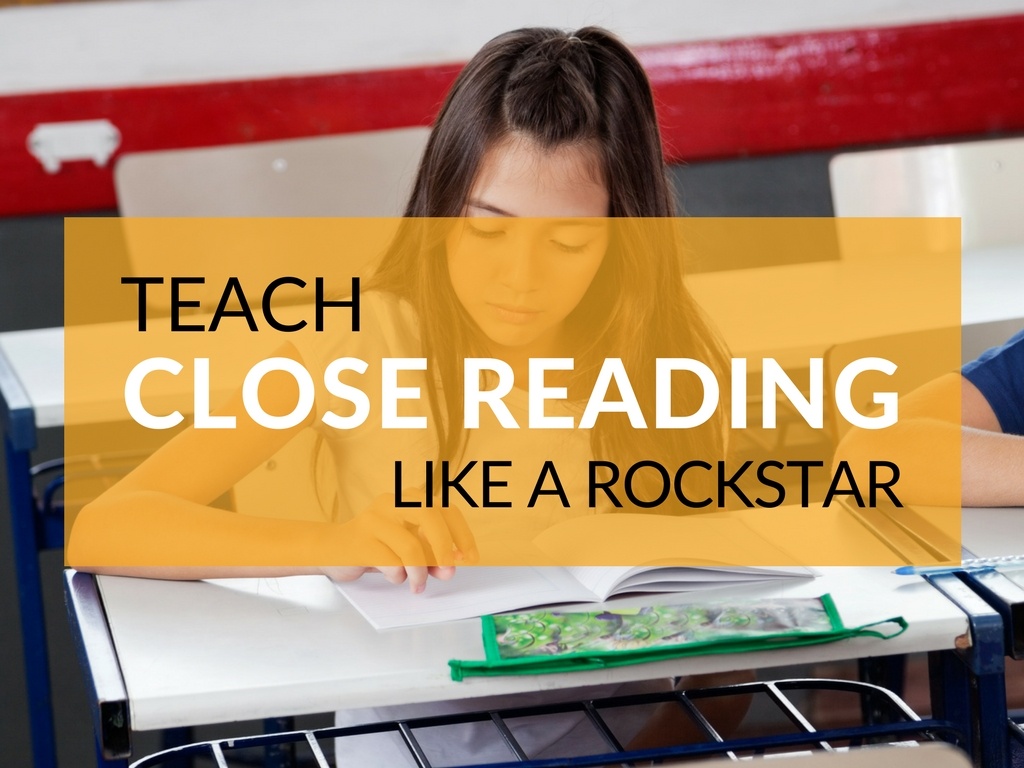 Close reading is when a reader analyzes the details of a text in order to make interpretations and develop a deep understanding of the text. It is looking closely at how an author's ideas unfold through a text by examining the plot, vocabulary, syntax, story patterns, and/or point of view through multiple re-readings of a piece of literature.
As adults, we know that we should go back and reread a text or parts of a text to create an in-depth understanding. Rereading with a purpose or a focus is a skill that needs to be taught to students.
When students announce after reading a text, "I'm finished!" or "I'm done!", they mean it. They have finished reading the text and they do not plan on reading it again. This is a mindset that needs to be changed.
By teaching your students how to read closely you are teaching them the power of rereading and the usefulness of going back to a text again and again.
To have success with close reading, you must be well prepared.
Begin by selecting a well-written, high-interest text. If the text is boring, the students will not want to read it multiple times.
Close reading lesson plans can be set up in many different formats. I like to structure my close reading lesson plans over a four-day period (I leave the fifth day open for follow-up work or extension activities). Close reading can be very difficult for elementary grade-level students, so modeling and practice is essential. I believe the best close reading lessons plans use a scaffolded approach to instruction:
"I do" (the teacher provides explicit instruction and/or modeling)

"We do" (the teacher and the students practice together)

"You do" (the students independently practice the skill).
In every close reading lesson plan that I write, I have the students read by focusing on a specific lens with every reread of the text:
Examine the layers of meaning (comprehension)

Look for great words (language/vocabulary/diction)

Analyze the author's craft (the writing style and choices the author made)

Identify the point of view the story is being told from and its impact on the text (first, second, or third person point of view)

Notice the text structure and its tone (argumentative, humorous, sentimental, etc.)
Available for download is a tip sheet of these close reading lenses for you to hang in your classroom as a student reference guide.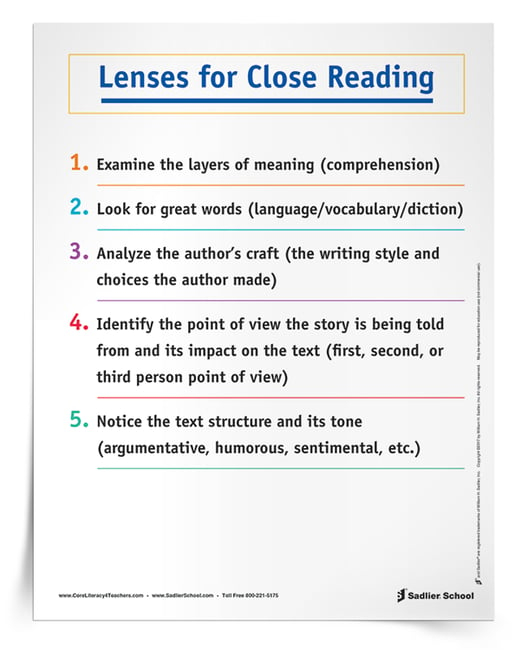 FREE CLOSE READING LESSON PLANS
Over the years, I have shared some of my favorite close reading lesson plans which included short texts, picture books, poems and speeches. In case you missed them, here is a brief overview, and a link for you to download the close reading lesson plans today!
An Introduction to Close Reading using: Train to Somewhere by Eve Bunting. These lessons are written to explain the process of close reading step-by-step to your students. A clear explanation of the close reading "focus" of each day is provided. If close reading instruction is new to you, these lesson plans are a great way to get started.
The Spider and the Fly by Mary Howitt
I think using poems is a great way to introduce students to the concept of close reading. My rationale for using poetry is that most upper elementary students (Grades 3+) have the stamina to reread a poem several times without losing interest. I like to use the poem The Spider and the Fly by Mary Howitt because it continues to engage my students even after multiple reads. I also like using this poem because it has a companion picture book, The Spider and the Fly by Tony DiTerlizzi, which is a great way to launch close reading and build enthusiasm.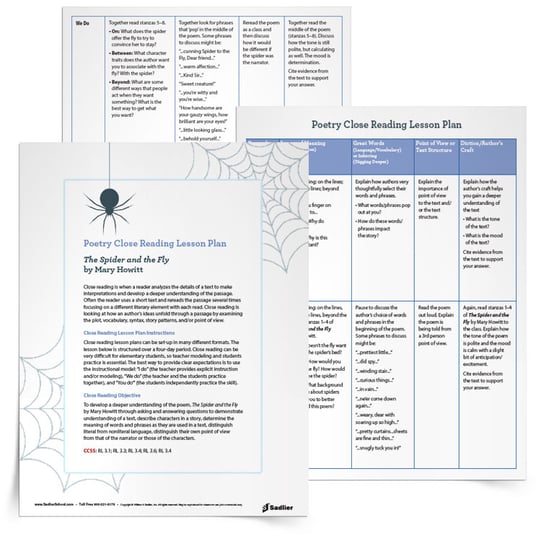 Faithful Elephants A True Story of Animals, People & War by Yukio Tsuchiya
This is the heartbreaking story of three zoo elephants' struggle to survive after they were sentenced to death during WWII by the Japanese army. These are my personal favorite close reading lesson plans because I love seeing the passion and conviction that my students express with every reread. This book always inspires the most incredible conversations among my students.
Casey at the Bat by Ernest Thayer
I have always loved this poem because of its unexpected ending. Every sports fan can relate to the disappointment felt in Mudville after the "mighty Casey" strikes out. These close reading lesson plans would be great to use during the World Series, or save them for April, which happens to be National Poetry month and the start of Major League baseball.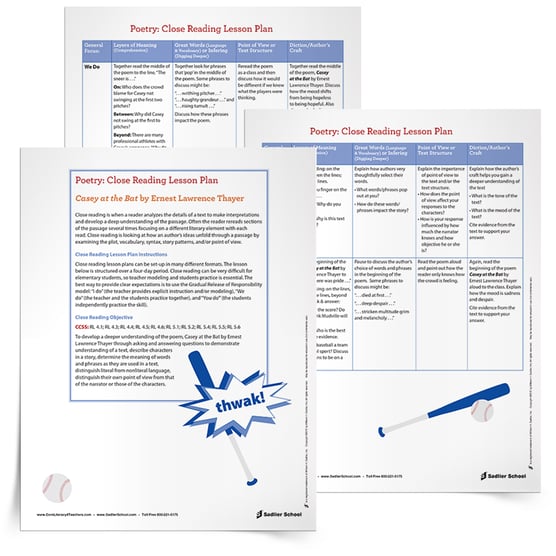 "I Have a Dream" speech by Dr. Martin Luther King, Jr.
With every re-read of MLK's "I Have a Dream" speech, I am more and more impressed with King's oratory skills.His words are so powerful and moving. By looking closely at this speech, students will gain an appreciation for King and his incredible way with words.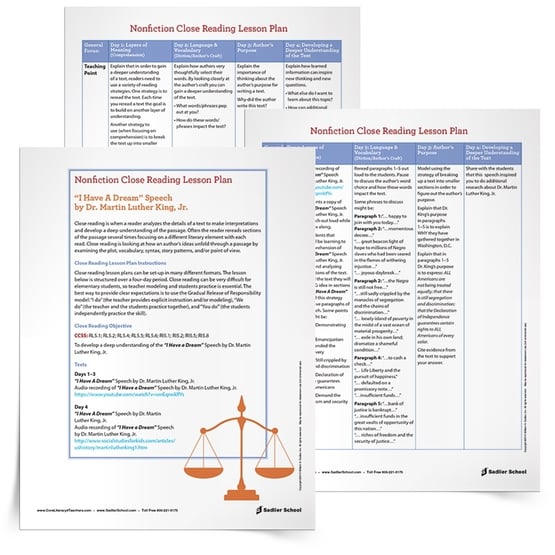 A Day's Work by Eve Bunting
This is the story of Francisco, who is trying to find work for himself and his grandfather (who has just arrived from Mexico and speaks no English). Ben is looking to hire someone to help with a gardening project. Francisco assures Ben that his grandfather is a "fine gardener," which is not true (his grandfather was a carpenter). At the end of the day, Ben returns and is shocked to see that Francisco and his grandfather have removed all the plants and left the weeds. Ben decides to give Ben and his grandfather the opportunity to do the job again correctly, and Francisco learns an important lesson about being truthful. These close reading lesson plans will inspire a variety of discussions amongst your students.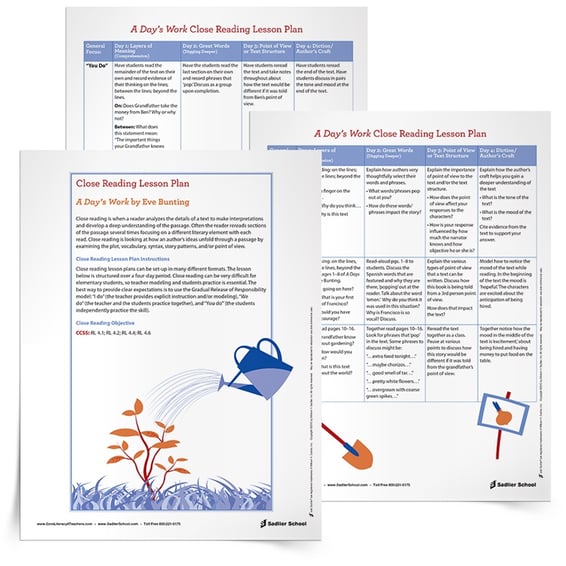 Sleepless Beauty by Frances Minters
To develop a deeper understanding of the text, Sleepless Beauty by Frances Minters through asking and answering questions to demonstrate understanding of a text, describe characters in a story, determine the meaning of words and phrases as they are used in a text, distinguish literal from nonliteral language, distinguish their own point of view from that of the narrator or those of the characters.