Close reading is when a reader analyzes the details of a text to make interpretations and develop a deep understanding of the passage. Often the reader uses a short text and rereads the passage several times focusing on a different literary element with each read. Close reading is looking at how an author's ideas unfold through a passage by examining the plot, vocabulary, syntax, story patterns and/or point of view.
How to Incorporate Close Reading into Your Lesson Plan
Close reading lesson plans can be set-up in many different formats. The lesson below is structured over a four-day period. Close reading can be very difficult for elementary grade level students, so modeling and practice is essential. The best way to provide clear expectations is to use the structure: 'I do' (the teacher provides explicit instruction and/or modeling); 'We do' (the teacher and the students practice together); 'You do' (the students independently practice the skill).
A Close Reading of Faithful Elephants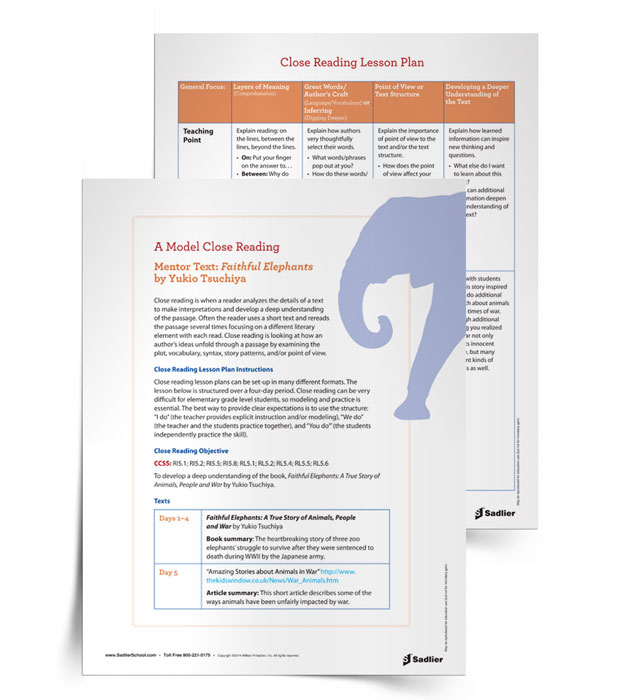 Last year I worked on close reading with my 5th grade students. One of my biggest struggles was finding short texts that were powerful enough to elicit strong discussions and in-depth thinking, but that were also written on an appropriate reading level. Faithful Elephants: A True Story of Animals, People & War by Yukio Tsuchiya served as a perfect close reading text for my students. It is the heartbreaking story of three zoo elephants' struggle to survive after they were sentenced to death during WWII by the Japanese army. The conversations this story sparked were amazing. I have never seen my students so passionate about a book.
Here is a glimpse of my close reading lesson on Faithful Elephants. Be sure to download the full lesson plan below.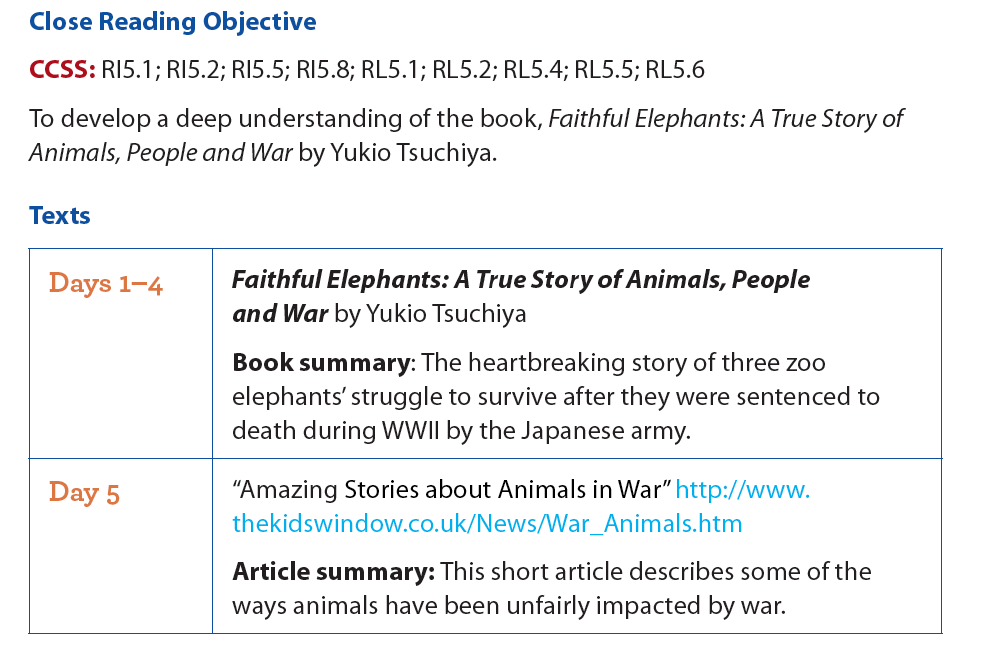 MORE CLOSE READING LESSONS:
| | | |
| --- | --- | --- |
| Close Reading: A Day's Work | Close Reading: Spider and the Fly | Close Reading Activities K–8 |