We don't make much of Arbor Day any more. It has been overshadowed, perhaps, by the flashier Earth Day which precedes it. Nevertheless, I am going to mark the day by recalling the poem "Trees" by Joyce Kilmer.
Trees By Joyce Kilmer
I think that I shall never see
A poem lovely as a tree.
A tree whose hungry mouth is prest
Against the earth's sweet flowing breast;
A tree that looks at God all day,
And lifts her leafy arms to pray;
A tree that may in Summer wear
A nest of robins in her hair;
Upon whose bosom snow has lain;
Who intimately lives with rain.
Poems are made by fools like me,
But only God can make a tree.
Source: Poetry (August 1913).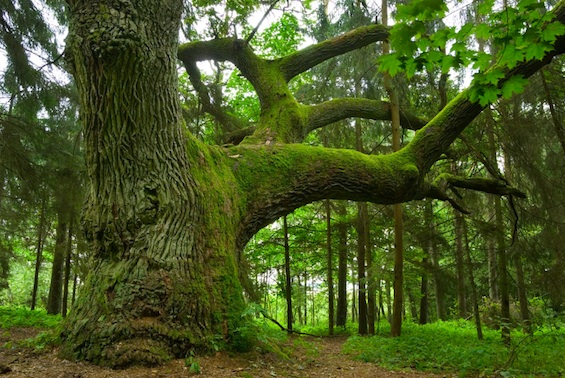 Joyce Kilmer's simple verse about the wonder of trees is the first poem I ever learned by heart. It wasn't exactly a challenge but it resonated deeply with me. As a child I loved the variety of trees in our backyard. The weeping willow was perfect for my brother and his friends to use as the backdrop for their games of Tarzan. A number of crabapple trees provided a burst of color and fragrance in the spring, and loads of fruit, which my mother made into jelly and applesauce, as the summer wore on. Perhaps my favorite tree was the large elm that shaded a large section of our home. Lying beneath it on a summer day was a little slice of heaven. It brought to life another verse in Kilmer's poem: "A tree that looks at God all day, and lifts her leafy arms to pray…"
My childhood love of trees has lasted throughout my life. Whenever I think of places in which I would thrive, I picture trees. Lovely as I find desert landscapes, I know the absence of trees would wear on my soul. I am blessed to work at home and my desk overlooks several pines and silver maples. They have become like old friends.
As we reflect upon Arbor Day or Earth Day, may we remember the last line of Kilmer's poem. It is a wonderful verse for the Easter season and the onset of spring, a precious reminder of the gift and wonder of creation. "Poems are made by fools like me, but only God can make a tree."

Bright Ideas
photo © iStockphoto