It's March Madness time everywhere-from the weather to the hoops. While I'm not the biggest sports fan, I still want to get in on the bracket fun because it's a great way to engage students in reviewing vocabulary!
A Printable Vocabulary Lesson Plan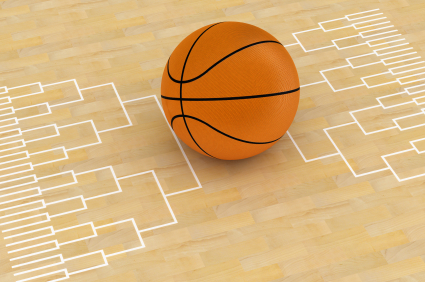 With this vocabulary lesson plan, students fill out brackets for vocabulary words–and let them decide the "ultimate vocabulary word" in the categories of nouns, verbs, and adjectives. I like that students learn their vocabulary autonomously as they each control their own bracket completely; their winner is based solely on their use of the words in sentences.
To play, give all students 3 brackets (one for nouns, one for verb, and one for adjectives) and have them fill in the far left 8 spaces with vocabulary words that are that specific part of speech. The words they fill in can be on the current vocabulary list, a mix of old and new words-whatever words you want them to review. Please remind them that each bracket can only have words that are THAT specific part of speech, and, if they are working with one specific vocabulary unit, they may need to use a few old words to complete their charts if there are less than eight words for a specific part of speech.
Next, have students write one sentence using both of the two words in each initial faceoff. For example, if the first bracket has "admonish" against "commandeer," students should write a sentence using both words, and in that sentence, highlight why one of the words is greater than the other.
Example:
Although admonished, he commandeered the lead anyway and sailed on to victory! (commandeered wins the first round).
Note: WHY one word defeats another is arbitrary and up to the students; as long as students are using the vocabulary words correctly in sentences, they can determine the winner for any reason. The subjects of the sentences can be anything; students can even write about basketball teams if that makes the vocabulary bracket more engaging to complete. The goal is to help students with their vocabulary building skills, and the ways each student contrasts the words should not matter, as long as their context is correct!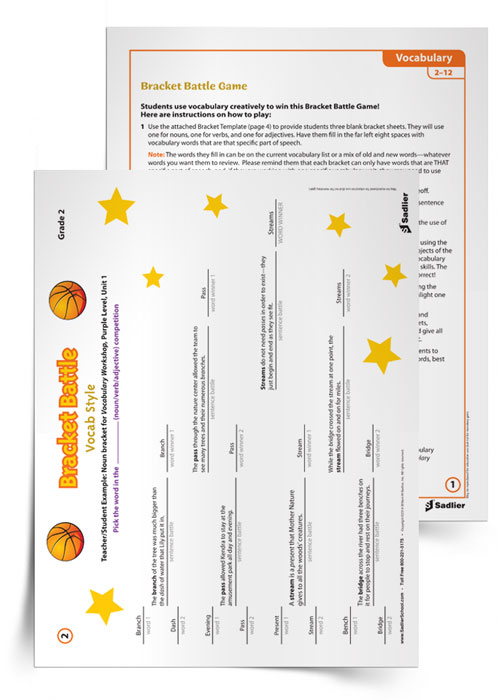 Once students have written sentences for the initial duels, they should then write sentences using the winners of each competition-again, for each pairing, have a sentence that uses both words and highlights one word dominating the other.
Once students complete their brackets and have a final "vocabulary winner" in each part of speech category, they should turn in their sheets. Once you have collected all students' brackets, you can see which word in each part of speech was found to be the 'winner' most frequently, and give all students who picked that word a prize, or put their names on a big basketball in recognition, etc. You can decide how to reward students, but I would hang all the brackets up for students to compare and perhaps even have multiple winners-most creative use of words, best illustrated bracket, best use of short sentences, best use of puns in sentences-whatever categories you and your students can create!
I've read about March Madness brackets being used for poetry and short story analysis, so the options for English teachers are limitless-ultimately, it's all about engaging students in reading, writing and interpretation!
Hopefully this will be another fun vocabulary lesson plan at your disposal each time March Madness comes around. Download the Bracket Battles Vocabulary Game now!

Common Core State Standards:
Writing Standard 1. Write arguments to support claims, using valid reasoning and evidence.
Writing Standard 10.Write routinely over extended time frames and shorter time frames for a range of tasks, purposes, and audiences.
Language Standard 3. Apply knowledge of language to understand how language functions in different contexts.
Language Standard 4. Determine or clarify the meaning of unknown words
Language Standard 5. Demonstrate understanding of word relationships and nuances in word meaning.
Language Standard 6. Acquire and use accurately a range of general academic and domain-specific words and phrases; demonstrate independence in gathering vocabulary knowledge
photo © iStockphoto